Republicans and Democrats faced off in a Sept. 12 Senate Judiciary Committee hearing on library book removals during which few seemed in agreement even on the terms of the debate.
The
hearing
was titled "Book Bans: Examining How Censorship Limits Liberty and Literature."
But the two political sides seemed to discuss radically different kinds of "book bans."
The Republicans and their experts spoke mainly on nationwide parental concerns about books that contain what some describe as sexually explicit content.
In the hearing, Republicans read several passages from often-challenged books that were too explicit to repeat in The Epoch Times, then asked their Democrat witnesses whether they wanted children to read these books without parental control.
The Democrats and their experts spoke mainly about the threat of smothering free speech by banning books.
The hearing opened with Sen. Dick Durbin (D-Ill.) announcing his support for free speech and opposition to book bans of works such as "To Kill a Mockingbird" by Harper Lee.
"Let's be clear, efforts to ban books are wrong, whether they come from the right or the left," Mr. Durbin said.
Sen. Lindsey Graham (R-S.C.) said Congress shouldn't intervene in local school board issues and that it would be more important for legislators to concentrate on fixing illegal immigration at the border. For about 10 minutes, the hearing turned into a discussion about border policy.
Mr. Graham promised to not read from sexually explicit books and said local school boards need to resolve the book issue.
"What am I supposed to do?" he said. "How am I supposed to take over every school board in the country and veto their decisions about what books go into public schools?"
1 Nation, 2 Worlds
When the topic returned to sexually explicit books, both sides of the committee seemed to be discussing different issues.

Democrats spoke about free speech and concerns that banning books such as "I Know Why the Caged Bird Sings" by Maya Angelou, "The Handmaid's Tale" by Margaret Atwood, "Narrative of the Life of Frederick Douglass" by Frederick Douglass, "A Raisin in the Sun" by Lorraine Hansberry, "Brave New World" by Aldous Huxley, and "Beloved" by Toni Morrison would stifle intellectual freedom.

Republicans spoke about books that included graphic sexual content and said these books don't belong in children's libraries.

Recently, many parents have expressed concern that putting sexually explicit books in school libraries exposes children to sexually explicit content.

But major groups that support these books, including the American Library Association (ALA), say the books wrongly face a censorship campaign by people who dislike the presence of LGBT people and minorities in literature.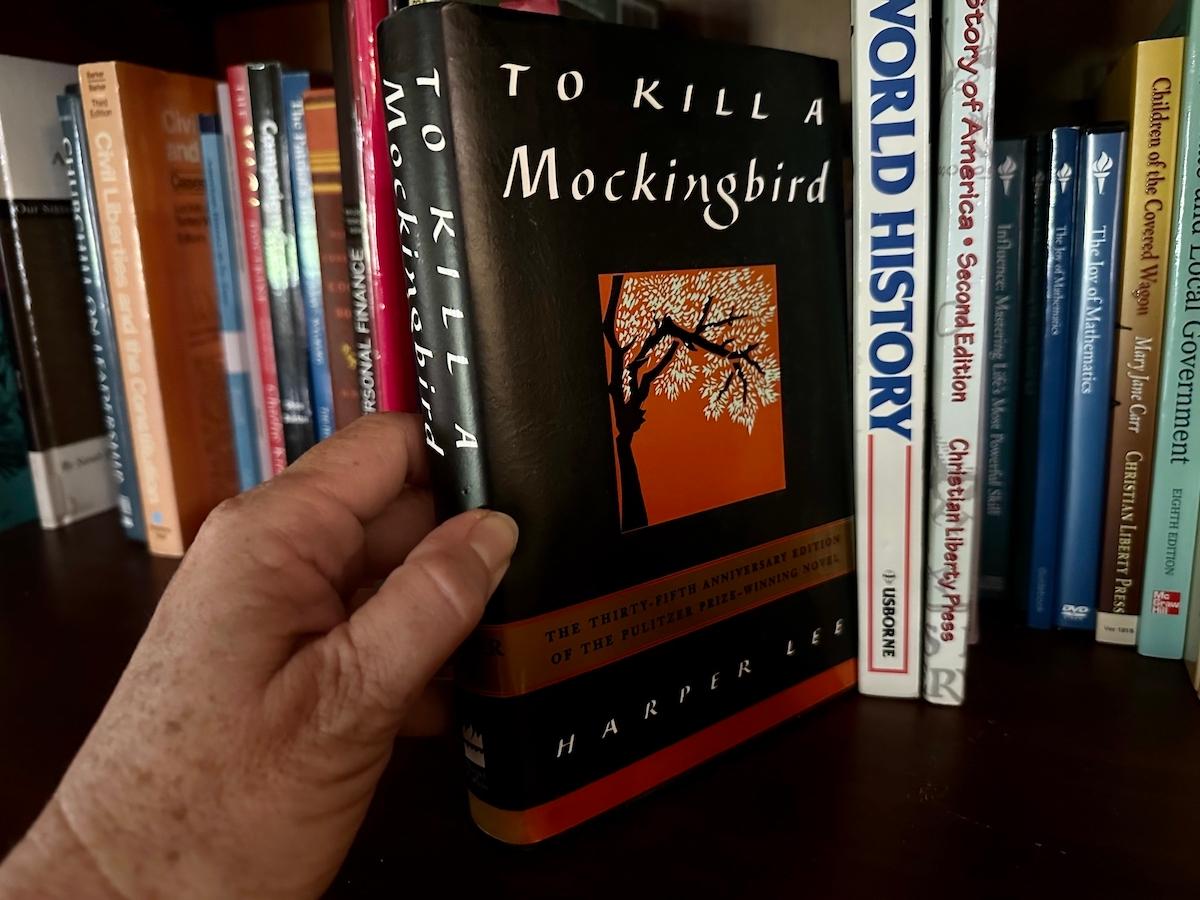 These two sides use different terms to describe the debate.
Sen. Mike Lee (R-Utah) said any local store that isn't funded by taxpayers can still include any book, so no "book bans" are happening.
"All of these books are still available," he said. "You can still buy them—all of them—on Amazon. You can still buy them—all of them—all over the place."
The library books most often challenged in 2022 include "Gender Queer: A Memoir," by Maia Kobaba, "All Boys Aren't Blue" by George M. Johnson, "The Bluest Eye" by Toni Morrison, "Flamer" by Mike Curato, "Looking for Alaska" by John Green, "The Perks of Being a Wallflower" by Stephen Chbosky, "Lawn Boy" by Jonathan Evison, "The Absolutely True Diary of a Part-Time Indian" by Sherman Alexie, "Out of Darkness" by Ashley Hope Perez, "A Court of Mist and Fury" by Sarah J. Maas, "Crank" by Ellen Hopkins, "Me and Earl and the Dying Girl" by Jesse Andrews, and "This Book Is Gay" by Juno Dawson, according to the ALA.
Sexually explicit content is the most commonly cited reason for attempts to ban all of these books, the ALA's website said.
Defining Identity
"Gender Queer" includes illustrations of individuals engaged in sexual acts, "All Boys Aren't Blue" contains graphic descriptions of incestuous sexual abuse between cousins, and "The Bluest Eye" includes descriptions of molestation from a pedophile's perspective. Other books include similar scenes.

"Especially with children, what can be more difficult than knowledge that can define your identity," University of Illinois professor Emily Knox told the committee. "But in order to describe your truth, you must have the words to do so."
Ms. Knox and Illinois Secretary of State Alexi Giannoulias, the state librarian, didn't mention these most commonly challenged books in their opening statements as witnesses for the Democrats.
Instead, they discussed a battle between "authoritarian" book banners and "freedom."
"Our libraries have become targets by a movement that disingenuously claims to pursue freedom but is instead promoting authoritarianism," Mr. Giannoulias said.
LGBT activist Cameron Samuels, who told the committee that he prefers to be addressed with "they/them" pronouns, was one of the few people on the Democratic side of the hearing to engage with Republican concerns.
Mr. Samuels referenced the book "Flamer" by Mike Curato, saying that he "saw myself in the book, having faced similar harassment in school."
"Flamer" includes graphic descriptions of peers participating in group sexual abuse of a boy.
Agreement and Argument
Republican witnesses Max Eden, with the American Enterprise Institute, and Nicole Neily, president of Parents Defending Education, said they opposed sexually explicit content in books.

"Something weird is going on, though, when parents try to read passages of these books at school board meetings, and the school board cuts them off because they insist the material is too obscene to be read out loud," Mr. Eden said. "I guess kids could be listening. Great for them to read, but unacceptable for them to hear."

Throughout the hearing, Mr. Durbin said Democrats don't want children reading sexually explicit books.
"No one is advocating for sexually explicit content to be available in an elementary school library or a children's section of the library," he said. "That's a distraction from the real challenge."
"There's no one in this committee that believes that children should have access to materials that are inappropriate for their age," said Sen. Cory Booker (D-N.J.). "There is no one that believes that children should have access to inappropriate pornographic materials."
Nevertheless, he also said that he feels concerned that books are being removed from libraries.
"I am suspect of these books being taken out of libraries and schools, because I started seeing books that had been there not just for years, but for decades, literally generations, 25-, 30-, 40-year-old books on shelves suddenly being taken off," Mr. Booker said.
Discussion on Books
One of the few moments in the hearing in which both sides engaged each others' points directly was when Sen. John Kennedy (R-La.) read passages from "Gender Queer" and "All Boys Aren't Blue," then asked Mr. Giannoulias, Ms. Knox, and Mr. Samuels their opinions on the appropriateness of these passages for children's libraries.

Mr. Giannoulias said the words were "very disturbing."
"We are advocating for parents, random parents, not to have the ability, under the guise of keeping kids safe, to try and challenge the worldview of every single manner on these issues," Mr. Giannoulias said.
"Your definition of sexual is synonymous with LGBTQ identity," Mr. Samuels said to Mr. Kennedy. "Students who do not read books like 'All Boys Aren't Blue' could not learn."
Parents, students, and teachers should decide together what to do about books, Mr. Samuels said.
It's likely that this hearing will result in no action by Congress, Mr. Booker said, but it will offer an important discussion of book-related issues.
"I don't see much Congress can do," he said.