Over the past three years, Predator Poachers, a Texas-based group founded in 2020 by now-23-year-old Alex Rosen aimed at preventing child sexual abuse, has identified approximately 500 online child predators, resulting in nearly 300 arrests in 43 states.
Many cases are still pending, and there have been convictions in more than half of the country—including a decades-long prison sentence for a former Virginia firefighter announced on Sept. 20 by the Department of Justice.
A 2022 sting operation conducted by the group of independent journalists targeting Virginia-based Christopher Scott Jones led law enforcement to uncover a trail of his underage victims.
Using a decoy pretending to be an 11-year-old girl, the group communicated with Mr. Jones for several months via social media platforms, text messaging, and phone and video calls before the discussion turned criminal and the 40-year-old firefighter suggested meeting in person for nefarious reasons.
"It took months for him to get sexual ... he's very careful about the targets he's choosing," Mr. Rosen told The Epoch Times. "Our decoy Ashley did a tremendous job to convince him [that she was real]."
Instead of a young child, Mr. Jones was met by 6-foot 4-inch tall, 300-pound Mr. Rosen and his crew of photographers ready to document the encounter.
After initially trying to avoid a conversation, the suspect eventually allowed Mr. Rosen and a cameraman into his truck, where he spent more than two hours denying the evidence before relenting and admitting why he was there.
"He was lawyer-speaking to me the whole time," Mr. Rosen said. "It wasn't until the end that he admitted that he wanted to have sex with the 11-year-old."
Ultimately, Mr. Jones was arrested and charged with attempted rape of a child, upon which authorities discovered evidence of additional crimes.
After turning the information over to the FBI field office in Norfolk, Virginia, three minors that the suspect had previously sexually assaulted were identified, leading to further charges.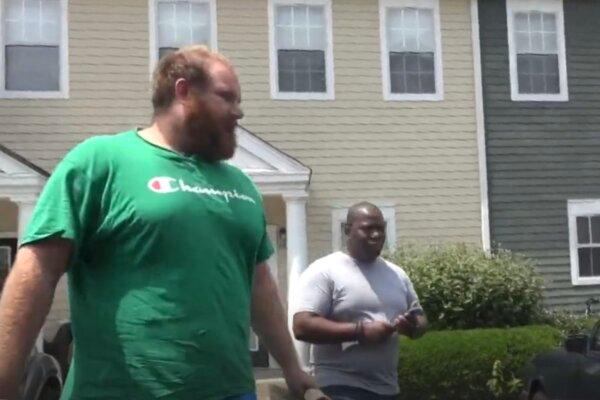 The defendant pleaded guilty in May "to using a communication facility to knowingly persuade, induce, entice, and coerce a minor to engage in sexual activity ... [and] to receiving child pornography of his victim." He's now serving a 33-year prison sentence, according to a Justice Department statement.
A spokesperson for the James City County Police Department told The Epoch Times by email on Oct. 3 that the case was initiated because of the work of the Predator Poachers.
Before launching the group, Mr. Rosen played Division 1 college football for Texas Southern University. During summer break in 2019, he discovered the world of catching online child predators by watching videos on YouTube.
At the time, he was thinking about joining the police academy in Houston, but at 19, his age prevented him.
"Since I was a kid, I always wanted to be a cop going after the bad guys," Mr. Rosen said. "To learn that within 30 minutes of meeting online, these adults wanted to meet 15-year-olds in person was just jaw-dropping, and now we're catching them into as young as infants—it's just beyond my imagination."
Initially, the team worked to expose child predators but didn't involve law enforcement, as they weren't aware that it was an option to do so until a trip to another state opened their eyes to the possibility of sending pedophiles to prison.
In that instance, Jamie Lee Daniels, 48, was ultimately arrested in Nebraska, convicted of four felony crimes, and sentenced to a five- to 10-year prison sentence after the group caught him sending lewd photos and soliciting sex from a decoy pretending to be an 8-year-old girl.
"At first, I didn't even know these guys could get arrested," Mr. Rosen said. "But then, going to Nebraska in late 2020, that really just changed everything, because I realized they could be arrested, and we started focusing on prosecutions."
Sporting a bushy red beard, with incriminating text messages printed out in hand and readily firing off witty criticisms that often go unnoticed by those being interrogated, Mr. Rosen—who tells the suspects his name is Gordon Flowers—uses a combination of compassionate conversation—so-called mirroring techniques that interrogators use to instill trust—and hard evidence to convince child predators to admit to felony criminal activity.
After the suspect has confessed enough on camera to help prosecutors secure a conviction, he then typically says he's starving and asks his crew to order some "fried pickles"—a code to call the police.
When officers arrive, the rapport Mr. Rosen has built with suspects generally pays off, with the individuals often admitting their crimes and incriminating themselves while in police presence and with body cameras rolling—thus providing further proof of their guilt.
"There's nothing more fun for me than catching predators," he said.
Not all catches go according to plan, however. In one situation in which an individual was attempting to flee, Mr. Rosen faked a medical emergency that stalled the suspect until police arrived.
Some tense moments have occurred, with one man cutting his wrists in a futile suicide attempt in September, another pulling a machete out of his vehicle, and a predator becoming enraged in Medford, Oregon, after being confronted and pointing a gun at the crew and several passersby.
The latter is the most dangerous situation the team has encountered, according to Mr. Rosen—although nerves are on edge following the murder of fellow child predator investigator Robert Wayne Lee, better known by his internet alias Boopac Shakur in Pontiac, Michigan, on Sept. 29.
Mr. Lee approached an individual—the second such time he had caught the same person—in a restaurant in Pontiac at about 10:30 p.m. to confront him about soliciting a 15-year-old girl on the internet for sex. The argument escalated quickly, with the individual pulling a knife and his companion drawing a firearm—which he used to fatally shoot Mr. Lee three times in the chest.
Two suspects, aged 17 and 18, were arrested Sept. 30 and are facing murder charges, according to Michigan's Oakland County Sheriff's Department.
In a statement released on Sept. 30, Sheriff Michael Bouchard spoke about the work Mr. Lee had done to help protect the community, saying his efforts resulted in multiple arrests and convictions. But he warned others about attempting to do the same, as criminals tend to react violently when approached.
"While we certainly understand his desire to hold child predators accountable, many times well-intentioned individuals ... often underestimate the potential for violence confronting a suspected predator," Mr. Bouchard said in a statement. "They feel trapped and often lash out violently. When we have arrested predators in such circumstances, they have rammed police cars and exhibited other violent behavior in attempts to escape."
While both Mr. Lee and Mr. Rosen's work includes exposing child predators, Mr. Lee took a different, much more aggressive approach. He liked to slash the tires of those he caught preying on children.
Aware of the dangers inherent in his unique line of work, Mr. Rosen said the killing of Mr. Lee might make him more cautious, but he's even more dedicated to stopping criminals.
His genre of crime-stopping was made famous by Chris Hansen's "To Catch a Predator" series on NBC's Dateline, which featured similar decoy ploys to catch adults preying on children online.
The show ended following an encounter with Bill Conradt—an assistant district attorney in Dallas, Texas—who committed suicide in 2007 after being caught by the crew. His family sued for $105 million the same year, and an undisclosed settlement was agreed to in 2008.
Although several suspects and family members have threatened Predator Poachers with legal action, Mr. Rosen said he has no concerns about litigation.
"I don't really see what they can sue me for," he said. "We make it clear that it's voluntary to talk to us, so I'm not worried about that."
Collaboration with police and district attorneys varies based on local statutes with actions that result in immediate arrest in some states—such as sending lewd photos to children—being tolerated in others.
Such disparities influence the Predator Poachers' operating strategy, with targets often brought to areas where prosecution is easier to obtain, according to Mr. Rosen.
"We do intentionally try to bring people to good areas," he said. "Rather than me confronting a guy 20 minutes from my house, I told him I was in Amarillo, and I drove nine hours to get him."
Large municipalities have obstacles because of understaffing and more relaxed policies, he said, noting that Oklahoma City is an exception and routinely prosecutes cases brought to them.
In California, the team has convictions in Sacramento and Yuba City, among others, but some areas are more reluctant to accept evidence, including Berkeley, where a transgender individual allegedly attempted to rape three children—aged four, six, and eight—yet was allowed to leave where the confrontation occurred without arrest and without the police confiscating evidence.
Most catches result in cooperation between the team and law enforcement, with the group gathering comprehensive chat logs and recorded phone and video evidence to hand over to prosecutors.
"They're getting more comfortable with catchers because we paved the way with solid cases," Mr. Rosen said.
In response to critics who say such groups are interfering with ongoing investigations, he rejects the claims and says the numbers don't lie, as the sheer volume of child predators online compared to the resources available to law enforcement indicates that additional help is needed.
More than 50,000 child predators are online at any given time, 1 in 5 children per year is subject to unwanted sexual solicitation online, and 3 percent of all children receive aggressive sexual solicitation every year, according to the U.S. Department of Justice.
Established in 1998, the Internet Crimes Against Children Task Force, made up of 67 units across the country, has reviewed 7 million child exploitation reports leading to the arrests of more than 134,000 people, according to its website.
Officials are urging parents to be conscious of their children's online activities, as criminals are exploiting social media and apps to access minors.
"Children are spending more time online, for school, for clubs, and for playdates. Parents don't know all the apps or how to use them, but sexual predators do," Antoinette T. Bacon, acting U.S. attorney for the Northern District of New York, said in a 2020 statement. "They know where the kids are and how to reach them."
Given the evolving nature of communication and accessibility, she suggested that parents familiarize themselves with the apps and platforms their children are using.
"Just as parents taught kids to be safe at home by locking the doors at night, parents must learn how to keep kids safe online," Ms. Bacon said. "Computers can be scary. The internet can be intimidating. But in this case, ignorance is not bliss."
While crimes against children are on the rise, up by 35 percent from 2020 to 2021 based on Justice Department statistics, funding for the task force is decreasing—falling to $31.2 million in 2022 from $34.7 million in 2020, the latest data provided.
Further complicating matters is a lack of strategic planning from the Department of Justice, according to a scathing report from the Government Accountability Office released in December 2022.
The report found that 12 of 19 mandated elements required in such planning were incomplete, and although bi-annual reviews are mandated, none have occurred since 2016.
Such circumstances are allowing online sexual criminal activity to flourish, according to experts.
"We have over 100 predators that we can basically just go get whenever we want," Mr. Rosen said. "And that's just who we're choosing to talk to or engage with."
Popular on social media, Predator Poachers livestreams many of their catches on the video platforms
Rumble
and
Locals
—with supporters on the latter paying a few dollars a month to view exclusive content and videos. Several supporters told The Epoch Times that they contribute because they know their money is helping the team that "travels the most and catches the sickest," a line that's one of the group's mottos.
With countless thousands of miles placed on personal vehicles, travel expenses, five decoys, and a camera crew, the team expressed gratitude, saying such support makes the independently run operation possible, especially given YouTube's censorship and demonetization tendencies.
"We've lost seven YouTube channels at this point, either gone or demonetized," Mr. Rosen said. "The people on Locals literally make what we do possible. It really means a lot to us."
The group is currently on a road trip through 17 states. After securing two arrests of child predators in the cities of San Clemente, California, and Needles, California—within a 12-hour period beginning late at night on Oct. 13—and a new conviction and 10-year prison sentence announced on Oct. 3 in Kansas for pedophile Michael Cox—a suspect the team caught in 2022—Predator Poachers is planning to grow their operation.
"Our mission is to take as many pedophiles off the streets and away from children as possible," Mr. Rosen said. "While we can't stop pedophilia, we can always make dents and make small differences in people's lives and paint a great picture with a bunch of small, beautiful strokes. I know that doing this we've saved at least one kid, and that keeps us going."