A motorist in Minnesota was in for the shock of his life when he turned a corner and saw a child in a car seat lying on a busy road on Jan. 14.
Chad Cheddar Mock uploaded dash camera footage to 
Facebook
, showing the vehicle make a turn.
After the child's seat falls to the ground, the vehicle fails to stop and continues down the road.
Mock is then seen getting out of his car and comes to the child's aid.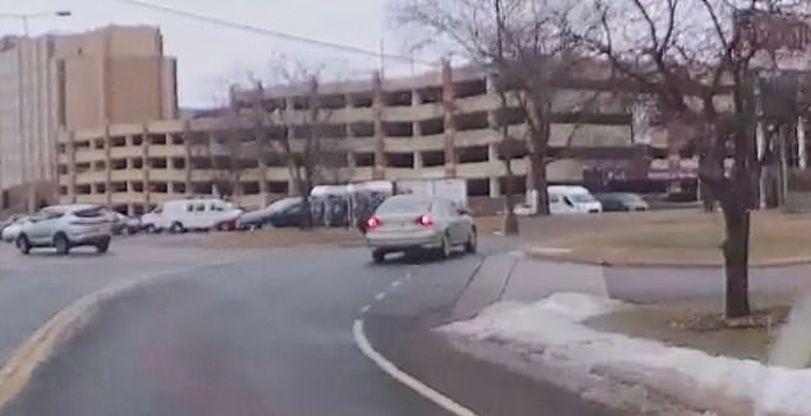 "If it didnt happen in front of me I'd never have believed it... the child was ok. the parents came back. paramedics and police checked the child out as well. very lucky," Mock said on Facebook.
In a statement on Facebook, the City of Mankato said police officers were dispatched to Minnesota Street.
"A two-year-old child had fallen out from the rear driver's side of the vehicle driven by the child's mother," the city stated.
The officials added, "The child was examined by public safety and ambulance staff and found not to be injured."
"A motorist with video footage reported the incident to public safety. The child was properly fastened inside the safety seat; however, the child safety seat was not fastened to the vehicle seat. Charges of child endangerment and child restraint system not fastened are being requested," according to the post.
The girl's mother might face charges of child endangerment, reported local news outlets.
Police spokesman Dan Schisel told the
Mankato Free Press
that the child was examined by Gold Cross paramedics and was found to be uninjured.
It's not clear why the vehicle's door opened. According to the Free Press, the child's mother returned to the scene after realizing her toddler was missing.
Mankato police said they have recommended that the Blue Earth County Attorney's Office press charges against the mother.
The incident took place at around 11:45 a.m. on Jan. 14.
The video is going viral on social media, with hundreds of thousands of views a day after it was posted.
Violent Crime in the US
The number of murders and violent crimes committed in the United States dropped slightly in 2017, according to new crime statistics released in September 2018.

"Crime declined nationwide last year, consistent with our earlier analyses of 2017 data in the nation's 30 largest cities," Ames Grawert, senior counsel for the Justice Program at the Brennan Center for Justice in New York, told the 

Washington Times

. "That's the good news. The bad news is that even while crime is falling, the number of Americans incarcerated remains near-record highs. Now is the time to address the problem."

The number of cases of manslaughter and murder dropped 0.7 percent in 2017 from the prior year, the report said.

Rapes rose by 3 percent and aggravated assault rose by 1 percent, but overall violent crimes dropped 0.2 percent, the report added.

Credit: Chad Cheddar Mock via Storyful