SACRAMENTO, Calif.—Several hundred people attended a third Stop the Steal rally at California's state capitol in Sacramento on Nov. 21. People in Carson City, Nevada, held a Stop the Steal event on the same day.
The Sacramento rally was a combined event with the Recall California Governor Gavin Newsom movement, and there was also a car parade.
"We are protesting against Gavin Newsom," Julius Q. Giles, a local rally attendee, told The Epoch Times. "We are protesting [for] the Stop the Steal, based on the election. We want [a] fair and balanced election for all people. We want to tell Gavin Newsom that he shouldn't be putting control on us, especially when he kind of does the opposite, you know—telling us to wear a mask, telling us to not be in large gatherings, but then he does the exact opposite. So we're kind of protesting against that. We're protesting our freedoms back."
Giles has been following politics since last year and agreed with many of President Donald Trump's policies on immigration, protecting the First and Second Amendments, and the Constitution. He also questioned the 2020 election results.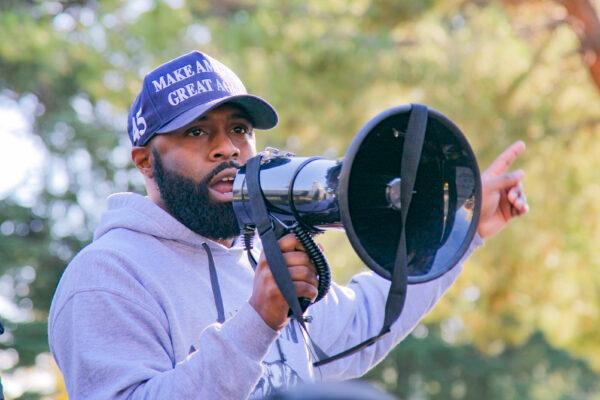 "They called the votes really early on. So we want to understand, can we get a recount? What's happening? We just want the answers to what's going on. Because we don't want them to steal the election and we just say, 'okay, that's fine.' We shouldn't just give in like that. We have to fight," Giles said.
"I am afraid of the whole Biden thing," attendee Lisa Carlisle told The Epoch Times. "I am afraid of the whole Democratic Party wanting to bring in socialism and communism to this country, and I don't want to see that happen. That is not what America is. America is land of the free, home of the brave, not people ruled by the government. We just can't let that happen."
Rally attendee John Jevtic, from Manteca, Calif., told The Epoch Times: "I went to two rallies with Trump, and it was amazing. It really brought the 1776 out of my blood. And I feel so patriotic now, just seeing him. He's working for us. He's giving us his all. I've never seen a person do that."
Attendee Jon DeRoos does not watch the mainstream media because he prefers to watch things with his own eyes and draw his own conclusions.
"Trump absolutely won in a landslide. For this to happen to us, as a country, it's an absolute shame, and everyone knows it. Everyone knows that this was a con job and we're not going to put up with it. That's why we're here. And it's not going to happen," DeRoos told The Epoch Times. "A message to these crazy communists that did this to our country: Sorry, it's just not going to happen here. We're not going to let it happen."
He is positive about the future.
"The level of deception, the level of deceit that they, the media, the propagandist arm of the left, what they have tried, it's going to expose a great enlightening of the public," DeRoos said. "It's going to be great after we get through this. It's going to be tough for a while, but we are going to get through this, and the United States is going to win, and we're going to win for the world too."
Protesters in Carson City
In Carson City, people protested with signs that read "Recall Sisolak," referring to Nevada Governor Steve Sisolak.

Marsha, who's been a Nevada resident for two years, told The Epoch Times that she doesn't like the lockdown and that it caused too much unemployment.

"We need to keep our economy going, and that's what Trump proved. And I don't think [Sisolak] is keeping up with what the general population wants," she said.

She expressed concern about increases in property tax, among other taxes, which was why she moved from California.

Marsha believes that the future of America would be "bleak" if candidate Joe Biden were to become president.

"I'm trying to live on a retirement right now, and I can see that everything that I've been trying to work towards ... the economy isn't going to support it," she said.
Amy Price-Fanter, from Reno, Nevada, said she has been protesting for a variety of reasons since April. This time, she is trying to stop the Great Reset, an initiative by the World Economic Forum to reshape the economy after the COVID-19 pandemic.
"Many corporations and governments, including the EU, including some of our folks here in the United States, have decided that they know better than we do, as the American people," Price-Fanter told The Epoch Times.
"I intend to do everything that I can as a citizen to stop the steal. I'm done," she said. "I am tired of both parties. And I really feel like I waited way too late in my life to get active. But if this is it, this is it. Now is the time. If I don't get active, I'm not going to have the same country left for my kids as I've had, that I've grown up with. And if we don't stop it now, I don't know what stops it."
Phil Harrison, a Nevada resident, watched the Election Day results at a friend's house. He thought Trump would win, but the next morning, Biden was suddenly leading in Nevada and other swing states, he said.
He was shocked to hear the mainstream media declaring Biden the president-elect.
"It's really sad to see that these major networks have aligned themselves. It's almost like collusion, that they've aligned themselves to the Democratic Party," Harrison told The Epoch Times. "We know the influence of socialism, Marxism, and communism, and even coming from China. It's pretty shocking to see the influence on our elections."
He said corruption is in so many different levels and states. He prays that the president will get through.
"I'm 100 percent behind Trump here in Carson City with the movement, because we want to see him prevail in the courts," he said.
Kevin Yackle, who lives in Carson City, told The Epoch Times that he "knew that the Democrat, globalist side were going to take over the election one way or the other."
"I knew the fight was going to be a long one," he said. "I want the liberties and freedoms that were afforded to me to be passed on to my children and the rest of our country."
With reporting by Nancy Han and Andy Ellsmore.