California is lifting its mask mandate on March 1 for unvaccinated people in most indoor settings, Gov. Gavin Newsom announced on Feb. 28.
The state's K–12 school mask mandate will be lifted on March 12. Masks will then be "strongly recommended," rather than required, for all individuals indoors.
"California continues to adjust our policies based on the latest data and science, applying what we've learned over the past two years to guide our response to the pandemic," Newsom said in a
statement
.
"Masks are an effective tool to minimize spread of the virus and future variants, especially when transmission rates are high. We cannot predict the future of the virus, but we are better prepared for it and will continue to take measures rooted in science to keep California moving forward."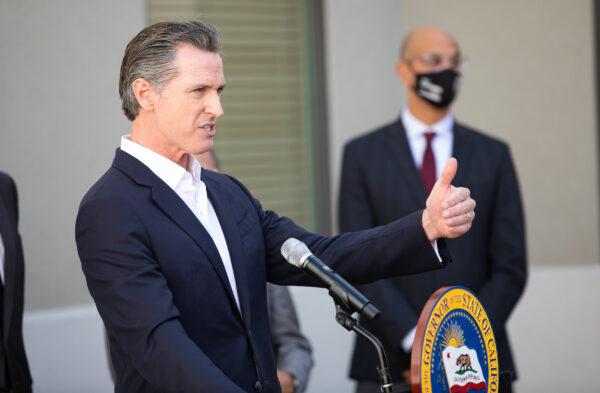 Masks will continue to be required for everyone in health care facilities, transit centers, airports, aboard public transit, in correctional facilities, and at homeless shelters and long-term care facilities.
Oregon Gov. Kate Brown and Washington Governor Jay Inslee announced similar guidelines on Feb. 28, citing declining COVID-19 case rates and hospitalizations.
"Two years ago today, we identified Oregon's first case of COVID-19," Brown said in the statement. "On the West Coast our communities and economies are linked. Together, as we continue to recover from the Omicron surge, we will build resiliency and prepare for the next variant and the next pandemic."
Under the timeline announced Feb. 28, individual school districts or counties, however, will have the option of maintaining local requirements if they deem them necessary.
Los Angeles County—which has implemented more strict COVID-19 measures than the state throughout the pandemic—will align with the state and will also lift the school masking requirement as of March 12.
"School districts may require masking at schools and during school activities and are encouraged to consult with teachers, staff, parents and students as they consider the appropriate safety protections for their school community, recognizing that many individuals may want to continue additional protections," according to a statement from the county Department of Public Health.
As of Feb. 28, LA County still had its indoor mask mandate in place, except for businesses that check vaccination status.
However, the county has already lifted its outdoor mask-wearing rule at schools and child care centers.
While some officials celebrate lifting the mandate, some say the move is long overdue.
"The last to follow the science, Newsom is finally getting rid of the mask mandate for adults AND kids," Sen. Melissa Melendez (R-Lake Elsinore) wrote on Twitter.
Others say the mandate for K–12 schools should end on the same day as the state.
"There's no reason to make parents and students wait two more weeks. The decision should have always been left to parents and waiting two more weeks is unscientific," San Diego County Supervisor Jim Desmond wrote on Twitter.