California Democrats recently voted to approve legislation that will make California a sanctuary state for transgender youth and their parents avoiding prosecution for child abuse in other states.
The legislation,
Senate Bill 107
, was approved on a 30–9 vote along party lines in the California state Senate on Aug. 31, the last day of the legislative session. State Sen. Bob Hertzberg, a Democrat, didn't vote on the measure. Gov. Gavin Newsom has until Sept. 30 to either veto the "gender-affirming health care" legislation or sign it into law.
The vote followed a federal court
ruling
 on Aug. 26 that struck down a Biden administration mandate that forced doctors to perform medical procedures, including those related to gender transitions, against their religious beliefs.
During the discussion of the legislation, state Sen. Melissa Melendez, a Republican, questioned whether supporters, including state Sen. Scott Wiener, a Democrat and author of the measure, have done enough research on the effects of transgender medical interventions on children, pointing out that some European countries, such as Sweden, appear to be
shifting away
from the "gender-affirming" care model for minors.
Referring to
Chloe Cole
, who at 15 years old had her breasts removed and now regrets having done so, Melendez said some of the procedures are irreversible.
Cole, now 18, has testified twice against SB 107, most recently at a California Senate Judiciary Committee hearing on Aug. 30, the day before it was passed by the Senate.
"My parents were told that the options were transition or suicide. They complied because they were not offered any other treatment solution for my distress. My distraught parents wanted me alive, so they listened to my doctors. I was placed on puberty blockers and testosterone after expressing my gender dysphoria to my therapist, and I was approved for a double mastectomy all by the age of 15," she said.
"Who here really believes that as a 15-year-old, I should have had my healthy breasts removed or that should have been an option? SB 107 will open the floodgates for confused children like me to get the gender interventions that many so regret. I am the canary in the coal mine."
Like many gender-dysphoric children, Cole also suffers from a variety of mental health conditions, she told the committee.
"So I easily fell prey to the narrative that if I felt different and did not want to be a highly sexualized girl, I must be a boy. I obsessed over becoming a boy. I believed that all my insecurities and anxiety would magically disappear once I transitioned," she said. "The mental health professionals did not try to dissuade me of this delusional belief. I was fast-tracked into medical transition after I was diagnosed with dysphoria in California."
Melendez said "there is no going back" from that type of surgery, and she contended that there aren't enough long-term scientific studies or data to suggest medical interventions such as puberty blockers and cross-sex hormones don't harm children.
"To allow them to go through with some of the medical procedures that are being suggested here without a parent being able to intervene is wrong, and that's what this bill will allow," she said.
While children with gender dysphoria should be protected from bullying and harassment and provided all the medical and mental health care they need, the state shouldn't step in to help facilitate the gender transitioning of minors, according to Melendez.
"It's not our place," she said.
Wiener accused Republicans in California and other states of "trying to score cheap political points on the backs of these children" by "playing into this culture war and delegitimizing and erasing trans kids."
"This is about making sure that trans kids and their families are not being criminalized and torn apart by other states," he said. "California is not going to enforce these vile, hateful laws."
The legislation would prohibit health care providers in California from complying with subpoenas requiring the disclosure of medical information relating to transgender procedures and prevent California law enforcement agencies from cooperating with out-of-state agencies and laws, preventing arrests and extradition, according to Wiener.
Melendez argued that while Wiener has talked about the stress transgender youth and their parents face in other states, he has ignored the depression and anxiety many still encounter even after transitioning and surgery.
"That is very real, and you cannot deny that, and you cannot say that those kids who now regret their decision are invisible," she said.
Parental rights shouldn't be sacrificed to show sympathy to transgender children and families from other states, according to Melendez.
"You can be sympathetic and understanding to those who are having thoughts about transitioning and the parents who are trying to help their kids ... but also be sympathetic to the parents who are raising them and their role in their child's life and not interfere in that relationship between the parent and the child," she said.
Wiener defended the legislation, arguing that the notion that it would get between kids and parents is "bogus."
State Sen. Brian Dahle, a Republican, accused him of dodging his question about whether there's an age limit on how young children can consent to transgender treatments.
"What is the age?" Dahle asked
Wiener responded that ages of consent are set in medical standards of care, not by the legislation.
"I didn't hear an answer in that other than the fact that there is no age [limit]. Basically, the age can be determined by a panel of people or some scientific data that's out there," Dahle said.
The legislation could force the state to get involved in child custody disputes if one parent wants to allow their child to undergo gender transitioning and the other one doesn't, he said.
"This bill is basically putting the state in your home," Dahle said. "I think it's time for California to get out of the way of parents and let them work with their children. And look, if they're an adult, let them make the decision. I have no problem with that."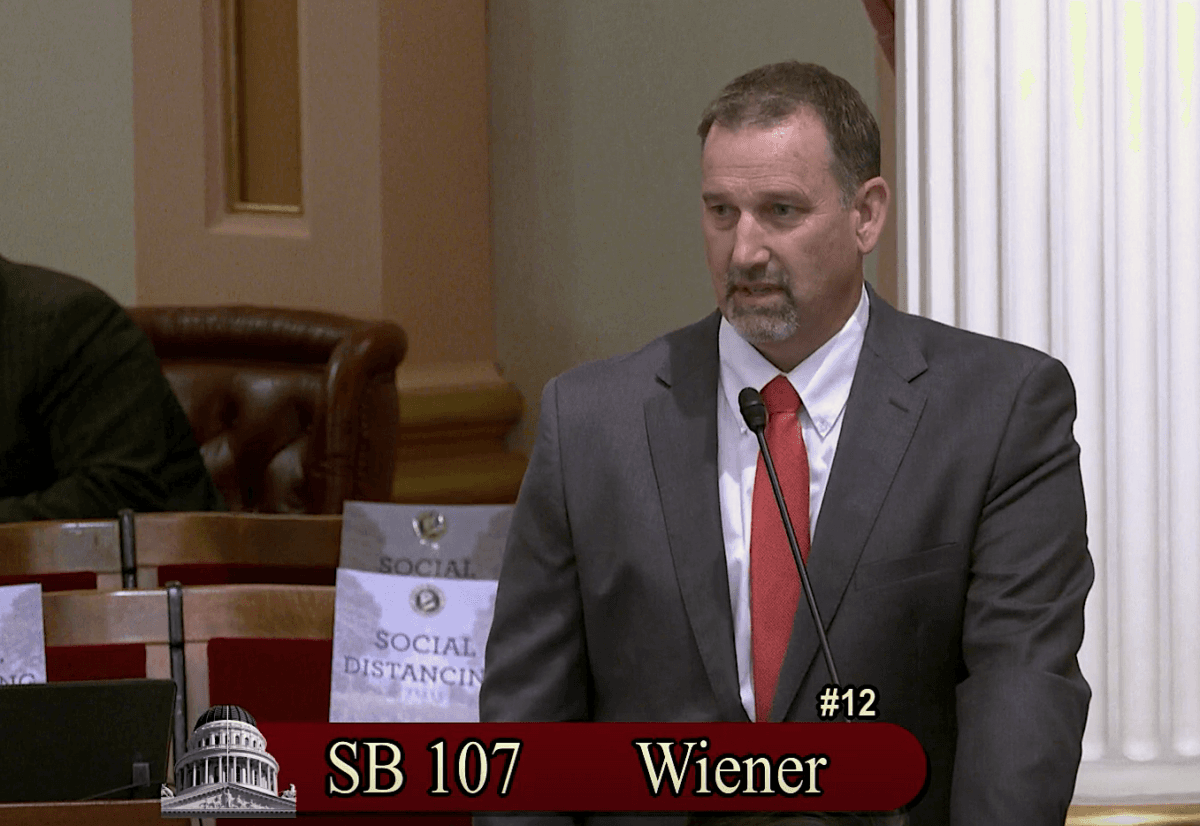 State Sen. Richard Pan, a Democrat and a pediatrician, accused opponents of exaggerating and spreading medical misinformation and claimed that the effects of puberty blockers on youth are reversible and that denial of such treatments have long-term consequences, including depression and suicide risk.
At the Aug. 30 committee hearing, Tami Martin, legislative director for Equality California, accused politicians across the U.S. of plotting to "invalidate and repress transgender people and the families and doctors who support them."
"These attempts are part of a broader effort to invalidate marginalized populations and rob people of autonomy over their own lives and their own bodies," she said.
Martin said SB 107 would ensure that California "will not enable other states to punish people who are in our state for the purpose of obtaining gender-affirming care, which is lawful here."
"I also want to highlight what the bill means as an LGBTQ+ person, and as one who works in the legislative space, it has been hard to watch leaders in other states use legislation and policy to harm my community and to hurt my friends," she said.
Kathie Moehlig, founder of Trans Family Support Services based in San Diego and who has a transgender child, said about 56,000 trans youth and their families are living in states that may lose "gender-affirming" care.
Recently, Alabama passed a law that criminalizes trans-affirming care for those 19 and younger, according to Moehlig.
"Alabama is not the only state with this harmful legislation. This was devastating for our youth and family," she said. "The rate of anxiety, depression, and self-harm and suicide ideation among this population is so very high, especially for those who can't access appropriate medical care, which is the only treatment for gender dysphoria."
Planned Parenthood Affiliates of California is also a supporter of the legislation.
Erin Friday, a California leader of Our Duty, an international organization that views transgender ideology as a "
social contagion
" and rejects the notion that people can be trapped in the wrong bodies, has testified several times against SB 107. She said SB 107 would only worsen the "largest medical scandal in history."
Friday, an attorney and mother of a teen who once suffered from Rapid Onset Gender Dysphoria (ROGD) but no longer identifies as trans, said that if SB 107 passes, the state would decide which parent, if either, would get custody of an out-of-state child seeking medical interventions.
"This law entices minors seeking gender interventions against their parents' wishes to run away to California," she told the committee. "So if parents disagree on whether or not to permit their 14-year-old daughter to have her breasts removed and the offending parent and child arrive in California, California will decide which parent gets custody. We parents know who will win that battle. Pursuant to Family Code 3428, it is not kidnapping if the non-custodial parent absconds with the gender-confused child to California."
A self-proclaimed Democrat, Friday has warned the Democratic Party that they'll lose votes from parents like her over the transgender debate.
"Republican and Democratic parent groups are linking arms to safeguard children," she told The Epoch Times in a text message after the legislation was passed. "I don't think my party will ever recover from this assault on the family or bodily integrity of children."
Greg Burt, capitol director of the California Family Council, told The Epoch Times on Sept. 2 that the legislation clearly states that California courts would be granted additional powers to take temporary jurisdiction of any child that makes it to California for transgender treatment.
"California is getting ready to remove custody from parents from other states if [they] object to their kids getting these drugs and surgeries that will permanently destroy their reproductive systems," Burt said.
"We hope that Newsom will veto this bill and see that it's just going to get the state sued. Every attorney general in the country is going to come after this state the second we take away parental rights from somebody in another state. We're setting ourselves up as a threat to families in the whole country."
The text of the legislation reads, "The bill would authorize a court to take temporary jurisdiction because a child has been unable to obtain gender-affirming health care. The bill would additionally prohibit a court from considering the taking or retention of a child from a person who has legal custody of the child, if the taking or retention was for obtaining gender-affirming health care or mental health care."