DEL RIO, Texas—Border officials processed a record 260,450 illegal and inadmissible aliens during April, according to newly released Customs and Border Protection (CBP)
data
.
More than 202,300 illegal border crossers were apprehended by Border Patrol agents, while an additional 58,140 individuals presented themselves at ports of entry—21,137 of whom were Ukrainians.
The numbers are an increase of almost 68 percent over fiscal 2021 numbers, which was a record-breaking year on its own.
The number of apprehensions is markedly higher than any April on record, including during the past 10 years, when apprehensions ranged from a low of 11,000 in 2017 to 99,273 in 2019—until last year when April hit 173,701.
Border Patrol agents in Texas are the busiest, with more than 128,000 arrests during April—an average of 4,260 per day. Along the whole southwest border, agents are apprehending an average of 6,700 illegal aliens per day.
Department of Homeland Security officials are warning of an increase in illegal crossings, up to 18,000 per day, once the Title 42 public health authority is revoked. It's currently set to expire on May 23, pending a
Louisiana judge's decision.
During April, almost 94,700 illegal immigrants (almost 70,000 of whom were Mexican nationals) were quickly expelled under Title 42, while 107,310 were processed under Title 8 immigration law and ushered into the United States.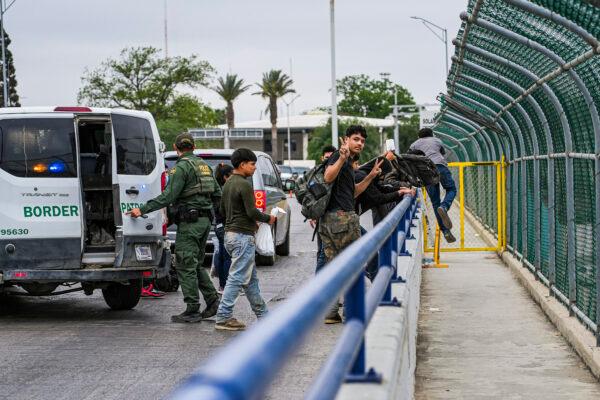 "The fact is that our borders are not open, and we will continue to remove those who enter our country unlawfully and have no legal basis to stay," CBP Commissioner Chris Magnus said in a
statement
.
"After many months of planning, we are executing a comprehensive strategy to safely, orderly, and humanely manage our borders. CBP is surging personnel and resources to the border, increasing processing capacity, securing more ground and air transportation, and increasing medical supplies, food, water, and other resources to ensure a humane environment for those being processed, screened, and vetted."
CBP's focus has been to increase its ability to quickly release illegal aliens from Border Patrol custody, including the
widespread use of parole authority
that was in the past used sparingly, or as a stop-gap measure.
Under parole status, illegal immigrants don't have to provide Border Patrol with evidence of credible fear for asylum and are permitted entry for one year without any preconditions, except a quick background check in the U.S. crime database.
During April, Border Patrol agents released more than 40,000 illegal aliens as parolees—15,000 more than in March.
Border Patrol agents have arrested 5,985 illegal alien criminals since Oct. 1, 2021, the beginning of the fiscal year. The types of crimes listed by CBP include assault, domestic violence, homicide, sexual offenses, driving under the influence, and illegal reentry into the United States.
The number of criminal arrests over the past six fiscal years has fluctuated wildly, often decreasing in years that Border Patrol agents are dealing with large influxes of border crossers. Cartels and human smuggling groups often tie up Border Patrol resources by sending a large group of asylum-seekers to one area, while sending criminals, drugs, and other contraband to a nearby, unpatrolled area.
CBP doesn't publish its estimated number of illegal aliens that Border Patrol agents detect, but don't capture—known as "gotaways."
However, CBP statistics provided to The Epoch Times from a source inside the agency indicate that more than 58,000 illegal immigrants evaded apprehension in April, with Tucson, Arizona, and Del Rio, Texas, being the two busiest sectors for "gotaways."
Border Patrol is also encountering illegal aliens from around 160 countries.
During April, of the agency's almost 202,000 apprehensions, 84,536 were from countries other than Mexico, Guatemala, Honduras, or El Salvador.
"We are addressing a level of migration that is historic," Department of Homeland Security Secretary Alejandro Mayorkas said during a press conference in McAllen, Texas, on May 17.
He said the population of Costa Rica is currently approximately 2 percent Nicaraguan as individuals move north.
Mayorkas said they're leaving Nicaragua, and other countries, "by reason of so many different factors—economic despair, violence, distress caused by natural disasters, all made more acute, all aggravated, of course, by the impact of the COVID-19 pandemic."
Border agents have apprehended an average of 13,000 Nicaraguans per month so far this fiscal year, according to CBP data.
Mayorkas has defended his handling of the border, telling Congress in late April hearings that his agency has "operational control" of the border.
The highest number of apprehensions recorded in a fiscal year since the formation of the Border Patrol was 1.69 million in fiscal 1986. This year is on track to hit well above that record, with a current almost 1.3 million apprehensions and five months remaining in 2022.