President Joe Biden has vetoed a Republican-led bill to overturn his student loan relief plan that proposed having taxpayers foot the bill for thousands of dollars in debt relief for millions of student borrowers.
"Since Day One, my administration has been fighting to make college cheaper and the student loan system more manageable for borrowers," Biden said in a video message
posted
to Twitter. "I remain committed to continuing to make college affordable and providing this critical relief to borrowers as they work to recover from a once-in-a-century pandemic."
The administration unveiled the proposal in August 2022 after running on the policy in Biden's presidential campaign. It would affect 40 million borrowers by offering $10,000 in student loan forgiveness for those making less than $125,000 per year and $20,000 in forgiveness for Pell Grant recipients with low family income.
Last week, several moderate Democrats joined Republicans in both chambers to oppose the plan, despite the White House's insistence that the president's proposal would prevent borrowers from defaulting when student loan payments resume sometime this year after the pandemic-era pause.
In the upper chamber, Sen. Joe Manchin (D-W.Va.), Sen. Jon Tester (D-Mont.), and Kyrsten Sinema (I-Ariz.) helped the GOP end the president's plan. In the lower chamber, Rep. Jared Golden (D-Maine) and Rep. Marie Gluesenkamp Perez (D-Wash.) joined with Republicans.
A two-thirds majority vote in the House and Senate is needed to overturn the president's veto. Political observers have said that will be difficult to obtain.
This means the fate of the student loan forgiveness initiative will be left up to the Supreme Court. It's considering the plan, but legal experts anticipate that the conservative majority will strike it down.
So far, the current administration has approved approximately $66 billion in student loan relief to about 2.2 million borrowers.
The White House has instituted various changes to the federal student loan system.
In July, new rules will broaden eligibility for the Public Service Loan Forgiveness program that supports government and nonprofit workers. A new income-driven repayment plan to reduce eligible borrowers' monthly payments and decrease repayment amounts over time is also expected to go into effect this year.
Dollars and Cents
Republicans assert that the policy of forgiving student loans is unfair to Americans with no such debt.

"I think this was an unconstitutional power grab on the part of the administration that literally transfers the debt from the 13 percent of the people in this country who have student loans to the 87 percent who don't," Sen. John Thune (R-S.D.)

told

the Fox Business Network on June 7.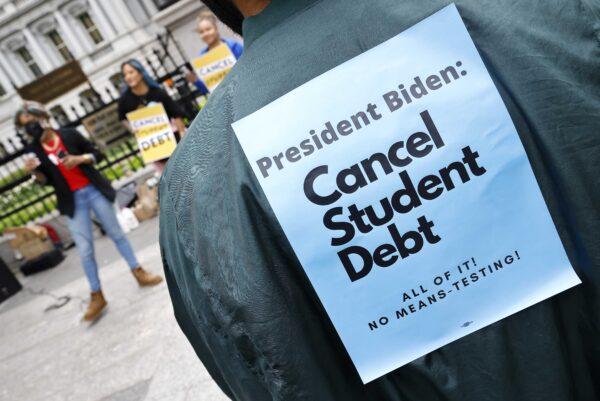 Sen. Bill Cassidy (R-La.)
said
of the effort to strike down the proposal that the "bipartisan resolution prevents average Americans ... from being forced to foot the bill of these unfair and irresponsible policies."
"Biden has had a lot of bad ideas. But making truck drivers pay off lawyers' student loans may be his worst," Sen. Tom Cotton (R-Ark.) wrote on
Twitter
.
A chorus of moderate Democrats and Republicans have expressed concern about the additional burden the policy has on the national debt. The Congressional Budget Office projects that blocking the student loan forgiveness program could trim the federal deficit by approximately $320 billion.
The
Penn-Wharton Budget Model
forecasts that forgiving federal student loan debt would cost as much as $980 billion over the next 10 years.
"We estimate that a one-time maximum debt forgiveness of $10,000 per borrower will cost around $300 billion for borrowers with incomes less than $125,000," the PWBM noted.
"This cost increases to $330 billion if the program is continued over the standard 10-year budget window. Eliminating the borrower income limit threshold produces a 10-year cost of $344 billion. Increasing the maximum amount forgiven to $50,000 per borrower increases the total cost to as much as $980 billion."
There is also debate about who benefits from canceling student debt, with some critics calling the policy regressive.
The White House noted that 90 percent of the relief would be applied to borrowers earning less than $75,000 per year. However, in recent years, research has shown that student loan relief efforts often favor the wealthy.
An April 2021 working
paper
published by the University of Chicago's Becker Friedman Institute for Economics asserts that eliminating all student loan debt would transfer nearly $200 billion to the top 20 percent of earners and only $29 billion to the bottom 20 percent.
In addition, an
April report
from the Brookings Institution found that the current federal student loan payment pause enacted in the early stages of the coronavirus pandemic overwhelmingly helped the affluent because they possess larger balances and higher payments.
"This is particularly true when interest rates are relatively high because borrowers can accrue interest on savings that would have otherwise been spent on loan payments, while future payments are fixed in nominal dollars," University of Virginia Economics and Education professor Sarah Turner wrote in the report.
"As a result, while households across the income distribution benefit from pausing payments and interest, the total value of the pause is largest for households in the top deciles."
Some economists also have said that forgiving student loans can cause inflation.
When Biden announced his plan, the Committee for a Responsible Federal Budget 
estimated
that the debt cancellation would boost near-term inflation by as much as 0.3 percent. The organization noted that this would also undermine projected gains from the Inflation Reduction Act.
A potential moral hazard also exists; according to the
Federal Reserve Bank of Richmond
, debt cancellation could incentivize college students to apply for more loans and encourage universities to bolster tuition rates.