Former President Donald Trump has criticized President Joe Biden, claiming that the administration had prior knowledge of the FBI raid on his Mar-a-Lago resort on Monday.
"Biden knew all about this, just like he knew all about Hunter's 'deals,'" Trump
wrote
on Tuesday in a post via his Truth Social platform.
Hunter Biden, who is currently under federal investigation for tax affairs, has been linked to financial transactions with individuals in countries including
Ukraine
, Russia, and
China
, particularly during the time when his father, Joe Biden, was vice president during the Obama administration. However, Biden has refuted that he knew of his son's business dealings with foreign entities.
The White House has denied knowing about the FBI raid in advance. During a press briefing on Tuesday, White House press secretary Karine Jean-Pierre
said
Biden "was not briefed" on what happened at Mar-a-Lago.
"No one at the White House was given a heads up," Jean-Pierre added.
A 'Horrible Thing'
In a separate Truth Social
post
on Tuesday, Trump said the latest FBI raid was a continuation of attacks against him.
"A horrible thing that took place yesterday at Mar-a-Lago," Trump wrote. "We are no better than a third world country, a banana republic."
"It is a continuation of Russia, Russia, Russia, Impeachment Hoax #1, Impeachment Hoax # 2, the no collusion Mueller Report, and more," Trump continued. "To make matters worse it is all, in my opinion, a coordinated attack with radical left Democrat state & local D.A.'s & A.G.'s."
About two dozen FBI agents entered Trump's resort at around 9 a.m. local time on Aug. 8 and stayed for about 10 hours.
Christina Bobb, a Trump lawyer,
told The Epoch Times
that the FBI agents were "looking for presidential records, what they deemed to be presidential records, and anything that could potentially be classified."
Bobb also said the agents "took a handful of boxes of documents."
Search Warrant
At the time of writing, the justification for the raid is unknown since the search warrant affidavit—which would contain the reasonings behind the raid—
remains under seal
.
The search warrant was
approved
by U.S. Magistrate Judge Bruce Reinhart, according to court documents. Reinhart is a magistrate judge in the West Palm Beach offices of the U.S. District Court for the Southern District of Florida.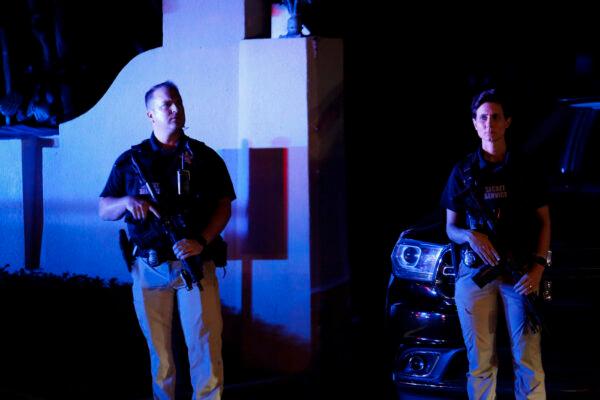 Government watchdog Judicial Watch
announced
on Tuesday that it has filed a motion asking the U.S. District Court for the Southern District of Florida to unseal "as soon as possible" the search warrant materials used by the FBI to raid Trump's home in Florida.
In its motion, the watchdog said it is "investigating the potential politicization of the Federal Bureau of Investigation and the U.S. Department of Justice and whether the FBI and the Justice Department are abusing their law enforcement powers to harass a likely future political opponent of President Biden."
"It is essential that the public understands as soon as possible the basis for the government's action," the watchdog wrote.
Tom Fitton, president of Judicial Watch, also criticized the Biden administration in a statement.
"The Biden administration's raid on President Trump's home is an outrageous, reckless and unprecedented abuse of power. And the American people have an urgent right to know how it happened and who is responsible," Fitton stated.
Republicans
Many GOP lawmakers
have condemned the raid
, including House GOP Conference Chairwoman Rep. Elise Stefanik (R-N.Y.).
"Joe Biden's FBI and Department of Justice have been fully weaponized against their political opponents," Stefanik wrote according to a
statement
from her office. "It is an absolute outrageous abuse of power and unAmerican for these agencies to raid the home of President Trump and seize the cell phone of a sitting Member of Congress.
"Attorney General Garland, Director Wray, House Democrats, and most of all Joe Biden will absolutely be held accountable."