President Joe Biden announced new executive actions Monday restricting ghost guns and has made another nomination for director of the Bureau of Alcohol, Tobacco, Firearms and Explosives (ATF).
The Department of Justice (DOJ) announced that it has submitted to the Federal Register Monday
a final rule on ghost guns
—unregistered firearms that can be built using a kit ordered online.
Biden's rule will require kits that can be used to build a gun to be registered as such. It also includes an effort to serialize ghost guns already in circulation. Additionally, Biden's order will update serialization and background check laws for guns with split receivers and require firearms dealers to retain records for as long as their business is open.
"The NRA (National Rifle Association) calls this rule I'm about to announce extreme, extreme," Biden said in a Rose Garden address. "But let me ask you, is it extreme to protect police officers? Extreme to protect our children? Extreme to keep guns out of the hands of people who couldn't even pass a background check?
"The idea that someone on a terrorist list could purchase one of these guns."
The rule "isn't extreme," he said. "It's just basic common sense."
The new rule, as Biden noted, is coming under criticism from Republicans and Second Amendment advocates.
"Today, President Biden chose once again to appease the far-left over enforcing border security or policies that would restore fiscal responsibility," Rep. Daniel Webster (R-Fla.) told The Epoch Times in an email.
"The Constitution does not authorize the federal government to prevent you from making your own firearm. This a fact that has been recognized for 200+ years. Also, Article 1, Section 1 (literally the first operative sentence in the Constitution) says Congress makes law, not POTUS!" Rep. Thomas Massie (R-Ky.) posted on Twitter Sunday.
Even before the final rule was published,
Gun Owners of America
(GOA) announced plans "to fight back immediately," claiming
Rule 2021R-05
would allow ATF "to expand its nearly billion-record gun registry and regulate gun parts as firearms," creating a de facto gun registry in violation of the United States Constitution.
"Biden's proposal to create a comprehensive national gun registry and end the online sale of gun parts without the passage of a new law exemplifies his disregard for the Second Amendment," GOA Director of Federal Affairs Aidan Johnston said in
a Sunday statement
. "Congress must provide oversight by striking down ATF's illegal gun registration rule using the Congressional Review Act and passing Rep. Michael Cloud's (R-TX) No REGISTRY Rights Act to eliminate ATF's billion-record gun registry."
Biden has made no mention of a national gun registry as part of his new executive order but if the new "Definition of 'Frame or Receiver' and Identification of Firearms" rule is implemented as written, GOA maintains it will "mandate the serialization of many gun parts, forcing Americans to undergo a background check for a new legal 'firearm' in order to repair or buy replacement parts for their guns."
In practical application, under the new rule, gun owners would "have to do multiple background checks to build or repair a gun," it said. "This new rule is about expanding an already billion-record gun registry to eventually include every single sale at every single gun store since 2002. This is pure gun control—ultimately people control."
White House press secretary Jen Psaki told reporters Monday the president is confident in his legal authority to move forward with the order.
"This is a rule that's supported by law enforcement. It is a rule that will help address what we know is a rising component of gun crimes across the country," Psaki said.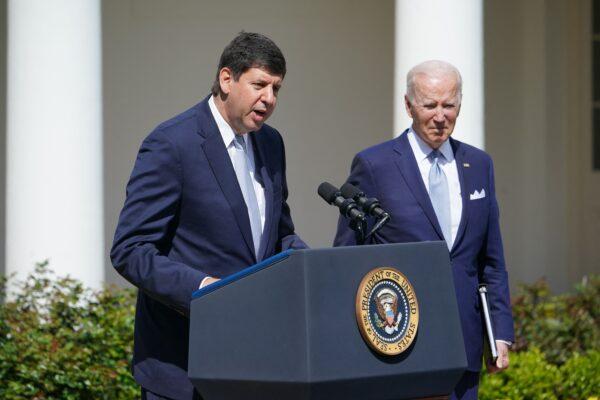 Biden's New ATF Nomination
The president is tapping former U.S. Attorney Steve Dettelbach to head the ATF.

Biden's previous nomination, David Chipman, was pulled back in September as Chipman found opposition from Senate Republicans and some Democrats. Chipman's history of gun control advocacy had him squaring off against gun rights groups.

Dettelbach was confirmed for his position as U.S. attorney for the Northern District of Ohio in 2009. He also spent two decades as a prosecutor for the DOJ, according to a White House fact sheet.

Dettelbach also ran an unsuccessful campaign for Ohio Attorney General during which he advocated for an assault weapons ban among other gun control measures, according to the Ohio public radio station WOSU.

Biden on Monday touted Dettelback's record as making him qualified to lead the ATF "on day one."

Biden added that "the mission of [the ATF] isn't controversial, [it's] public safety."

The National Shooting Sports Foundation (NSSF) was among the gun owners' rights groups that opposed Chipman's nomination. The group said in a statement it has "significant concerns" with Dettelbach's record but will withhold judgment until after Senate confirmation hearings.

Gun Owners of America (GOA)

in a statement

said Dettelbach is "a big-time gun control supporter" whose background should make him ineligible to lead the ATF. "Support for infringements on our constitutionally-protected rights should disqualify anyone from and every public office."

"Dettelbach's nomination should be of extreme concern for gun owners. If he is confirmed as ATF director, he could 'do something' about 'gun violence' that would infringe upon our right to keep and bear arms," Lee Williams of the Second Amendment Foundation (

SAF) writes

. "Dettelbach, like Biden's first choice to run ATF, is staunchly anti-gun. We cannot allow Biden to give another anti-gun zealot the means to further erode our God-given, Second Amendment rights."

The top spot at the ATF has been mostly vacant since it became a Senate-confirmed position in 2006. The only person to serve as permanent ATF director since that time was Byron Todd Jones who filled the role from 2013 to 2015.

Biden's ATF nomination and new gun rules are meant to address a nationwide increase in violent crime in recent years. The rate of violent crime nationally reached a ten-year high in 2020, according to data from the FBI. This included a year-over-year jump in homicides from 6,977 in 2019 to 9,630 in 2020.

And several major cities reported dramatic increases in crime last year. Some estimate last year's nationwide murder rate to be near a 25-year high. The murder rate was estimated to be 6.9 murders per 100,000 people in 2021.

Last year roughly 20,000 suspected ghost guns were recovered by law enforcement in criminal investigations, according to the ATF.

Anticipating Biden's Monday announcement, gun owner rights groups reiterated allegations that the ATF has manufactured the "crisis" by purposely conflating numbers of seized "privately-made firearms" by counting them along with confiscated illegally altered factory-made guns to grossly exaggerate "ghost gun" numbers, and raised vociferous objections to Dettelbach's nomination as agency director.

Lee Williams of the

Second Amendment Foundation

said an analysis by the Bellevue, Washington-based nonprofit's

Investigative Journalism Project

determined the ATF cannot verify the numbers it cites and yet, even when it acknowledges its stated statistics are unverifiable, the mainstream media repeats them as valid.

Williams specifically cites claims made in 2020 by former Special Agent in Charge (SAC) of the ATF's Los Angeles Field Division Carlos Canino who said 41 percent, "almost half our cases we're coming across are these 'ghost guns."

But when Williams of the SAF Investigative Journalism Project asked ATF to provide verifiable documentation of Canino's "almost half" claim, it could not do so.

In fact, the ATF does not distinguish or publish "verified PMF (Privately Made Firearm) data" and counts "homemade firearms recovered by law enforcement" among all the confiscated firearms that agencies conduct traces on—a total of 23,906 guns during the five-year period that ended Dec. 31, 2020.

"This is outrageous," Williams writes. "Civil rights are about to be violated, and gunmakers and firearm parts manufacturers are about to be put out of business, all based on spurious data from a former ATF official who the agency now appears to have disavowed."

The National Rifle Association had not directly addressed the new rule and Dettelbach's nomination by mid-day Monday but in

Monday commentary

called Biden's revived focus on gun control "little more than an effort to appease anti-gun zealots" in an effort to shore up a contingency he made campaign promises to but has failed to deliver on.

"Some groups focused on gun reform, like March for Our Lives and Guns Down America, have long expressed their disappointment in Biden's lack of action on the issue," the NRA's Institute for Legislation Action said. "They have criticized him for not using his executive authority to its fullest extent and for failing to make legislative progress, despite his campaign promises."

The fabricated emphasis on "'ghost guns' encourages anti-gun members of Congress to pass legislation to mandate universal background checks, ban semi-automatic firearms and their standard capacity magazines, and allow for the firearms industry to be sued into oblivion through meritless lawsuits," the NRA-ILA said.

Biden also made calls to Congress Monday to pass legislation that will require universal background checks for all gun sales, ban "assault-style weapons" and repeal gun manufacturers' protection from liability.

Biden's budget request includes increased funding for law enforcement, steering $3.2 billion in grants meant for state and local governments to put more cops on the beat. It also requests $37.7 billion in discretionary funding for the DOJ, with a $1.7 billion increase for federal gun trafficking enforcement.

Zachary Stieber contributed to this report.