In a rare primetime address, President Joe Biden accused former President Donald Trump and so-called "MAGA Republicans" of having an "extreme ideology" that effectively threatens "the very foundations of our republic."
In his remarks
Thursday night, the Democrat urged voters to "do our duty in 2022" and "vote, vote, vote" to "protect" democracy in the upcoming November midterm elections, which he painted as a pivotal and determining moment in America's history.
Biden's appearance was promoted as an official, taxpayer-funded event, and the White House claimed it was not a political speech. His speech was held near Philadelphia's Independence Hall in Pennsylvania, which was where the U.S. Declaration of Independence and the Constitution were adopted.
The 79-year-old U.S. leader credited the two documents for embodying the ideas of "equality and democracy," which he called "the rock upon which this nation is built," before declaring that "equality and democracy are under assault."
"Trump and the MAGA Republicans represent an extremism that threatens the very foundations of our republic," Biden charged from behind bullet-proof glass. MAGA stands for "Make America Great Again," Trump's slogan in his successful 2016 presidential campaign.
"There is no question that the Republican Party today is dominated, driven, and intimidated by Donald Trump and the MAGA Republicans, and that is a threat to this country," the Democrat said.
He accused Trump and "MAGA Republicans" of being committed to "destroying American democracy," and called upon Democrats, independents, and what he called "mainstream Republicans" to "confront extremists" and be stronger than the MAGA group.
He also asked Americans to "come together" and "unite behind the single purpose of defending our democracy regardless of your ideology"—all while condemning what he called "the extreme MAGA ideology."
Biden said that he ran for the presidency in 2020 because he believed "we were in a battle for the soul of this nation."
Throughout his speech, Biden made altogether 31 references to "democracy." He also made 11 references to "violence," saying that it "can never be an acceptable [political] tool."
The optics of the speech—delivered next to two U.S. Marines and amid a deep red backdrop—drew criticism from even
mainstream media reporters
and commentators, who said it was historically unusual for a president to denigrate his political opponents while using U.S. military members as props. Some found it odd that Biden would give a speech in front of a deep red backdrop, which evokes imagery from communist regimes.
The White House
defended the speech
, with its press secretary saying that the Marines' presence was intended to demonstrate Biden's respect for them, and "the unique role our independent military plays in defending our democracy no matter which party is in power."
By the following morning, Biden appeared to walk back his statements and said he
doesn't consider any Trump supporters to be a "threat"
to the United States. He added that he thinks that "anyone who calls for the use of violence, refuses to acknowledge an election ... changing the way you count votes" are "a threat to democracy." He didn't elaborate further.
Accusations
In his speech, Biden lobbied multiple criticisms and sweeping accusations against Trump and "MAGA Republicans" in an effort to paint them as extreme.
In one instance, he criticized them for having opinions including that the results of the 2020 presidential election were riddled with irregularities and widespread fraud, and that Trump was the true winner. He labeled such views as "wild conspiracy theories."
Biden also accused them of being "determined to succeed in thwarting the will of the people" in the upcoming midterms and the 2024 elections.
Biden also alleged that the individuals who breached the U.S. Capitol on Jan. 6, 2021, and attacked law enforcement were being looked upon by the "MAGA Republicans" as patriots. Trump, his administration, and many Republican allies had condemned the violence at the U.S. Capitol in the immediate aftermath of the incident.
"MAGA forces are determined to take this country backwards—backwards to an America where there is no right to choose, no right to privacy, no right to contraception, no right to marry who you love," Biden also said, in a sweeping statement referencing multiple social issues such as abortion and same-sex marriage, for which there are different regulations in different U.S. states.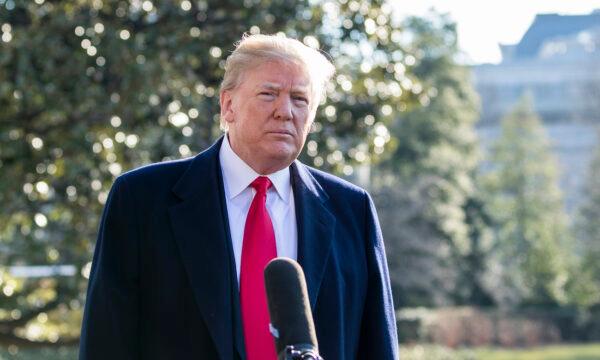 Republican Pushback
In response to Biden's speech, Trump issued statements on his social media platform Truth Social late on Thursday, saying, in part: "If you look at the words and meaning of the awkward and angry Biden speech tonight, he threatened America, including with the possible use of military force."

House Republican Leader Rep. Kevin McCarthy (R-Calif.) said on

Twitter

that Biden "owe[s] millions of Americans an apology," adding, "Instead of trying to bring our country together to solve the MANY problems he has created, President Biden has chosen to divide, demean, and disparage his fellow Americans—simply because they disagree with his policies."

The Republicans of the House Judiciary Committee responded to the speech in a short

statement

on their Twitter page: "Remember when Joe Biden ran on 'unity' and all we got was record inflation and crime?"

Sen. Lindsay Graham (R-S.C.)

called on Biden

to look at the current situation in America. "With all due respect Mr. President, there's nothing wrong with America's soul. The American people are hurting because of your policies. Rampant inflation. Out of control crime, Terrorism on the rise. Broken borders. Stop lecturing [and] change your policies before it's too late," he wrote.

Sen. Marco Rubio (R-Fla.) wrote: "Angry man smears half of the people of the country he is supposed to lead & promised to unite."

Jeff Kaufman, the chair of the Iowa Republican Party, said that what Americans witnessed in Biden's speech "is a tactic used by authoritarian regimes."

"The sitting president is trying to turn his political opponents into an enemy of the state," Kaufman said in a

statement

. "Joe Biden told voters he wanted to bring the country together, but all he's done is consistently divide our nation further. The Democrat Party continually claims to be 'protecting' our democracy, yet they consistently vilify their opposition to keep power."

Sen. Ted Cruz (R-Texas) said that Biden's speech was "divisive" and "angry," and accused Biden of being "only interested [in] pitting his fellow Americans against one another."

Biden's speech comes a few weeks after the FBI, without warning, suddenly executed a search warrant on Mar-a-Lago—a private resort in Palm Beach, Florida where Trump currently resides. Christina Bobb, a Trump lawyer, previously

told The Epoch Times

that the FBI agents were "looking for presidential records, what they deemed to be presidential records, and anything that could potentially be classified."

Trump has said the FBI raid was a continuation of attacks against him, and

accused

Biden of having had prior knowledge of the raid, but Biden and the White House both denied knowing about the raid in advance.

Jack Phillips contributed to this report.