Former U.S. Attorney General William Barr bolstered the Jan. 6 House committee's case that the 2020 presidential election was the "most secure in history."
He also did his best to debunk former President Donald Trump's claim that the 2020 election was stolen from him, the Trump-appointed Republican testified in a recorded deposition that aired nationwide on June 13.
He told the committee he hadn't seen any evidence of voter fraud on a scale that could have affected the outcome of the presidential election.
Documentary filmmaker Dinesh D'Souza couldn't disagree more.
D'Souza's latest movie, "2000 Mules," contains detailed evidence of an organized illegal vote-harvesting scheme operated in Democratic-dominated cities in key swing states in the weeks leading up to the 2020 election—a crime that many voters and the Trump campaign want independently investigated to determine if it could have altered the result.
Teaming with True the Vote, a public interest election watchdog organization, D'Souza and a squad of investigators purchased 10 trillion cellphone pings (unique identity signals) to reconstruct the movements of suspected ballot traffickers.
The states included in the study were Georgia, Pennsylvania, Arizona, Wisconsin, Michigan, and Texas.
The group also obtained and reviewed thousands of hours of government surveillance tape of the drop boxes where the alleged traffickers, whom they called "mules," could be seen depositing multiple ballots on multiple occasions.
Four million minutes of drop box video were reviewed in Georgia alone.
The painstaking and costly 15-month study was funded by donations from the human rights organization First Freedoms.
The video review was part of the process the group used—along with personal interviews with traffickers and information from tipsters—to estimate the number of fraudulent absentee ballots that were likely deposited in the drop boxes.
True the Vote cyber-expert Gregg Phillips estimates that 4.8 million votes were trafficked nationally in 2020.
During his deposition, Barr laughed as he mentioned "2000 Mules." He said the film's cellphone tracking investigation and photographic evidence were "unimpressive," and that its conclusions were "indefensible."
According to Barr, the documentary "didn't establish widespread illegal harvesting."
True the Vote spokesperson Catherine Engelbrecht told The Epoch Times, "Over 80 percent of Americans are concerned about election integrity.
"Bill Barr took some cheap shots with his fellow Beltway buddies, but America isn't laughing."
Engelbrecht said the Department of Justice under Barr did very little to investigate the 2020 election.
"Instead, he mocked President Trump and disregarded nationwide entreaties for help.
"Now, he's supporting the January 6 Committee and their use of cellphone data—so reliable they rush to jail Americans without trial.
"Yet, when the same data is used to expose patterns of drop box abuse and election fraud, he is totally disinterested," Engelbrecht said.
On Twitter, D'Souza challenged Barr to a public debate on election fraud, writing, "What do you say, Barr? Do you dare back up your belly laughs with arguments that can withstand rebuttal and cross-examination?"
Engelbrecht told The Epoch Times: "We have not been asked to present our findings to the committee, nor will we be. They will never risk giving us that platform.
"Their interest is not in getting to the truth. Never has been."
D'Souza told The Epoch Times, "The hearings are one-sided propaganda, not an attempt to get to the truth."
He has repeatedly said that the evidence presented in "2000 Mules" is "indisputable," and invites people to judge for themselves.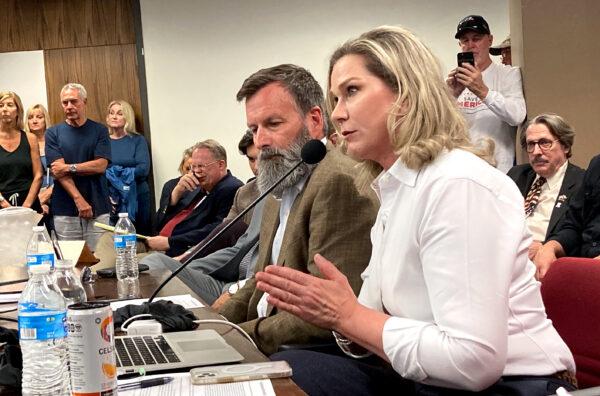 Trump responded quickly to the June 13 hearing, firing off a 12-page rebuttal.
He wrote that the Democrats "are desperate to change the narrative of a failing nation. ... They own this disaster. They are hoping that these hearings will somehow alter their failing prospects."
Michigan grassroots conservative activist Robert Gelt told The Epoch Times, "Jan. 6 would never have taken place if it wasn't for the adamant refusal of the primary law enforcement officer of our federal government, Bill Barr, to get the Department of Justice involved in investigating the Nov. 3, 2020, election."