AUSTIN, TEXAS—Nikole Hannah-Jones, the architect of "The 1619 Project," aired grievances against whites and America during a recent expletive-laced speech at a Texas church.
The New York Times Magazine journalist won a Pulitzer Prize for her 2019 work. It's a collection of essays said to observe the 400-year anniversary of the beginning of American slavery.
"The 1619 Project" is described by the author as "seeking to reframe the country's history, understanding 1619 as our true founding, and placing the consequences of slavery and the contributions of black Americans at the very center of our national narrative."
But the work has been criticized by conservatives, who say it ignites much-improved relations between races and leads to reverse racism against whites.
With stained glass windows and images of heavenly angels in the background, Ms. Hannah-Jones explained in a presentation peppered with profanity her impressions of a systemically racist America.
"This is a country that valorizes men who were enslavers, who were white supremacists, who did not actually believe in equality, and really wants to downplay any critique of our country," she said at the Sept. 23 event at St. David's Episcopal Church in Austin.
Her presentation was part of the three-day Texas Tribune Festival lineup of speakers that featured journalists, newsmakers, and politicians.
Ms. Hannah-Jones' remarks focused on how black Americans are patriots because they want to force the rest of America to live up to the country's highest ideals.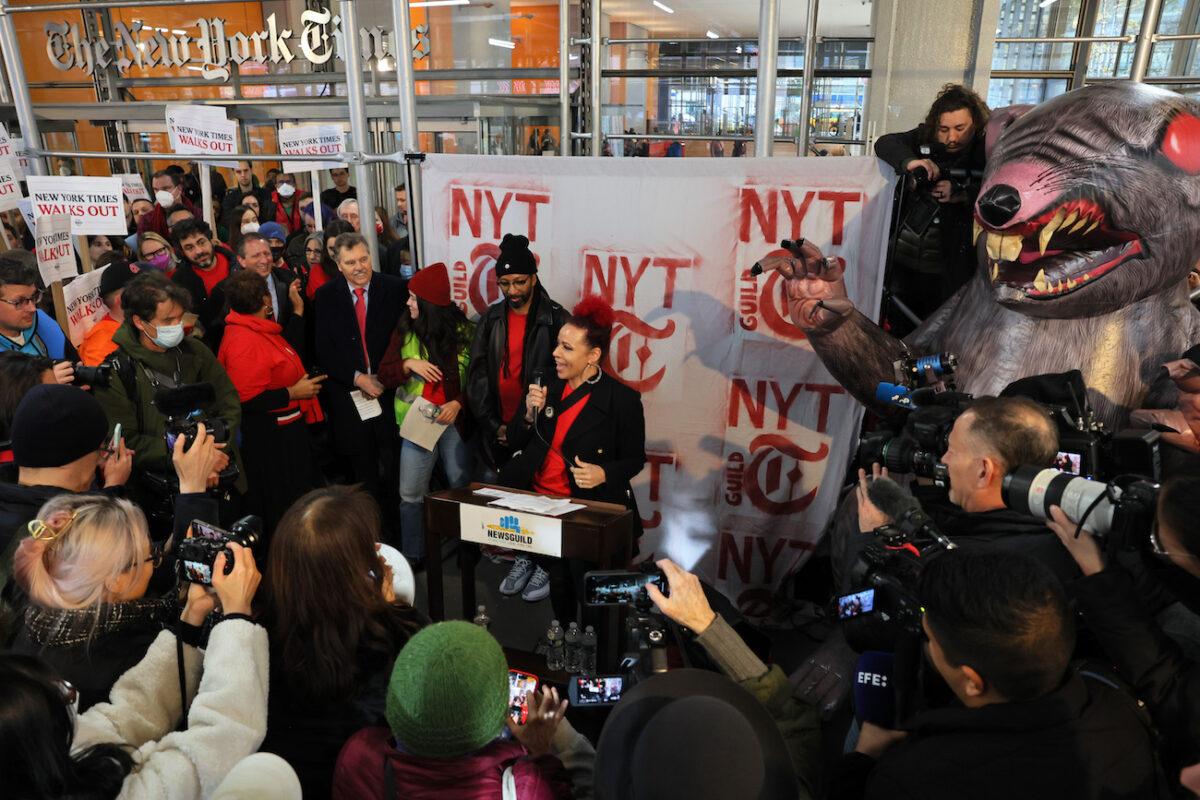 Blacks deserve credit for building America, starting in 1619 when the first slave ships brought them to the colonies, she said. They also should be credited with bringing about democracy to America in the 1960s, which led to the Voting Rights Act, she said.
"What democracy we have [in America], black people delivered it, right?" she said. "[Delivered it] through their blood and resistance, which is just true."
'White Resentment'
A white conservative minority is behind resistance to "The 1619 Project," she said.

The pushback, she said, began in earnest on Fox News after the death of George Floyd, a black man who died while being taken into custody by white police officers.

"So probably few people in America have thought more about what happened around the period of George Floyd than I have because this is when you started to see the really orchestrated and organized attacks on 'The 1619 Project,'" she said.

"You already had a growing white resentment, of course, that comes out of [the election of President Barack] Obama, and also these fears of the shifting demographics of the nation, and you start to see a radicalization" of whites, she said.

"The 1619 Project" argues that racism is baked into the fabric of the country. The work aims to erase the nation's historical founding date of 1776, when Americans fought to win independence from England.

However, prominent historians have refuted the work's accuracy on several key issues.

The 20 Africans aboard the "White Lion" ship mentioned in "The 1619 Project" were really indentured servants who were later freed, according to an article by Peter Wood, who heads the National Association of Scholars.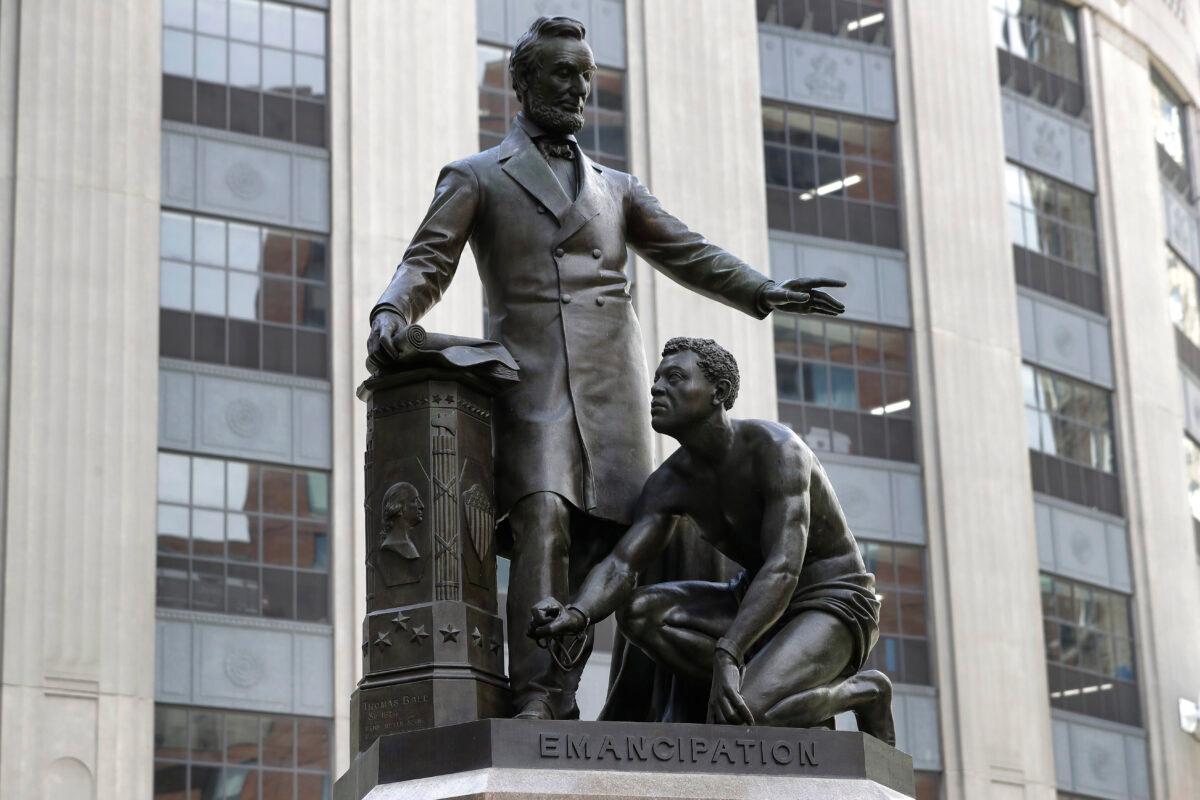 Also, some dispute Ms. Hannah-Jones' assertion that the nation's 16th president, Abraham Lincoln, only freed the slaves in 1863 because he wanted to deport them. He had secured money to "pay our fare to leave America," she told the Austin audience.
And blacks wanted to stay in America because they built it, she said.
"Our blood, our ancestors' bones are buried in the soil of this country, and you will not make us leave the country that we built," she vowed.
However, conservative policy advocates and even some liberals have argued that the idea that Mr. Lincoln wanted to deport freed slaves is false.
'Embarrassed' by Father's Patriotism
Ms. Hannah-Jones said some see "The 1619 Project" as a "danger" because it points out that inequality was constructed to the detriment of blacks and even poor whites.

"It was all constructed," she said during her speech. "And it can be deconstructed."

She lamented that her father flew the American flag in their black neighborhood while she was growing up.

"I was deeply embarrassed that my father would openly exhibit patriotism in that way," she said.
"We were the only black family I knew who had a flag in their yard," she said. "I mean, you know black folks—we see a flag, we get scared," she said.
Ultimately, the 2008 election of Barack Obama, the nation's first black president, caused white bitterness. The election made whites feel less powerful, and that ultimately instigated an "insurrection" at the U.S. Capitol on Jan. 6, 2021, she said. Mr. Obama's election "flipped a switch in some white Americans' minds" to reject democracy if power must be shared with minorities, she said.
Many conservatives and historians, however, see Mr. Obama's election as an achievement for racial equality.
And many who participated in the events at the Capitol on Jan. 6 have said the gathering stemmed from the belief that the election had been stolen from incumbent President Donald Trump. That's why many of his supporters stormed the Capitol that day, they've said.
They pointed to how, o
n election night 2020, several swing states where Mr. Trump was far ahead had stopped counting ballots late in the evening. 
When the tallies resumed the next day, it appeared his Democratic challenger, Joe Biden, had taken the lead in several key states.
Watchdog groups such as True the Vote later exposed security camera videos of people stuffing multiple ballots into unattended voter drop boxes in battleground states during early voting in the 2020 election.
Fighting to Keep CRT
During her speech, Ms. Hannah-Jones encouraged people to fight against red state lawmakers, such as Texas Gov. Greg Abbott and Florida Gov. Ron DeSantis, a presidential candidate. Both signed bills curtailing the use of The 1619 Project in schools.

She urged audience members to push for Critical Race Theory (CRT) to be taught in schools using The 1619 Project.

Nationwide, many have rejected CRT as a divisive, Marxist-based ideology. CRT basically teaches that people should be regarded as being divided into groups of victims and oppressors based on identity, such as race or gender. CRT promotes giving more privileges and other benefits to oppressed groups, at the expense of the groups deemed to be their historical oppressors, in order to correct past wrongs.

It's a polarizing issue among Americans.

When parents spoke out against teaching CRT in schools, activists took the wrong approach by denying CRT was being presented to students. Instead, they should have argued that children can handle "a complex understanding of America," Ms. Hannah-Jones said.

"And so we have lost, right?" she said of the effort to spread CRT ideology. "We are losing this."
Activists who agree that CRT should be taught in classrooms must attend school board meetings, Ms. Hannah-Jones said. She warned that if people don't speak up in favor of teaching the ideology, even "safe states" like New York, where she lives, could become more like Texas.
"We're one election away from having the same types of laws [banning CRT teaching] being passed in our state [of New York] that are being passed here" in Texas, she said.
She was particularly critical of Texas for allowing Houston ISD public schools—taken over by the state in an effort to improve them—to turn some school libraries into detention centers for students with behavior problems.
Texas, she said, is "a chattel slavery state, where it was once illegal for black children to learn to read."
Anyone not "protesting every [expletive] day is a disgrace," she fumed. "We are accepting fascist [expletive] happening."