Pennsylvania has $2 billion in federal American Rescue Plan Act (ARPA) funding, and Gov. Tom Wolf, a Democrat, has ideas on how to spend $1.7 billion of it. But first his plan needs legislative approval.
ARPA funding was sent to state and local governments to help economic recovery efforts in response to the COVID-19 pandemic. It must be committed to spending by Dec. 31, 2024, or sent back to the federal government.
Under Wolf's plan, households earning $80,000 or less would get direct payment of up to $2,000 through the PA Opportunity Program. He would spend $500 million on the plan, as well as $225 million in support for small businesses, $204 million for direct property tax relief, $325 million for Pennsylvania's health care system, and $450 million to invest in the conservation, preservation, and revitalization of Pennsylvania communities.
Wolf was at the Pocono Family YMCA in Stroudsburg, Pennsylvania, on April 14, promoting his plan for the payments of as much as $2,000.
"Pennsylvanians are hurting," he said, speaking to those gathered at the YMCA. "We just came through two years of a pandemic, but now we're coming out and we're in the middle of inflation. Prices are rising over the last couple of weeks. Working families in Pennsylvania have been put in a really tight spot. The good news is we actually can help right now."
Wolf said the state has the money, and it would be a temporary help to families.
"The idea is that if you're a household with an $80,000 income or less, you qualify for this," he said. "Basically, it's $2,000 to do whatever you want, because right now you need the money. The Commonwealth does not. The price increases we've seen right now are painful because the needs of workers have been put on the backburner for a couple of years, and we all know that wages have not kept up."
If the ARPA funding isn't spent by the end of Wolf's term, the new governor would direct the spending.
The Epoch Times asked gubernatorial candidates how they would spend a spare $2 billion in the state coffers.
Pennsylvania Attorney General Josh Shapiro, the only Democrat in the state's primary race for governor, would use the money as a gas tax refund, giving every Pennsylvania driver $250 for every registered personal passenger vehicle, a spokesperson for his campaign told The Epoch Times.
"Pennsylvanians are being crushed under a mountain of rising prices—the cost of everything from food to gas keeps going up, and I know it's weighing on folks all across the Commonwealth," Shapiro said in a statement. "They're being forced to stretch their paychecks further, and that's why we need to take real action to cut taxes, protect consumers, and put money back in Pennsylvanians' pockets."
Republican candidate Lou Barletta wouldn't send direct cash payments to citizens.
"It's obvious that Harrisburg Democrats haven't learned any lessons from Joe Biden's inflationary policies, because handing out more government stimulus checks will only contribute to rising prices," Barletta's campaign spokesman, Tim Murtaugh, told The Epoch Times.
"When he's governor, Lou Barletta will prioritize available funds for use in ways that will actually stimulate the economy, not make it worse, like Democrat Josh Shapiro would do if he becomes governor. Barletta would look at infrastructure needs, broadband expansion, or supporting natural gas pipelines that he will greenlight."
Republican candidate Joe Gale isn't a fan of Wolf's $2,000 direct payment, either.
"Here's a better idea—encourage people to work," Gale told The Epoch Times. "Redistributing wealth is a failed socialist scheme designed to destroy ambition in hopes of making the citizenry dependent on big-government handouts."
Like Gale, Republican candidate Melissa Hart didn't offer a specific suggestion on how to spend the funds.
"The last things Pennsylvania should be doing are mailing out checks indiscriminately or finding ways to use COVID relief funds for thinly veiled corporate welfare," Hart told The Epoch Times in an email.
"What we need, instead of political posturing, is a serious look at how best to help the Pennsylvanians whose livelihoods and communities have been most damaged by the pandemic and to address long-term weaknesses built into the state budget by years of political leaders of both parties dodging tough decisions."
Republican candidate Charlie Gerow said he believes taxpayers should feel the effects of the ARPA funding.
"The funds Tom Wolf is talking about are, after all, the taxpayer's money," Gerow told The Epoch Times. "I would return their money directly to them through a one-time tax credit. Allowing people to keep more of their hard-earned money is good for Pennsylvania families and good for our economy."
Republican candidate and state Sen. Doug Mastriano noted that only $500 million of the $2 billion would go back to taxpayers in Wolf's plan.
"It is ridiculous that when the government has extra cash, the corrupt politicians spend taxpayer dollars on pork or pet projects," Mastriano told The Epoch Times. "It would be far better if the money was returned to the taxpayers who are beaten down by Biden inflation. With gas prices through the roof and the cost of living the highest it has been in 40 years, the money must go back to the taxpayers."
Republican candidate and President Pro Tempore of the Senate Jake Corman said he believes a targeted approach would be better than Wolf's plan.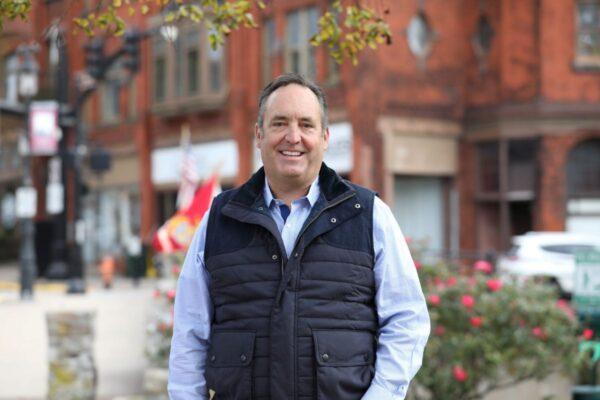 "Like a typical liberal, Gov. Wolf is just trying to spend more money instead of looking for solutions to get people back to work. These types of policies are why we have runaway inflation and more pressure on Pennsylvania families, without recovering all the jobs we lost during the pandemic. If we spend what the governor wants to spend in this year's budget, we will have a $13 billion deficit in the years ahead, and we will have to dig deeper into taxpayers' wallets to make up the difference," Corman told The Epoch Times.
"We've already used some of the ARPA funding to support our hospitals and nursing homes. Those dollars went directly to workers in the form of recruitment and retention programs. We should continue to look for ways to spend stimulus dollars in a way that supports our communities and gets people back to work. Spending billions of dollars without anyone seeing a return on those investments is the wrong approach."
Republican candidate and heart surgeon Nche Zama said he doubts Wolf will get enough support for his plan.
"After Gov. Wolf refused to meet with the leaders of the House and Senate during the COVID crisis, anything he wants through the Pennsylvania General Assembly is a nonstarter, dead on arrival," Zama told The Epoch Times.
"There is way more than $2 billion to spare through cost-savings and modernizing the priorities of state spending. We will launch cost-savings efforts at every level of government. After eight years of Gov. Wolf, our educational system is failing, and we have zip code disease, preventing students from achieving their full potential.
"Under my administration, we will have a Marshall Plan for Education to return the pursuit of educational excellence to every K–12 school, with milestones and objectives for every student and school. Rural broadband and cell service is atrocious, at a time when it is needed by every student and family. We will invest in rural broadband with results, not waste.
"Crime is out of control in our cities, and it's spreading under Attorney General Shapiro. Unlike Wolf and Shapiro, instead of doing nothing, we will form neighborhood intervention teams everywhere crime is bad, and we will attack the root causes of crime and crime prevention. People want a return on investment from their tax dollars."
Republican candidates Bill McSwain and David White didn't respond in time for this story.