Border apprehensions recently topped 1.7 million, with three months of the fiscal year remaining. At the same time, the Biden administration has broken a long-standing policy of publicly releasing the number of illegal immigrants who die while crossing into the United States, or soon after.
The Rio Grande Valley in Texas and the Tucson Sector in Arizona have traditionally been the most deadly border sectors, as the river and the summer heat claim the most lives, and smugglers leave injured and sick aliens to die.
Customs and Border Protection (CBP) published on its website the number of migrant deaths along the southern border from fiscal 1998 to fiscal 2020, but stopped once the Biden administration took over the agency.
Over the course of three months, The Epoch Times made multiple requests to CBP for the missing data from fiscal years 2021 and 2022 to date. But CBP, to date, has declined to provide the information.
Previous CBP data show 247 illegal immigrants died near the border during fiscal 2020, while 300 died in fiscal 2019.
This June, according to unpublished CBP data obtained by The Epoch Times, 111 illegal immigrants died while crossing into the country, or soon after. An additional 53 died in a
tractor-trailer unit
outside San Antonio.
The highest number of deaths on CBP's record was 492 people in fiscal year 2005. In the same year, Border Patrol apprehended about 1.2 million illegal immigrants.
The historical CBP data include a footnote indicating that the "data may be subject to change based on new discoveries of remains and possible dates of death as determined by a medical examiner."
Not all migrant deaths are counted in the CBP data, as Border Patrol agents aren't always involved in the discovery. Sheriff's offices have their own tally of bodies discovered by ranchers, hunters, or others.
Brooks County in Texas accounts for many border-related deaths, and sheriff's deputy Don White of
Remote Wildlands Search and Recovery
often finds the bodies. The illegal immigrants traveling through Brooks County have evaded law enforcement at the border and are walking on ranchland 70 miles farther north to skirt the Border Patrol checkpoint on Highway 281.
So far this year, White has recovered 64 bodies and is set to break last year's record of 119 recovered from the brush and 11 from nonpursuit traffic situations. In comparison, 34 bodies were found in 2020.
"A video has surfaced of two men supporting a third man. The third is environmentally stressed, and is not doing well," White
posted
on Facebook on June 19. "The two men supporting him are cleaning out his pockets, and putting his personal items in their pockets. Then they walk him off the trail and lay him in the brush. Cruel, if found, the young man will not have an ID."
He shares another story of a woman who was "stressed and lost." White searched for the woman at a GPS location she had sent to her parents, but she had moved.
"She sent a new GPS location to her husband in Amarillo. He didn't want authorities to be involved, so he drove down to get her. She was where the GPS he had said she was. Deceased," White
posted
on Facebook on June 12.
"If he would have thought of her life first and called it in, the outcome would have been different. Shaping up to be a savage summer."
In Arizona's remote desert areas, the Pima County Office of the Medical Examiner (OME) works with nonprofit group Humane Borders to document illegal immigrant deaths.
So far this fiscal year, with three months remaining, the Tucson sector has recovered 128 bodies.
"Since January of 1990, over 3,600 undocumented migrants have died within the Pima County OME jurisdiction," Humane Borders
states
on its website.
"And in any case, many remains will never be found or reported."
The Pima County OME recorded the highest number of body recoveries (226) in fiscal year 2021, according to its annual
report.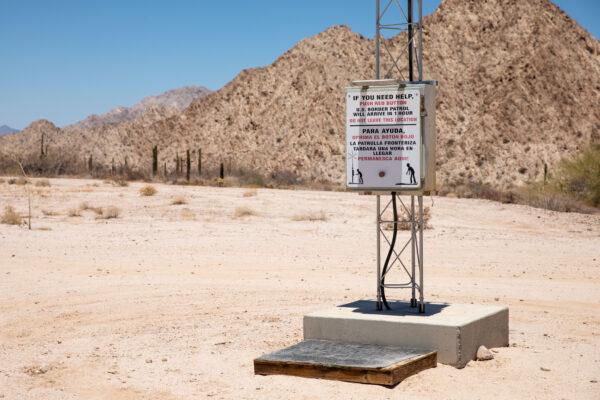 A Government Accountability Office
report
issued in April said CBP hasn't "collected and recorded, or reported to Congress, complete data on migrant deaths or disclosed limitations with the data it has reported."
The report evaluated the Missing Migrant Program implemented by Border Patrol in June 2017 "to help rescue migrants in distress and reduce migrant deaths along the southwest border."
The program focuses on an area consisting of 45 counties on or near the nearly 2,000-mile international border with Mexico.
As of February this year, Border Patrol had placed 165 rescue beacons and more than 2,500 "911" placards along the southwest border, the report stated.