ANAHEIM, Calif.—Anaheim city officials inspected the Covered Wagon Motel on South Beach Boulevard in March and found dozens of people, including children, living in squalor.
Living conditions were so bad, the city shut down the motel March 29 after relocating several families and tenants.
The closure was the first step in the city's plan to
redevelop and revitalize
the 1.5 mile stretch of Beach Boulevard that runs from Lincoln Avenue to Ball Road.
One room inside the Covered Wagon's mustard-colored, two-story property was littered with syringes, burnt tinfoil, knives, miscellaneous drug paraphernalia and gift cards that were likely stolen, authorities said.
In another room, city inspectors found one young woman was living with three men that they believed could have been involved in sex trafficking and prostitution.
Several families with children were living in inhumane conditions, while others were also found living in cleaning closets and a shipping container at the property, city spokesman Mike Lyster told The Epoch Times.
The families were relocated with the help of social workers who visited the site daily before it was closed. Those staying at the motel who were suspected of using the rooms to sell or take illegal drugs were not relocated, according to Lyster.
The woman suspected of being a victim of sex-trafficking was offered help.
"We're not looking to penalize someone who is being victimized, so we offer them help and provide services to get that person on a more stable footing where they don't have to work in what is a very dangerous thing," Lyster said. "Nobody should be working in that."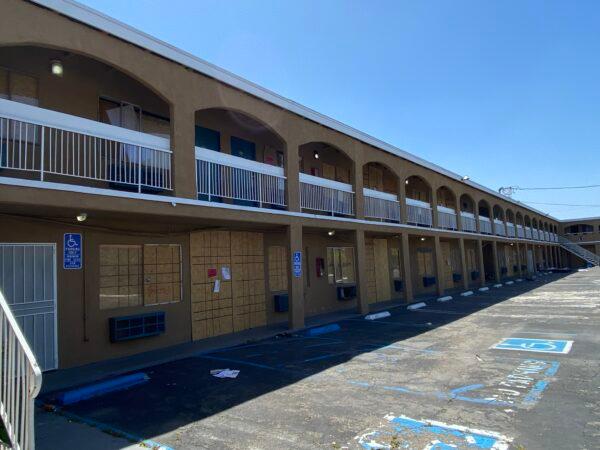 The rooms had open wires throughout and no fire alarms. The owners were not on-site, he said.
"Families were using this as housing of last resort," Lyster said. "But it was not cheap. Rent could be $2,000 for a very substandard, unsafe room."
About 25 people were living in 12 rooms at the dilapidated motel, some boarded up on the outside, Lyster said.
Lyster pointed to a red sign declaring unsafe conditions posted by the city on a security gate outside the shuttered and quiet rooms. Discarded clothing and garbage littered the site.
This is "as bad as it gets," he said. "This is why we're trying to work on the rest of the street to avoid getting to this state where we had to come in and literally close the thing."
The 70-room motel and coffee shop at 823 S. Beach Blvd. first opened in 1960. The rundown motel is one of 16 left on that stretch of South Beach Boulevard, according to Lyster.
Tourists visiting nearby Knott's Berry Farm and Disneyland left the string of aging motels behind decades ago and demand for these rooms dropped along this stretch of the boulevard.
Long-term lodgers have since taken over many of the rooms in the motels along that stretch of South Beach Boulevard.
Many properties are now dilapidated. But the city still hopes many can participate in the city's renewal program.
"Our ultimate goal is to redevelop and see Beach [Boulevard] redevelop with new homes and shops, and make it a very lively, inviting, and walkable street," Lyster said. "We invite the motels to be part of that, if they can operate safely and operate to standards."
Anaheim additionally placed operating conditions on the nearby Anaheim Lodge and the Travel Inn Motel nearby on April 12, requiring the motels to check guest identification upon check in.
The city also requires the two properties to have a security plan and to post signs notifying lodgers that prostitution, illegal drugs, gambling, and drug sales were not allowed, Lyster said.
They also required the motel operators to both check the rooms and offer cleaning services daily.
"You would never want somebody to die in there and later discover that," Lyster said.
Anaheim police have stepped up patrols along Beach Boulevard to address human sex trafficking, prostitution, organized crime, chronic drug use and sales, illegal gambling, theft and fraud.
Meanwhile, city officials are waiting to see what the owners of the Covered Wagon Motel will do next.
The motel's owners pulled a demolition permit March 30 but the city does not yet know if they plan to tear it down.
"We don't know what they're going to do yet," Lyster said. "They might follow through and do it. They also have the opportunity to fix all these problems and continue operating."
Replacing older motels and other rundown businesses, stores and restaurants is part of the city's plan to create a walkable street.
Anaheim has already installed security video cameras along Beach Boulevard. It also plans to upgrade streetlights and underground utility lines in the area.
So far, the city has moved forward with redeveloping some lots.
It sold or leased 30 acres of land to private Los Angeles- and Irvine-based developers for a new shopping center development and townhomes near Lincoln Avenue.
The development is expected to include 65 townhomes, a grocery store, and retail and restaurant space.
The same developers built the Burbank Empire Center which has a Target, Marshall's, Ulta, Walmart, and Lowe's, along with several smaller retail and restaurant spaces.
Also along this stretch of Beach Boulevard, the city plans to pursue building in the next three to five years affordable apartments, homes, and some retail shopping at the former site of the Americana Motel, Beach-Lin Hand Car Wash, and a Mexican restaurant.