IRVINE, Calif.—Just days ahead of Independence Day celebrations,
bars
and beaches were closed down in Orange County, California.
All bars closed by order of the county health officer. Many authorities in Orange and Los Angeles counties decided to close beaches, including Huntington Beach⁠—usually home to a big fireworks display on July 4. 
Huntington Beach's parade, however, continued. It has been held every year since 1904, and went ahead this year, though on a smaller scale, and divided into two routes.
People lined the two routes smiling, clapping, and waving flags as the convoy of vehicles passed. It included police vehicles, military trucks, and replica jeeps from the film "Jurassic Park."
Elsewhere in Southern California, many were disappointed over the closure of beaches.
"We were hoping to just relax down there at the beach" Kara Gerhard, 25, of Dana Point, told The Epoch Times. "It would have been nice to jump in the water."
In June, Kara and her husband, Will, moved to Dana Point from Dallas, Texas, partly because they wanted to enjoy the beaches. 
Will said,
"We have been very grateful to walk to Salt Creek Beach from our home. It has been a huge blessing here in Orange County as Los Angeles Beaches were closed for some time."
In Seal Beach, children ran past a "Parking Lot Closed" sign onto the sand, their arms clinging to body-boards. 
Many visitors were confused about whether beaches were closed.
Laguna Beach lifeguard Tom Cantrell told The Epoch Times, "Most beaches are closed, but cities are allowing water-use. Laguna's beaches and water were closed at 9 a.m. July 4 through 5 a.m. July 6."
To the north, beach parking areas in Los Angeles were similarly cordoned off. Lifeguards patrolled in their vehicles, leaving the beach barren of the many colorful towels and umbrellas that would usually blanket it on July 4th. 
Many brought their celebrations inside. "Less events are happening, so more people are staying indoors today," Tanner Grimshaw, 32, of Irvine, told The Epoch Times. He missed having the fireworks and the fellowship of the larger celebrations. 
"It's harder to create get-togethers when firework shows and other events are shut down today," he said. 
But smaller groups still got out the fireworks, and when nighttime descended, the popping sounded across the country.
An elderly gentleman in Santa Ana leaned against the roof of his car with his video camera, filming the blasts of green, red, and purple as multiple families lit fireworks in nearby Mabury Park.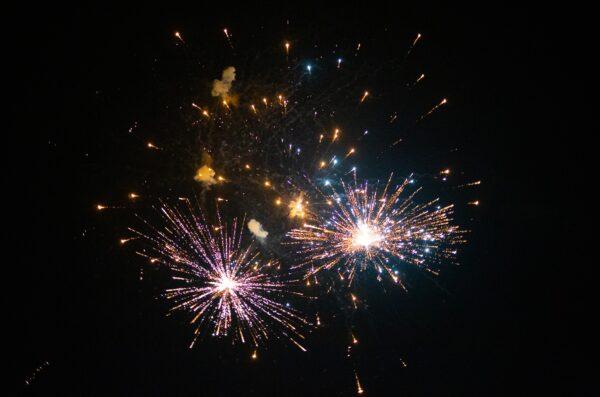 Some cities allowed gatherings for fireworks, with restrictions. For example, Los Alamitos had a half-hour, drive-up fireworks show at the Joint Forces Training Base, so residents could enjoy the display while remaining physically isolated.