Thousands of U.S. military personnel are residing in unclean conditions, exposed to sewage, toxic water, mold, and potential infections, according to a recent report by a governmental watchdog, blaming the Defense Department (DOD) for the poor situation.
U.S. Government Accountability Office (GAO) officials visited 10 military installations in the country as part of their inspections. Some of the barracks were found to not meet even "minimum standards for assignment or occupancy" as outlined by the DOD, according to the report (
pdf
).
"We found that living conditions in some military barracks may pose potentially serious risks to the physical and mental health of service members, as well as their safety," the report reads.
The installations included branches of the Air Force, Navy, and Marine Corps.
"During site visits, we observed a variety of living conditions that service members and unit leaders told us were negatively affecting them, such as the presence of mold, broken fire alarm systems, and extreme temperatures, among others," the report reads.
Some personnel told the GAO that the conditions of barracks affected military readiness.
The 10 installations where the GAO conducted inspections were Fort George G. Meade, Maryland; Fort Carson, Colorado; Joint Base Andrews-Naval Air Facility Washington, Maryland; Joint Base San Antonio, Texas; Naval Support Activity Bethesda, Maryland; Naval Base Coronado, California; Naval Base San Diego, California; Marine Corps Base Quantico, Virginia; Marine Corps Recruit Depot, San Diego, California; and Camp Pendleton, California.
The report blames the DOD for not giving proper attention to the barracks, accusing the department of "insufficient oversight."
"Reports of poor conditions have raised questions about DOD's management of barracks," it reads.
The Defense Department "does not track information on the condition of barracks or facilitate collaboration on initiatives to improve barracks," according to the report.
"Insufficient oversight hampers DOD's ability to identify and address long-standing challenges in barracks conditions across the department," it reads.
It points out that the DOD doesn't possess "complete funding information" to make informed decisions on the barracks. Although the Defense Department requested $15 billion for overall facility sustainment in fiscal 2024, it couldn't identify how much of this money would go toward the barracks.
"DOD did not know how much it spent on housing allowances for service members who would normally be required to live in barracks, but did not because of insufficient space or poor living conditions," the report reads.
At one military installation, the GAO noticed a bad odor throughout the barracks.
"Installation officials told us the smell was methane gas leaking out of aging plumbing with sewage pipes that routinely crack and require replacement," the agency stated.
Some of the personnel informed the GAO that the tap water used in their barracks was often brown and didn't appear safe for drinking.
Living Conditions
Military personnel also complained about pests, including cockroaches, wasps, rodents, and bedbugs.

"At three of 10 installations, officials told us service members are generally responsible for pest control, or for removing hazardous material from barracks, such as mold and sewage. Further, officials at one installation told us service members are responsible for cleaning biological waste that may remain in a barracks room after a suicide," the report reads.
One installation the GAO visited in October 2022 had shut down their barracks because of the presence of Legionella bacteria in the plumbing systems. Legionella bacteria is responsible for causing Legionnaires' disease, a type of pneumonia that kills roughly 1 in 10 infected people.
Officials told the GAO that only barracks that house health care patients are subjected to water tests for Legionella, as they come under the Joint Commission health standards.
Some personnel cited mold as a major problem within the premises. One member reported about a resident who was hospitalized because of a respiratory illness associated with mold.
Another individual who experienced respiratory issues that were attributed to the presence of mold reported that medical issues were resolved after moving to a different barrack.
The living conditions in the barracks took a toll on the members' mental health, with individuals saying they experienced increased anxiety and panic attacks after residing in the place. The conditions were also reported to have resulted in substance abuse among some personnel.
"Service members in one discussion group said that a barracks resident was recently hospitalized due to a drug overdose," the report reads.
"They added that they believe poor living conditions can contribute to increased suicide rates for barracks residents. Overall, service members or first sergeants at three installations brought up concerns about suicide ideation."
Following the investigation, the GAO made 31 recommendations for the DOD, including obtaining funding information, improving oversight of barracks programs, and providing guidance on the condition assessments of barracks.
"DOD concurred with 23 of the recommendations and partially concurred with 8," the agency stated.
Malfunctioning Systems, Crime
The report found that military personnel had to grapple with malfunctioning systems in the barracks.

"Officials at all 10 installations we visited told us that broken, malfunctioning, or non-existent heating, ventilation, and air conditioning systems were a problem in barracks," it reads.

The GAO found that the poor quality of air conditioning was affecting the quality of life of service members, with some experiencing sleep disturbances because of high temperatures. One person said that trying to sleep in the barracks was like standing in the sun all night.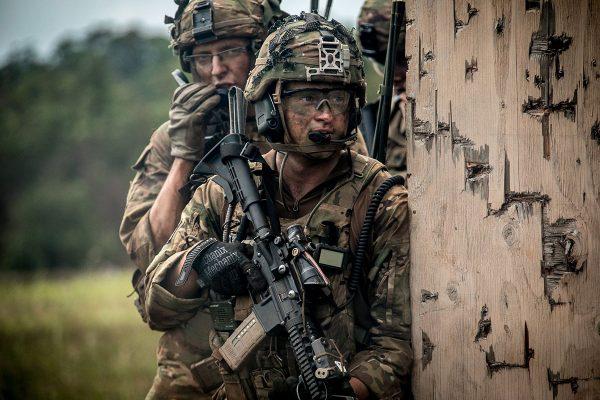 Some members reported that temperatures in the rooms would exceed 90 degrees Fahrenheit when air conditioners broke down, a situation that "happened frequently."
Other members reported having to buy their own portable space heaters during cold winter months because of broken heating systems.
Broken fire safety systems were seen in four installations that the GAO visited. At one installation, a dispatch panel used to alert emergency response teams during a fire was found to be broken. At another installation, fire safety systems were nonoperational because of which members had to take on fire-watch duties.
At three installations, broken door locks and windows were seen. One individual expressed concerns about intruders potentially entering the premises and attacking personnel because of the unsecured doors.
Seven out of 10 installations had issues with security, with security cameras not working in some places. At two installations, officials reported that they had found squatters living in vacant barrack rooms.
At 4 out of 10 installations, the personnel were worried that the poor living conditions contributed to an environment of theft and property damage. Some personnel raised concerns about the risk of sexual assault.
"According to DOD data, out of 37,100 incidents of sexual assault reported to DOD from fiscal year 2015 to 2021, about 11,200 incidents occurred in on-base housing, including barracks. Of these, the vast majority of victims—about 10,600—were enlisted service members with the rank of E-5 or below, generally the population living in barracks," the report reads.
Military Recruitment Challenges
The GAO report comes as the U.S. military is facing challenges in finding new recruits. During a May 2 testimony before the Senate Appropriations Subcommittee on Defense, Army Secretary Christine Wormuth said they had set an "ambitious goal" of recruiting 65,000 new personnel this year.

"[However,] we are not going to make that goal," Ms. Wormuth said. "We are doing everything we can to get as close to it as possible, but we are going to fall short of that."

In October 2022, the Army announced that it had missed its 2022 recruitment goal by 25 percent.

Some military families are also moving away from the tradition of sending their children to service primarily because of the stringent COVID-19

policies

implemented by the military.

In a recent interview with The Epoch Times, Chris Collins, who served in the Coast Guard for nearly 12 years and was kicked out last year for refusing to receive a COVID-19 vaccine, said he intends to "steer" his two children away from joining the military.

"It has a lot to do with distrust and the current culture," he said. "I actually convinced my brother to join shortly after he left high school. He picked the Air Force as his branch, and I regret the decision to encourage him to join because it didn't work out well for him.

"The vaccine was a huge thing for me. ... The higher-ups of military leadership, the people I once trusted to have my best interest in mind, flat out ignored everything I said in opposition to taking the vaccine."
DOD Response to Report
In an emailed response from the DOD, Brendan Owens, chief housing officer and assistant secretary of defense, energy installations, and environment, told The Epoch Times: "In return for the commitment and sacrifices that servicemembers make when they volunteer to defend our nation, the Department of Defense has a moral obligation to ensure that the places they live and work dignify their service. The DOD has, in too many instances, failed to live up to our role in making sure housing for our soldiers, sailors, marines, airmen, and guardians honors their commitment and enables them to bring the best versions of themselves to their critical missions.

"To the service members who have experienced serious issues with their unaccompanied housing: I commit to act. I will move out aggressively to increase oversight and accountability in government-owned unaccompanied housing and to address unacceptable living conditions impacting our service members. My office will work with the military departments to ensure that you have a safe and secure place to live. Collectively, we will improve our responsiveness to your concerns as we strive to ensure a living experience that enhances your well-being and readiness so that you can defend the citizens of the United States as part of the finest military in the history of the world."

However, Mr. Owens didn't specify why the military had failed to resolve the issue for the extended period of time noted by the GAO report.