The largest school district in the commonwealth of Pennsylvania, Philadelphia, has been taking a step-by-step approach to reopen the K-12 schools. In a message released earlier this week, superintendent Dr. William R. Hite provided a detailed plan for the rollout of the Hybrid Learning Plan Phase III.
For Phase III, all students grades 6-9 who have not yet returned to the classroom and students with complex needs in grades 10-11 will be able to opt into the hybrid learning model—two days of in person learning and three days of remote learning each week—beginning the week of May 10.
Phase III is the final rollout of the Hybrid Learning Plan for this school year and will allow older students to join younger students already doing hybrid learning.
All the schools in Philadelphia were locked down on March 16, 2020, due to the breakout of the CCP Virus pandemic. The Hybrid Learning plan in the district started for pre-K through second grade on Feb. 22.
Hite has been hosting a Facebook Live video session every other Wednesday to give district updates. In the latest video, he pointed out that as part of the American Rescue Plan Act 2021, the Philadelphia school district will receive $1.2 billion in one-time federal relief to help support the long-term recovery work.
"The most important types of investments we should consider making in three critical areas: the social and emotional, mental health needs of our students and staff; student learning recovery and learning acceleration for the interrupted learning that has happened since last March; and making sure our buildings are safe places for teaching and learning," he said in the video. "All the guidance is indicating that it will be safe to bring children back in the fall."
School reopening has become a hot topic of discussion across the nation.
Delaware Lawyer Julianne Murray, who ran for the governor last year, disagrees with the position that schools should be closed. She says she believes kids need to be back in school.
"The (Delaware) governor was going to leave it to the school districts to determine whether they can open or not open. I called it the indecision decision," Murray said. "But you school districts that want to do this, you have to still follow the CDC guidelines, which at the time related to school buses, cuts it to only about 20 percent of students can be on the school bus. So it's basically saying, if you can work it out, you can go back to school. But here, let me give you all of these difficulties, procedure and policy wise, that make it impossible for you to go back to school," Murray told The Epoch Times.
The Cape Henlopen school district in Sussex County is open now but other counties that do not have the financial means to implement the CDC guidelines are still on remote learning.
"So the kids who are most disadvantaged financially are now also most disadvantaged educationally. So it's the complete opposite of what you would want to happen," Murray said.
"The reality is, there have been no fatalities in this state of anybody under the age of 18. COVID-19 is not fatal to kids. Sometimes you have to do a balancing test. You're balancing the chance that they could contract (the virus), against the uprise in depression and anxiety, the socialization issues. I have talked to hundreds of kids that just want to be around their friends in school; they want to get back into sports. These kids have fallen behind educationally.
"I spoke with a colleague of mine, who knows of five kids that have committed suicide over being out of school. And the parents, when they talk about it, say COVID killed my kid, and he didn't have the virus.
"Kids are killing themselves because they have no outlet," Murray said. 'That's a problem. In this case, the cure is worse than the disease in terms of this remote learning."
Clarice Schillinger, chair of the Pennsylvanian Political Action Committee (PAC) "Keeping Kids in School" told The Epoch Times, "We decided after school closures for over a year now that we were going to take some political action."
"We believe that a full return, five days a week, in person instruction should be a choice for families and is essential for our children's welfare," the PAC's website reads.
Schillinger added that the lobby group's prime focus is school board candidates across the state, as they "have a lot more power than what the common person may think they have."
Keeping Kids in School treasurer Misty Law Flurry pointed out that there are almost 2 million school-aged kids in Pennsylvania, and 33 percent of those kids are in single parent homes. This means that so many parents have had to come out of the workforce to take care of their children during remote learning.
"Just in Pennsylvania alone, 28 percent of women have been pulled out of the workforce based on what was happening before COVID happened. So this is not just talked about getting kids in, it's also talked about getting women in," Flurry said. "In person (learning) is that we can get our economy back by putting people back to work. Children learn more; they need social interaction.
"Our suicide rates have gone through the roof; student harm is up 333 percent; kids are harming themselves," she said, citing a report of statistics from August 2019 to August 2020 in the northeast for ages 13-18 recently published by Fair Health.
Regarding the virus, Flurry said, "The data shows schools are not places where kids are spreading COVID. If anything has happened, it's been from teachers, other adults spreading it to kids, versus the opposite. And seeing all this data shows us that that's one huge obstacle that no longer is in front of us."
She added that she was glad to see the CDC had endorsed the three feet social distancing rule, which will allow more kids to return to school.
Schillinger added that it's very helpful to look at schools that have fully returned in person. "And to my knowledge, those schools are still up successfully running and the children are learning happily in the environment that they should be in," she said.
Despite teachers having received the vaccine, Schillinger said it's concerning that many schools still remain closed.
"What's the next moving goalposts that we have to catch? The first was vaccines, but what is it next? It's ventilation that we've heard. But I will note that many schools including my very own daughter's school does not even have HVAC to support the better ventilation request, and many schools within urban communities do not, so it's troubling.
I hope that the vaccine is the hope of returning these kids five days a week in person. But we have seen some moving goalposts," she added.
Mr. Ron Russo is the founding president of the Charter School of Wilmington with over 40 years experience in secondary education. He told The Epoch Times that while some students have excelled with the distance learning, statistics show that youth suicide rates and drug use are going up.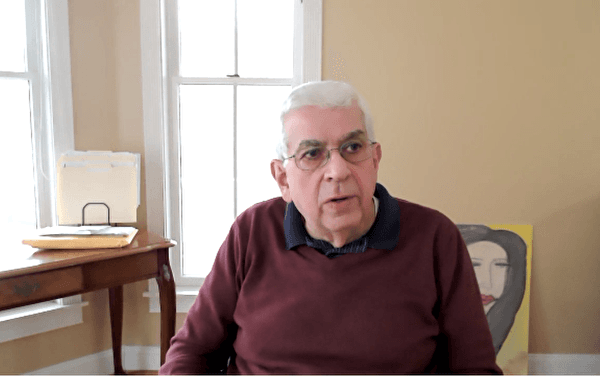 "There's a lot more to school than people realize," he said. "And I think it really showed itself during this pandemic.
"I think we should have gotten the kids back before now. Again, if you take a look at the science, 80 percent of the deaths, which obviously, is the critical end of the virus, were people 65 and older. And when they took a look at kids, as you went along, the kids were not really that affected by the virus. So I'm saying to you, it's good that we're getting ourselves in a position to get the kids back into school."
Meanwhile, Russo said that if the parents prefer remote learning, they should be allowed continue or enrol in the hybrid learning form. After all, he said, the customers in education for school-aged kids are the parents.