The two people killed during rioting in Kenosha on Tuesday night were identified by friends and acquaintances, as was a third who was struck by bullets but survived.
A 17-year-old Illinois resident was arrested Wednesday for homicide.
Law enforcement authorities said they're not sure whether the teen, Kyle Rittenhouse, was involved in all of the shootings. Video footage from reporters on the ground suggest he was.
The man rushed to the hospital with serious, non-life threatening wounds was named Gaige Grosskreutz of West Allis.
Friends
told
TMJ 4 that Grosskreutz volunteered as a medic during Black Lives Matter demonstrations in Milwaukee over the summer. He was acting as a medic during rioting when he was shot, they said.
Video footage shows the man identified as Grosskreutz run after Rittenhouse before being shot. Grosskreutz was carrying a gun.
According to a GoFundMe
fundraiser page
, the man "was shot on August 26 in Kenosha while peacefully protesting, filming the protest, and providing medical aid to others."
Grosskreutz was in Kenosha with the People's Revolution Movement, which calls for radical change and supported self-described socialist Sen. Bernie Sanders (I-Vt.) in his presidential runs, a spokeswoman
told
the Milwaukee Journal-Sentinel.
Grosskreutz was shot in the arm and is facing multiple surgeries to save the limb.
According to online court records, Grosskreutz was found guilty of being armed with a gun while intoxicated in 2016.
Authorities didn't identify the deceased by name but said they were a 26-year-old Silver Lake resident and a 36-year-old Kenosha resident.
The Silver Lake man was named by those who knew him as Anthony Huber, who grew up in the area.
Still images from videos captured on the scene showed Huber running toward Rittenhouse and brandishing a skateboard to hit the teen.
"I heard he was trying to save somebody from being shot," Max Seebeck, a friend, told the Journal-Sentinel.
"He is a peaceful person," a friend
told
CBS 58. "He didn't go out looking to beat people up. He's more of a defender. And he put his life on the line for others. That's what he did."
Others described the situation differently.
Hannah Gittings, Huber's partner,
told
demonstrators on Wednesday night that Huber "took down an armed gunman with nothing but his [expletive] skateboard."
A GoFundMe
fundraiser
set up for Gittings says she needs money "very fast" because "she can't retrieve her house or car keys from his body or see him until they find a funeral home and pay for it."
According to online court records, Huber was found guilty of disorderly conduct in 2018, possession of drug paraphernalia in 2015, and domestic abuse and false imprisonment in 2012.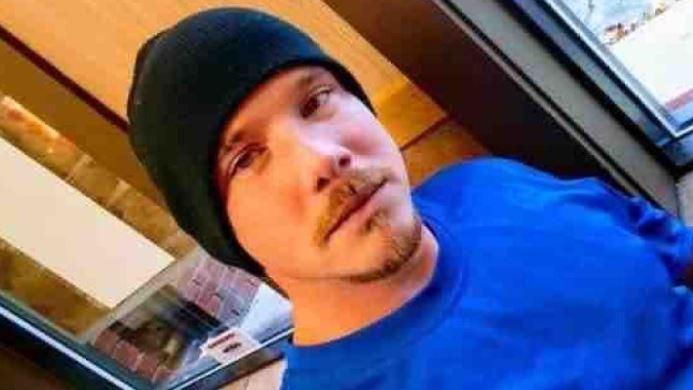 The other man shot dead was Joseph Rosenbaum, according to his friends.
A GoFundMe
fundraiser
says his girlfriend is trying to raise money for a funeral.
Rosenbaum was captured
on video
telling people, "shoot me," in front of a gas station a few minutes before he was shot. He also
used
a racial slur.
According to the state's sex offender registry, Rosenbaum was convicted in Arizona in 2002 of sexual conduct with a minor. According to online court records, Rosenbaum was charged last month with battery, disorderly conduct, and bail jumping.
The chaotic series of events on Tuesday were captured on video by reporters on the ground. Rittenhouse told one reporter he was in the area to help protect businesses and assist anyone who needed medical attention. He was carrying a rifle.
Several videos showed Rittenhouse involved in a chase outside Car Source, a dealership that has been torched twice since Sunday, before gunshots were heard. A man wearing clothing that matched what the teen was wearing made a phone call before running away.
The teen was soon pursued by several people, including a man brandishing a skateboard and another who was holding a pistol. After Rittenhouse was on the ground, he turned and fired at the men, one of whom came into direct contact with him.
Rittenhouse appeared in court on Wednesday and is set to appear in court regarding his extradition on Friday. The Lake County, Illinois Public Defender's Office told The Epoch Times on Thursday that it didn't have information on which public defender is representing the teen.
A GoFundMe for Rittenhouse was later removed from the website. GoFundMe didn't immediately respond to a request for comment.
Wisconsin Attorney General Josh Kaul told reporters on Wednesday that what happened the previous night "was despicable," charging that some and quite possibly many of the people inflicting destruction or committing violence in Kenosha have come from outside the city.
"This community has been through some extremely traumatic events in the last few days. The people of this community deserve to have the opportunity to grieve," he added, saying later that people coming to the area to commit arson or violence are "creating chaos."
Kenosha District Attorney Michael Graveley said his office will be making at least preliminary decisions about charges against Rittenhouse by the end of Thursday.
In a separate briefing, Kenosha Police Chief Daniel Miskinis said the shootings may not have taken place if people were abiding by the curfew set by city and county authorities.
The investigation into the shootings is active and it's not clear what prompted them, Miskinis added.