Americans with ties to Ukraine are staying in close contact with loved ones there through daily phone calls, texts, and social media posts. When too many hours go by without a response, it could mean spotty internet coverage. Or maybe they've taken refuge in a basement or subway without a signal.
Each time there's a gap in communication, the terrible thought surfaces that something worse may have happened. It's made for stressful days and sleepless nights.
Laryssa Charest and her husband John have hosted three Ukrainian orphans in their Allegheny County, Pennsylvania, home for four summers. The couple developed a love that moved them to try adopting the siblings, now ages 13, 12, and 9. The process was full of red tape, and recently the adoption fell through, but the Charests are still close to the children and their Ukrainian foster parents. Since Russia invaded Ukraine, they've been communicating daily.
"Just in the past couple of days, we insist that they call," Laryssa Charest told The Epoch Times. "I only call every morning. I asked them to send me a text. The eldest sent me a text saying, 'It's a little scary here now, and the whole house is shaking. I don't understand what's happening.' It's really terrible."
Charest was told they can't lift their phone to the window to take photos for security reasons. They want to remain undetected in their home. The foster parents are both in their 60s, and they have a few other foster children in addition to the three siblings.
When Russia invaded, the father had been working on a house the family has been building about 25 kilometers (about16 miles) away. He intended to return home in the evening, but he's been trapped alone in the partially constructed house for days, and he's not sure what roads are occupied and where it's safe to travel.
Also, he has the family's money and everyone's papers in the car. It means the foster mother can't buy food. She reports being down to one kilo of flour. She plans to make cookies with it, but she's not sure how she'll feed the children after the cookies are gone.
They try to watch television to understand what's happening, but reception is spotty and often they're sheltering in a neighbor's basement.
If the family could get to the border with their papers, the Charests would buy them airline tickets to the United States, but for now, the future is uncertain.
"Our world is spinning. I'm tired. I'm exhausted. I have a headache," Charest said. She can't sleep because she keeps waking up worried about the next news report. "Every couple of hours, I check my phone to see if there's any news about the latest blast, or see if I got a message from the kids. It has definitely absorbed every ounce of energy that we have."
Sister Supports Soldiers
Serge Shetilov, 69, of Dauphin County, Pennsylvania, hasn't slept much either since Russia invaded Ukraine. Mostly, he's been watching the news and communicating with his sister who lives in Ukraine.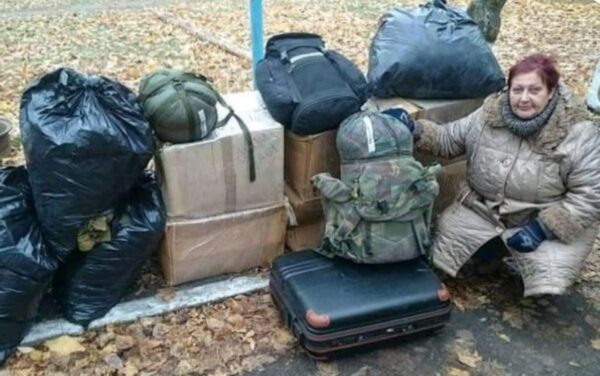 "I talked to her yesterday," Shetilov told The Epoch Times. "Lots of explosions near her house where she lives, and in the city where I lived before I came to America." He has been in the United States for 30 years but has other family members in Ukraine.
His sister, Nataliya Shetilova, 66, has been volunteering for the Ukrainian army since 2014, collecting items for the military. She continues the work today.
"She does this because we have to save our country. Somebody has to do this," Shetilov said. "When Russia took Crimea, our supply for the army was so poor. She collects donations from people and supplies everything from food to clothes to military items, if someone donates them."
She has developed a network of people from around the world who have been mailing her items and money for the military for years.
Shetilova has also been baking fresh bread for years, to feed the troops.

"I am baking, praying, and asking the Lord to keep every warrior from the enemy! Glory to our brave soldiers! Glory to Ukraine," Shetilova wrote on her Facebook page on Feb. 28 in a post of fresh-baked buns in baskets ready to hand out to soldiers. She was able to buy the ingredients from monetary donations.
"Innocent people died because they select democracy," Shetilov said, adding that Russian President Vladimir Putin is a dictator. "We don't want the same president for 20 years. Putin doesn't want democracy because if his people choose democracy, he can't rule Russia. I hope soon the Russian system collapses."
Stephen Haluszczak, president of the Ukrainian Cultural and Humanitarian Institute, has been in touch with a teacher in Ukraine who's been hiding in the basement of a school with her students. He said it's important to know that in past conflicts, the phone lines were tapped, and people may be nervous to communicate.
"It's easy to be excited about Ukraine's spirit and will, but they need our support now more than ever," Haluszczak told The Epoch Times.
Too Dangerous to Travel
Natasha, 42, of Dauphin County, Pennsylvania, has lived in the United States for 19 years. With more than 20 relatives and a good number of friends scattered around Ukraine, she declined to give her last name to protect their security. She has been organizing and attending war protests and staying in touch with friends and family in Ukraine.
One Ukrainian friend posted on Facebook that she had her 4-year-old son hiding under a mattress in the bathtub, and the family was sitting on chairs surrounding him.
"Little kids, they start asking, 'Mommy how long is this going to last?' I have kids 6 years old and 9 years old, and they just don't understand. Children are asking, 'Mommy, are we going to die?' It's very scary," Natasha told The Epoch Times. At bedtime in Ukraine, children hear sirens outside.
Natasha's family and friends are staying home because it's not advisable to travel. She heard a report of a family of four who tried to flee in their car.
"The Russians stopped them, and they were shot with machine guns. The woman's husband and son were killed in front of her. She shielded her baby and the child survived, but the mother lost her arm, so she was brought to the hospital, and they begged for help. We're going to give her whatever we can because she lost everything," Natasha said.
Borders of some towns are closed so they can keep track of who's in town.
"That's for safety," Natasha said. "The Russians rob houses and they change into our clothes and they try to pretend they're Ukrainian people, so we heard that it's safer to just stay put."
She organized a protest on the Pennsylvania Capitol steps in Harrisburg on Feb. 26, and more than 40 Ukrainians attended. She also attended a protest with hundreds the next day in Washington, D.C., where speakers asked President Joe Biden to offer more support.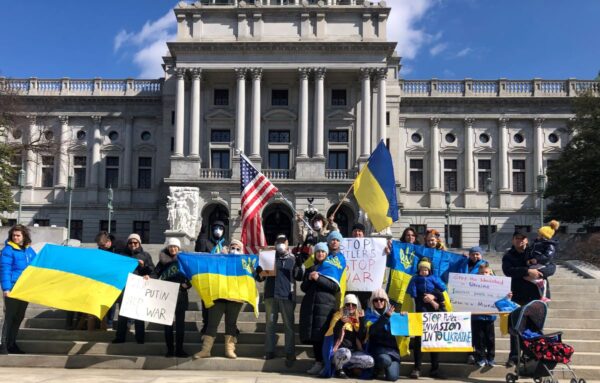 These events have been useful for meeting other Ukrainian Americans and for organizing collections of money and supplies for soldiers, women, and children.
The first boxes of supplies have already been sent, Natasha said, and money is being sent directly through MoneyGram International. They can send mail in through Poland.
Natasha went to Home Depot to buy hand warmers for soldiers. When an employee learned why she was buying so many, he bought even more to send.
Some Ukrainian stores reopened on Feb. 28, and for now, the people Natasha stays in touch with have food.
"I just want people to understand that we were a free country, and we were Democratic. We chose our president, and not what Putin is saying," Natasha said.
"We want to be a country free and independent. We are strong people, and we are showing the whole world right now that we don't want to give up any piece of ground to anyone."