Seven U.S. sailors are missing after a U.S. Navy destroyer collided with container ship in Japan early Friday morning.
Details of the collision are sparse. The Fitzgerald and the Philippine-flagged container ship collided in eastern Japan at about 2:30 a.m. local time on Saturday, June 17.
Three of the destroyer's crew, including commanding officer Bryce Benson, were medically evacuated to the U.S. Naval Hospital in Yokosuka. Seven other sailors remain missing. Search and rescue efforts are underway by U.S. and Japanese aircraft and surface vessels, the Navy said.
Names of the missing sailors are being withheld until the families have been notified.
The commander is in stable condition, while the other two were treated for lacerations and bruises, said the Navy.

The merchant vessel, the ASX Crystal, is more than three times the size of the destroyer. None of its 20 crew members were injured and it was able to make it to Tokyo Bay under its own power and without leaking oil.
The Fitzgerald suffered  significant damage and flooding to two berthing spaces and other areas of the ship, the Navy said.  The Navy has yet to determine or announce  when it will gain access to those spaces to continue searching for the missing sailors.
The flooding has been stabilized.
The ASX, chartered by Japan's Nippon Yusen KK, said in a statement it would "cooperate fully" with the coast guard's investigation.

The collision took place about 56 nautical miles southwest of Yokosuka, where the Fitzgerald is based, the Navy said.
Benson took command of the Fitzgerald a little over a month ago on May 13. The Fitzgerald, part of an eight-ship squadron, completed $21 million worth of upgrades and repairs in February.
The Navy said the ship was able to operate under its own power with limited propulsion, while the Japanese coast guard said the Fitzgerald was towed back to Yokosuka by a tugboat at about 3 knots.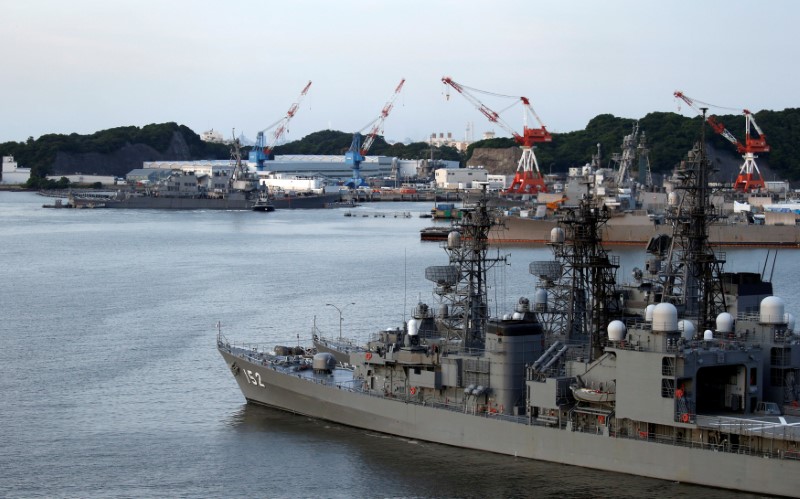 Aerial footage of the Fitzgerald shot by NHK, Japan's public broadcaster, showed a dent on the ship's starboard side, next to its Aegis radar arrays.
A representative for the 7th Fleet said legal issues related to the collision can be addressed after an investigation is complete.
The collision took place in the busy waterways approaching Tokyo Bay, where commercial vessels sail to and from Japan's two biggest container ports in Tokyo and Yokohama.