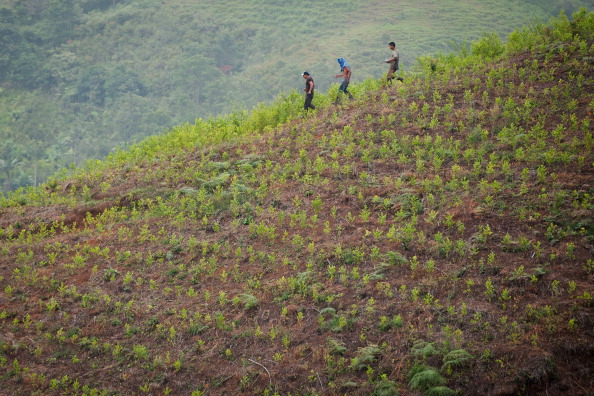 A Chinese-made herbicide used to kill off illegal crops, including coca, may cause a division between Colombia and U.S. narcotics agents operating inside the country.
Colombia purchased the herbicide last year despite the United States issuing warnings that it is highly toxic and even flammable. The United States has said that if it is used on a widespread basis, its officers might pull out of the coca eradication program, reported El Espectador newspaper.
Experts also found that the substance that was in containers sold to Colombia was not the same one that was advertised by the Chinese manufacturer. The substance had corrosive and flammable compounds, which have been banned by the United States and the European Union, the newspaper reported.
The report said that product labels for the herbicide were "inexplicably altered" to say that the substance met the country's requirements for usage. The new labels were found to have "substantial discrepancies" compared with the previous ones.
In regard to the U.S.'s warnings, Colombia narcotics police spokesperson James Story said the government is "reviewing technical issues," and that the use of the spray to curb drug trafficking and production "is a key component."
Over the past decade, the United States has sent drug agents and billions of dollars to Colombia to help the South American nation deal with illicit drug cultivation and trafficking organizations under the auspices of Plan Colombia. The funding also includes paying for herbicides that are sprayed on mostly coca and opium crops.
But last year, the U.S. Embassy's Narcotics Affairs Section said it would not pay for herbicides any longer, leaving Colombia with the responsibility, according to the newspaper.
Over the years, environmentalists have panned Colombia's use of herbicides—not the Chinese-made one, but others—to kill off drug crops, including mycoherbicides, which are made from toxic molds.
The Epoch Times publishes in 35 countries and in 19 languages. Subscribe to our e-newsletter.