Urumqi Celebrates Top Party Official's Departure
April 30, 2010 12:00 am Last Updated: October 1, 2015 8:15 pm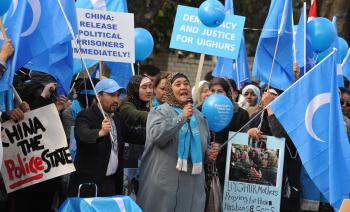 Celebratory fireworks broke out in Urumqi, the capital of China's Xinjiang Province, following news that Communist Party Chief Wang Lequan will be replaced.
Wang, who held the post for 15 years, was replaced eight months after the region's worst ethnic protests which resulted in hundreds of deaths and a six-month regime-enforced media blackout. He will be replaced by Zhang Chunxian, former party chief of Hunan Province, according to a Xinhua News report.
Local citizens from the Xinjiang Production and Construction Corps (XPCC) and South Xinjiang also celebrated by writing letters of complaint about Wang to upper-level officials.
A Uyghur citizen who asked to remain anonymous spoke to The Epoch Times about the change. "Wang Lequan has left, and we are so happy. To the people of Xinjiang, Wang was a disaster. … The July 5, 2009 'incident' in Urumqi was caused by him and handled by him; it was not [merely] an issue of [him] not dealing with it well."
Another man who also asked to remain anonymous said he worked at one of the military bases in Xinjiang. "We Xinjiang people didn't like Wang Lequan—didn't like him at all. … He did nothing for the people here."
He said that Wang reduced pay for XPCC personnel and had also reduced wages for troops. Meanwhile, "he channeled a lot of money to his relatives and friends, and people were oppressed very badly. … All the people here have been angry but didn't dare to speak out. They were afraid of meeting with revenge if they reported on him."
He added that people are also afraid to talk to outside media, as it is considered "leaking state secrets."
Another citizen said, "He ate more than 10 kinds of food for breakfast. He acted like an emperor. Our people in Xinjiang didn't like this kind of official."
Regarding views toward Wang's replacement, one resident said, "We still cannot see any hope. Right now, the upper levels are only good at saying good words. We have to [wait and] see what they will do."
The official death toll reported by Ming Pao Daily for the protests in Urumqi last July was 200. Local Uyghur citizens say the death toll among Uyghurs was at least 800.
The street violence focused worldwide attention on the region, and the CCP was faced with criticism and questions from around the world regarding its handling of the situation.
Wang has been appointed vice chairman of the CCP's National Committee, an obvious demotion, according to a BBC commentary.
Xinjiang was originally dominated by Uyghurs, a Turkic Muslim group. After decades of Chinese colonization, they are becoming a minority in their own homeland. Xinjiang is rich in oil, gas, and coal reserves, but state-owned investment in the region has failed to benefit most Uyghurs.
Read original Chinese article