UPDATE as of Monday afternoon:
Hurricane Jose's schizophrenic path might take it to Florida, but it's too early to tell.
Jose, currently a Category 2 storm with winds of 105 mph, could take a path toward the Bahamas by Saturday, and it's too soon to tell if South Florida will be hit.
The storm is currently 255 miles northeast of Grand Turk Island, which is southeast of the Bahamas, according to a U.S. National Hurricane Center in Miami update at 5 a.m. on Monday.
The storm is moving in a bizarre clockwise loop direction before straightening out and going to the southern United States.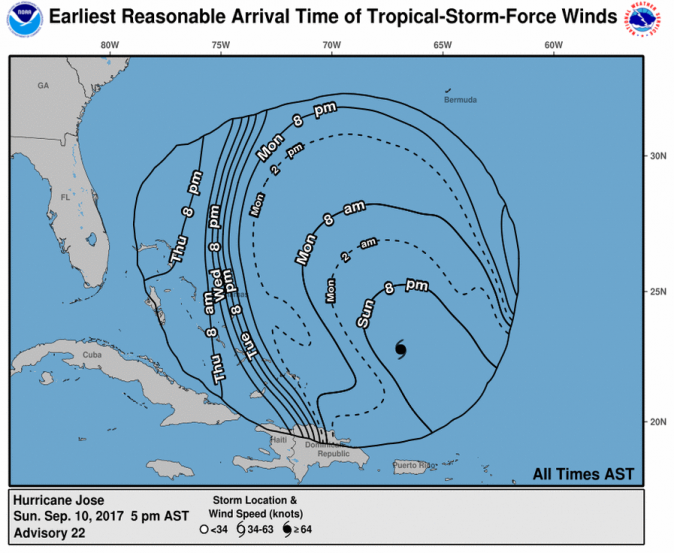 —-
Earlier update:
Hurricane Jose remained a Category 3 storm as of 5 p.m. ET on Sunday.
Jose, which has winds of 110 mph, is 400 miles northwest of the northern Leeward Islands, and it doesn't pose much of a threat to land as of now, the National Hurricane Center said.
There are no warnings or watches in effect for Hurricane Jose, which formed last week.
The storm is moving 16 mph to the northwest.
Some storm wells generated by Jose will affect Puerto Rico, the Turks and Caicos islands, and Haiti, the Dominican Republican, and parts of the Bahamas, the agency said.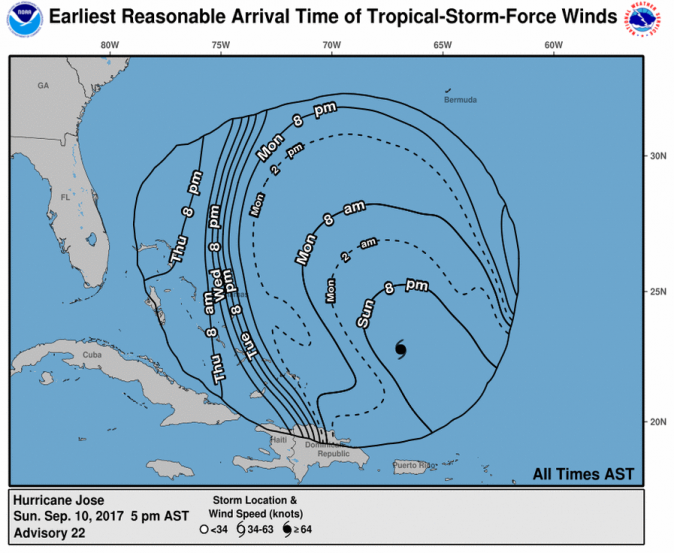 And it's located 285 miles northwest of Grand Turk Island, the NHC stated.
Last week, there had been speculation that Jose might be on track to hit the Hurricane Irma-ravaged islands of Antigua, Barbuda, St. Martin, as well as the British and U.S. Virgin Islands. However, with the current northwestern track, it doesn't appear that Jose will pose a threat.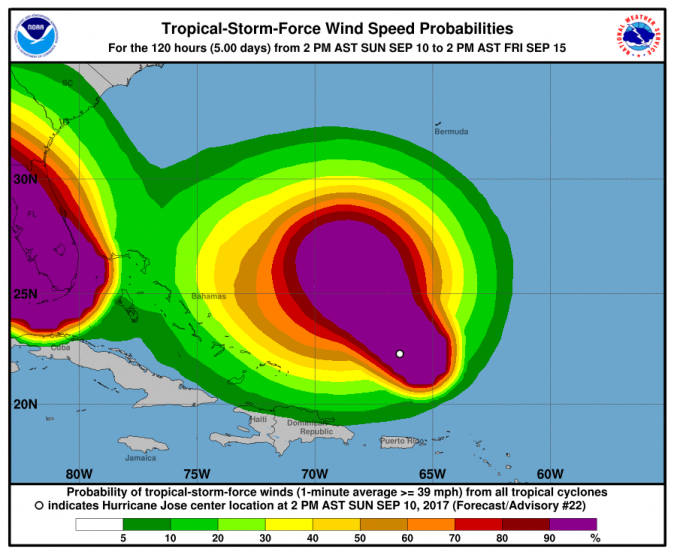 Last week, there were three hurricanes in the Atlantic, including Jose and Irma. Hurricane Katia formed in the Gulf of Mexico before it slammed into the eastern part of Veracruz state. Mudslides spawned from Katia killed at least two people, Reuters reported.
Katia weakened quickly after landing on Friday night, but not before knocking out power for 70,000 people, Mexican officials told Reuters.
Katia was about 125 miles (201 km) west northwest of the port of Veracruz by midmorning on Saturday, the NHC said, noting that the threat of heavy rainfall continued.
Officials in Veracruz warned that Katia could cause landslides and flooding, and they urged people to evacuate vulnerable areas.
Mexican emergency services said this week that Katia was worrisome because it is very slow-moving and could dump a lot of rain on areas that have been saturated in recent weeks.
State energy company Pemex [PEMX.UL] has installations in and around the coast of Veracruz but has not reported any disruption to its operations there.
According to the NHC's forecast for Jose:
At 500 PM AST (2100 UTC), the center of Hurricane Jose was located
near latitude 22.8 North, longitude 66.9 West. Jose is moving toward
the northwest near 16 mph (26 km/h). This motion is expected to
continue tonight with a slowing of forward speed on Monday. Jose
will begin turning toward the northeast Monday night, followed by a
more eastward motion on Tuesday. On the forecast track, Jose will
remain well to the east of the Bahamas for the next couple of days.
Maximum sustained winds have decreased to near 120 mph (195
km/h) with higher gusts. Jose is a category 3 hurricane on the
Saffir-Simpson Hurricane Wind Scale. Additional weakening is
forecast, but Jose is forecast to remain a hurricane during the next
couple of days.
Hurricane-force winds extend outward up to 40 miles (65 km) from the
center and tropical-storm-force winds extend outward up to 160 miles
(260 km).
Reuters contributed to this report.