Hurricane Irma will move over the Florida Keys first on Sunday morning as a major Category 3 hurricane, according to the National Hurricane Center in an 8 p.m. ET Saturday update.
According to the 8 p.m. bulletin, Irma's eye is moving slowly north away from the coast of Cuba.
"Heavy squalls with embedded tornadoes sweeping across South Florida," the NHC advisory at 8 p.m. reads.
"Major hurricane force winds [are] expected over the Florida Keys at daybreak," the agency stated in a previous update.
According to the NHC, the eye of the storm will reach South Florida at around 2 a.m. Sunday.
The Weather Channel reported Saturday night that Irma is spreading tropical storm-like conditions across the Florida Keys.
"A storm surge warning has been issued from the South Santee River around the peninsula to the Suwanee River, including the Florida Keys and Tampa Bay. A storm surge watch is in effect from north of the Suwannee River to the Ochlockonee River on the west coast of Florida," the Weather Channel says.
"Hurricane warnings now extend as far north as Fernandina Beach on the Atlantic side, and up to Indian Pass on the Gulf side. Included in the hurricane warnings are the Florida Keys, Naples, Ft. Myers, the Tampa/St. Petersburg metro, Miami, West Palm Beach, Tallahassee, Thomasville and Valdosta," it added.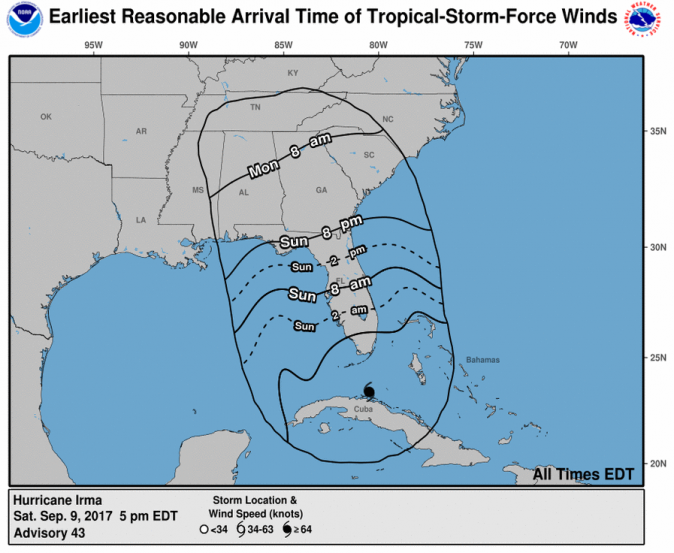 It's about 110 miles southeast from Key West, and it's moving west-northwest at 7 mph. Earlier, it was moving at 9 mph
Irma is packing winds of 120 mph. However, according to Weather.com, the storm is expected to intensify to a Category 4 and hit Florida on Sunday.
Meanwhile, a storm surge warning "has been extended from the Volusia/Brevard
County Line northward to the South Santee River," the NHC said. That includes Tampa.
Here's more from the NHC:
A Storm Surge Warning is in effect for:
 South Santee River southward around the Florida peninsula to the Suwanee River

Florida Keys

Tampa Bay
A Storm Surge Watch is in effect for:
North of the Suwanee River to Ochlockonee River
A Hurricane Warning is in effect for:
Fernandina Beach southward around the Florida peninsula to Indian Pass
Florida Keys

Lake Okeechobee

Florida Bay

Cuban provinces of Camaguey, Ciego de Avila, Sancti Spiritus, Villa Clara, Matanzas, and Havana

Andros Island, Bimini and Grand Bahama
A Hurricane Watch is in effect for:
North of Fernandina Beach to Edisto Beach
A Tropical Storm Warning is in effect for:
West of Indian Pass to the Okaloosa/Walton County Line
North of Fernandina Beach to South Santee River
For Georgia and Carolinas residents, there's a hurricane watch along the Georgia coast northward to Edisto Beach, South Carolina.