The federal trial of David DePape, the man accused of attacking Rep. Nancy Pelosi's husband Paul at the couple's San Francisco house last year, will start later this year, according to court papers filed Wednesday.
Federal prosecutors said that "all discovery has been produced" but there may be some supplemental items, according to court papers (pdf). A hearing on DePape's motion to change venue is scheduled for May 30, while his jury trial is slated for Oct. 23, 2023.
The government reported that all discovery has been produced; however, there may be a few supplemental items that will trickle in. The hearing on Defendant's Motion to Change Venue is set for May 30 at 10:00 a.m. Pretrial conference is set for Oct. 11, and jury trial is set for Oct. 23. Counsel is to submit a stipulated pretrial schedule by April 5.
Reporters at the federal courthouse in San Francisco said that DePape made an appearance in court on Wednesday. His lawyer told the court that he's is planning to file a change of venue motion in the coming days, according to reports.
Previously, DePape pleaded not guilty to federal charges of attempted kidnapping of a federal official and assaulting a family member of a federal official. He also faces state charges, including attempted murder.
The 43-year-old suspect is accused of attacking Paul Pelosi, 82, in the early morning hours of Oct. 28 after allegedly breaking into their San Francisco home. Police bodycamera footage released earlier this year shows DePape and Pelosi speaking with officers before the suspect appears to hit the elderly man in the head with a hammer—before police rush to apprehend DePape.
Surveillance footage before the attack was also released earlier this year, allegedly showing DePape rifling through a bag of items before he smashed a window to the Pelosis' home. U.S. Capitol Police officials confirmed that it had cameras outside the Pelosi house but were not being monitored at the time of the break-in.
Pelosi was hospitalized for several days with a skull fracture and other injuries, his family said. His wife, then-speaker of the House, was not home at the time of the attack.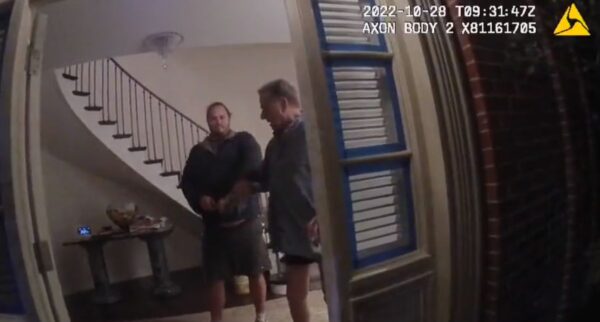 Police Lt. Carla Hurley, who spoke to DePape after the attack, testified during Dec. 14 court hearing that the defendant wanted to smash Nancy Pelosi's kneecaps and put her in a wheelchair. He had other targets, too, including California Gov. Gavin Newsom, she said.
Other Details
Federal officials alleged DePape, a Canadian citizen who was reportedly in the United States illegally after overstaying his visa, told investigators that he wanted to kidnap Speaker Pelosi and that he wanted to speak to her. They described the attack as politically motivated, while members of DePape's family have spoken to media outlets and have questioned the official narrative around the incident.
"DePape also later explained that by breaking Nancy's kneecaps, she would then have to be wheeled into Congress, which would show other members of Congress there were consequences to actions," an FBI agent stated in an affidavit that was filed along with the criminal complaint. "DePape also explained generally that he wanted to use Nancy to lure another individual to DePape."
Several weeks ago, DePape phoned local news outlet KATU-TV and said he carried out the attack because "liberty isn't dying, it's being killed systematically and deliberately." He added that those who are killing liberty have "names and addresses."
"I want to apologize to everyone. I messed up. What I did was really bad. I'm so sorry I didn't get more of them. It's my own fault. No one else is to blame. I should have come better prepared," he allegedly told the station.
Weeks after the October assault, his former girlfriend Oxane "Gypsy" Taub asserted that DePape held left-wing, progressive political viewpoints and described him as a "peace activist." But she and others who knew him also suggested that he may have had mental health issues.
"When he came back, he was paranoid. He thought people were following him," she told The Epoch Times in November. "He thought he might be Jesus," she said.
A trial date in the state case against DePape has not yet been scheduled. If convicted on state charges, he could face life in prison. For the federal charges, he could face between 20 and 30 years in prison.