A Southwest Airlines flight was diverted for an emergency landing after a passenger allegedly tried to "play footsies" with a woman, harassed her, and then screamed at the flight attendant who challenged him.
The man was charged with interference with a flight crew member and simple assault, after the flight from Dallas to LA was diverted to Albuquerque on Oct. 16, reported local media.
He was identified as Justin Riley Brafford, 29, of Denton, Texas, by the Albuquerque Journal.
According to the legal complaint, Brafford blew up and started yelling at a flight attendant after he kept following a woman who rejected his advances.
Brafford said that the woman started flirting with him.
The Dallas News said that according to the legal complaint, the woman said Brafford started leaning closer to her and put his arm over her armrest and onto her leg before take off.
She told the FBI he kept getting closer to her and began "playing footsies."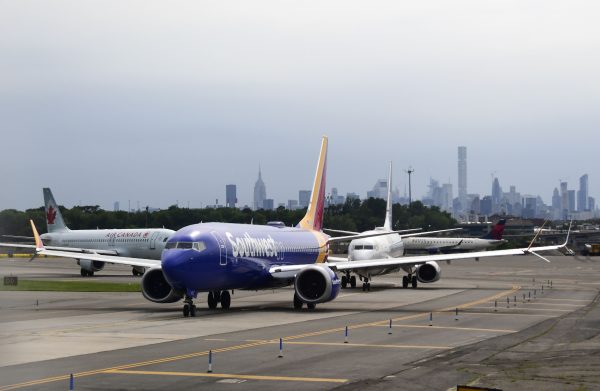 She asked him to stop bothering her and to stop kicking her, the Journal reported. He then allegedly started to pull on her sweater, asking her to go out after the flight and if she was staying alone in her hotel.
When she tried to move away, he kept following, she said.
At this point, a flight attendant intervened, telling him to "leave it alone."
The attendant said that Brafford went from "zero to sixty in nanoseconds" and began standing and yelling at the attendant, according to the complaint.
The pilot decided to divert the plane after hearing the yelling as another attendant called the cockpit, and after consultation.
Brafford told authorities that the woman came on to him and started flirting with him, according to the Journal. He admitted to putting his hand on her leg, saying that he thought they were connecting. He said he may have gone too far, according to the complaint.
He allegedly admitted to using methamphetamines the day before the flight and overdosing on heroin Saturday, reported the Dallas newspaper, and told the FBI that God was talking to him during the flight, according to the legal complaint.
Court documents stated that the judge revealed that Brafford had a prior criminal history, and a history of violence or use of weapons, according to the Journal, and that he lacked community ties and had no stable residence.
Threats to flight crew or violence, often fueled by alcohol, are common cause of flights being diverted.
An apparently intoxicated man caused an American Airlines flight to be diverted after he started to do pull ups from the overhead bin, refusing to sit down on Oct. 1.
Other flights have been diverted for more unusual reasons.
On July 26, a flight from New York to Fort Lauderdale was forced to divert after a mysterious odor caused sickness, discomfort, and even loss of consciousness.
Reports indicate at least one passenger said the plane had an odor that smelled like "dirty socks."
Last November, a flight had to be diverted when a woman became unruly on learning—mid-flight—that her husband was having an affair. As he slept on the flight from Iran to Bali, she used his thumb to unlock his phone, where she found evidence of his misdemeanors.
Did you enjoy this article? Continue to read more stories  here.