Brazilian President Jair Bolsonaro has defended his handling of the COVID-19 pandemic in a speech at the United Nations, saying science and history will hold everyone accountable.
Bolsonaro was the first world leader to speak at the U.N. General Assembly on Sept. 21.
"We support vaccination efforts. However, my administration has not supported a vaccine or health passport or any other vaccine-related obligation," Bolsonaro said.
Almost 90 percent of Brazilian adults and 80 percent of the indigenous population have already been given one dose of the COVID-19 vaccine, he stated.
"We cannot understand why many countries together with a large portion of the media took a stance against early treatment measures," Bolsonaro said. "History and science will certainly be wise enough to hold everyone accountable."
Bolsonaro said his government has supported early treatment measures since the pandemic started, and he also underwent early treatment for COVID-19.
In July 2020, Bolsonaro posted on Facebook that he had recovered from COVID-19, a disease caused by the CCP virus. He also posted a photo of himself with a box of hydroxychloroquine at the time. He also criticized isolation and lockdown measures during his speech, saying they "left a legacy of inflation, particularly in foodstuffs all over the world."
"I have always advocated that we should fight the virus and unemployment at the same time and with the same sense of responsibility," the president stated. He said that Brazil has created nearly 1.8 million new jobs in the first seven months of this year.
In his speech, Bolsonaro also emphasized the importance of family, freedom of religion, and freedom of speech.
"We believe that the traditional nuclear family is the very foundation of civilization," Bolsonaro said. "And human beings' freedom is only made complete with freedom of worship and freedom of expression."
"Today, Brazil is one of the best investment destinations in the world. And that is here at this General Assembly that we envision a world with more freedom, more democracy, more prosperity, and peace."
Bolsonaro is the only unvaccinated G-20 world leader. On Sept. 20, when British Prime Minister Boris Johnson asked him if he had been vaccinated, Bolsonaro replied: "No. Not yet."
New York City Mayor Bill de Blasio initiated a COVID-19 vaccine mandate on Aug. 17. People must show proof of vaccination against COVID-19 for indoor activities, such as dining, fitness, and entertainment.
Bolsonaro was spotted eating pizza on a street in New York on Sept. 19 with his ministers.
"Luxury dining in NYC," one of the ministers, Luiz Ramos, wrote on Twitter in Portuguese.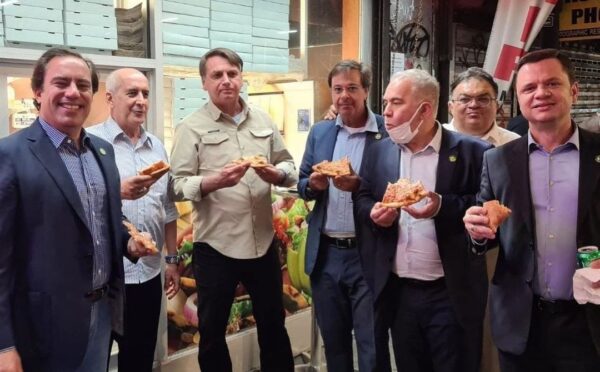 The U.N. headquarters in New York City is considered international territory and isn't subject to U.S. laws. U.N. Secretary-General Antonio Guterres told Reuters last week that the U.N. Secretariat "cannot tell a head of state if he is not vaccinated that he cannot enter the United Nations."
The United Nations enacted a COVID-19 vaccination honor system on June 1. Under the system, when diplomats swipe their U.N. identification card upon entry to the General Assembly Hall, it's considered a declaration that they are fully vaccinated against COVID-19.
De Blasio called out Bolsonaro in a Sept. 20 news conference.
"We need to send a message to all the world leaders, including most notably Bolsonaro from Brazil, that if you intend to come here, you need to be vaccinated," de Blasio said.
"If you don't want to be vaccinated, don't bother coming."
Last week, de Blasio said the city would provide free single-dose Johnson & Johnson vaccine at a site outside U.N. headquarters during the world meetings.
Reuters contributed to this report.