Unseen City: The Quiet Move of Our 9/11 Remains
May 14, 2014 9:45 pm Last Updated: April 24, 2016 6:35 am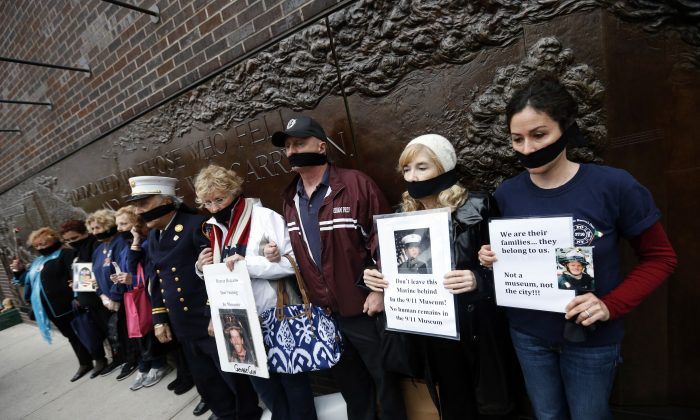 In the early morning hours of Saturday, May 10, a solemn procession of vehicles made a short trip from the Manhattan medical examiner's office to a special repository at ground zero. The procession carried almost 8,000 remains of 9/11 victims to be interred in a private room located between the footprints of the former twin towers. 
There are so many significant moments that happen in this town that are missed. This was one of them—another reminder that there continue to be new chapters in the terrible legacy of 9/11. 
This most recent chapter includes anger from some family members of 9/11 victims who said they were not consulted about the transfer. A couple dozen of them were at the memorial when the transfer took place. They held photos of their lost loved ones and wore symbolic black gags. 
"That's a disgrace—a national disgrace," retired Deputy Fire Chief Jim Riches told a reporter from the Daily News. His son Jimmy, a firefighter, died in the attack. Riches said that he'd prefer to see the remains, over 1,000 of which are still unidentified, in an above ground repository on the plaza of the National September 11 Memorial & Museum. 
For now, they will be kept in a medical examiner's office repository next to the memorial, separated by a wall. Family members can pay their respects in a private reflection room not open to the public. Meanwhile, the work to make more identifications will continue as new methods and technologies emerge. 
Some family members told the media they're distressed at the thought of visitors at the soon-to-be-open memorial pointing out where the remains are. They seem to feel that it would be like putting what little is left of their loved ones on display for the entire world. 
Other family members told the large contingency of media at the transfer that they thought the move was "respectful."
So much has been written, said, thought, and felt about 9/11. This fall, it will be 13 years since that horrifying morning that terrified the nation, and the entire world. 
There can be little comfort after losing a loved one, especially under such tragic circumstances. But perhaps all is not as it seems. 
Though so many remains still have no name, and the collective remains are not on public display, everyone who visits the memorial will have the chance to pay their respects and remember those lost. After all, the pain of that day and the aftermath has been shared by the entire world. 
The National September 11 Memorial & Museum will be dedicated on Thursday, followed by six days of being open around the clock for Sept. 11 victims, victims' relatives, first responders, and Lower Manhattan residents. It will open to the public May 21.