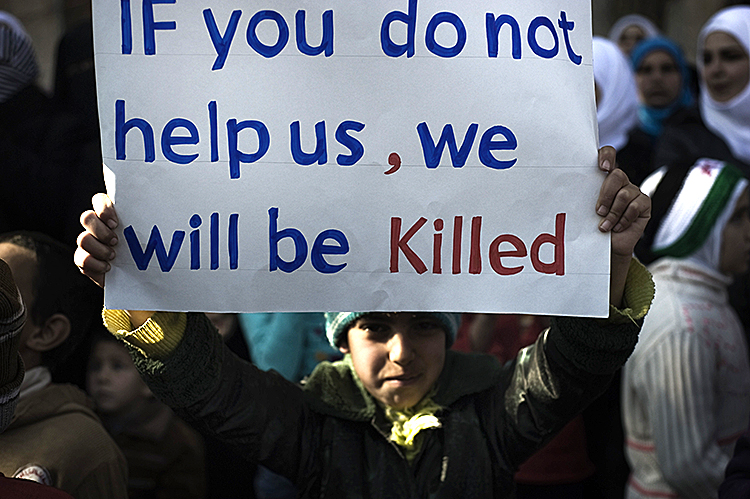 "I just came from the field hospital. There are three large rooms full of corpses. I've seen over 100 corpses today," said a witness named Karim, detailing the shelling of the Syrian city of Homs by government forces.
At least 107 were killed across Homs on Feb. 9, the Local Coordination Committees (LCC) said, citing activists and doctors operating in the field. "We are not able to document the names of martyrs due to the intense shelling," says the LCC's daily update on its website.
"Injured people are dying because we cannot treat them. There are still people in the street who are injured. They are missing body parts," Karim told Human Rights Watch (HRW). "We cannot pull them in because of the shooting. They will die in the street."
Last week, the army started heavily shelling neighborhoods in Homs, the city, which has essentially become the center of unrest in the protests and uprising against President Bashar al-Assad. There are estimates that hundreds have been killed in the past week alone.
Video footage uploaded to the Internet showed a number of dead bodies, as well as mass demonstrations calling for al-Assad's ouster, and military helicopters flying overhead.
HRW said the government has erected a blockade into the city to prevent medical supplies from entering. Those who are injured reported not seeking treatment at government hospitals out of fear of arrest.
"This brutal assault on residential neighborhoods shows the Syrian authorities' contempt for the lives of their citizens in Homs," said Anna Neistat, an associated emergencies director with the rights group. "Those responsible for such horrific attacks will have to answer for them."
Several witnesses told HRW stories of being shot at by security forces and of intensive shelling in neighborhoods in the city. The rights group also corroborated reports from journalists operating in the area and reviewed footage that was posted to the Internet.
On Monday and Tuesday, one witness named Wasim said shelling took place "every 15 minutes," reported HRW. "It wasn't the first time I hear such sounds but on Monday the situation was worst due to the nonstop intensive shelling," he said.
Western and Arab powers are having difficulty figuring out a way to resolve the violence after Russia and China last week vetoed an Arab League-backed United Nations Security Council resolution condemning al-Assad.