Unpaid Wages Cost Farmers Four to Every One Yuan
October 8, 2005 12:00 am Last Updated: August 21, 2015 5:54 pm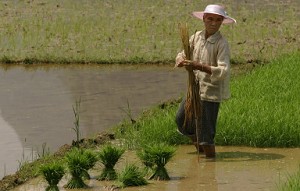 A large-scale survey published on May 23 found that Chinese farmers need to spend extra money to request their unpaid wages. Investigators spent one and a half years visiting eight provinces and cities including Beijing and Guangdong. They concluded that it would cost a farm laborer 3,420 to 5,720 yuan (US$427 to US$715) for every 1,000 yuan (US$125) he was owed.
The Survey Report on the Cost of Farmer Laborer in Protecting Their Rights in China was compiled by several attorneys from Mainland China, including Tong Lihua, Xiao Weidong and Shi Fumao. They began the survey in December 2003.
Findings showed that for a farm laborer to complete the required procedures to receive 1,000 unpaid yuan, he would have to shell out a sum of at least 920 yuan to cover various expenses. The procedures would also cost the farm laborer at least 11-21 days of unpaid work hours, or 550-1,050 yuan.
That's to say, for a farmer to recover every unpaid 1,000 yuan, he will have to spend at least 1,500 yuan out of his own pocket. Then the state has to pay at least 1,950 to 3,750 yuan to cover the government staff, judge and clerk. Hence the total cost would be between 3,420 and 5,720 yuan.
The author of the report, Xiao Weidong, said that this estimate was conservative. Based on 17 cases they worked on, each case indicated the combined cost for a farm laborer pursuing his personal rights exceeded 10,000 yuan.
The data was based on the combined cost of successfully recovering unpaid wages through lawful means. It didn't count failed efforts, even if the costs were huge. It also didn't count the many cases in which farm laborers paid high prices to protect their rights through extreme means.
By mid-November 2004, Chinese officials estimated the amount of wages unpaid to farm laborers who worked in cities to total about 100 billion yuan (US$12.5 billion); some scholars believed the actual amount to be much higher.
Xiao Weidong said that they planned to submit the findings of the survey to the National People's Congress of the Chinese Communist Party, the Department of Labor and Social Security and the State Council Legislative Affairs Office. He hoped the findings would lead people to think more about whether the current system was protecting farm laborers' basic rights.