University-Educated Maids in Demand in Shenzhen
March 12, 2007 12:00 am Last Updated: March 12, 2007 12:00 am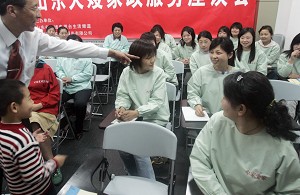 CHINA—On Feb. 24, thirty graduates from the China Women's University (Shandong branch) reached Shenzhen to work as maids. They were all hired within half a day.
After the Chinese New Year, many women from rural areas who worked as maids in cities chose to return home to farm, leading to an even more serious maid shortage this year.
It was estimated that there would be a shortage of over 100,000 maids after the Lunar New Year festival in Shenzhen, as well as shortages in Guangzhou and Shanghai.
According to a Feb. 24 report by the Southcn.com Web site, 30 graduates from the Shandong branch of China Women's University, organized by the Shandong Province Labor and Social Security Department, went to Shenzhen to work as maids.
Under the name of "Shandong lady home workers," they went armed with their graduation certificates, police documents verifying their crime-free records, and health certificates from medical organizations. They were part of a project launched to break into the Guangdong domestic helpers market.
According to Wan Zhong, the person responsible for bringing this group of domestic helpers to Shenzhen, the decision to select university-educated housekeepers from China Women's University was mainly due to the extreme shortage of high-level housekeepers and the potentially huge market for domestic helpers.
Salaries paid to housekeepers have risen sharply in Shenzhen this year. A "four-star" Shandong home worker previously earned a monthly salary of up to 2,800 yuan (US$361).
According to Meng Jun, deputy head of the Shenzhen Home Service Association, in recent years, Shenzhen is always short of housekeepers after the Chinese New Year. Last year, after agricultural taxes were abolished, many women from rural places went back home to farm. This year the shortage of housekeepers seems to be even more serious.