The U.S.-led coalition battling the ISIS terror group has released a video showing the carpet-bombing of an island in northern Iraq that was "infested" with terrorists.
Dramatic footage released by the Baghdad-based Operation Inherent Resolve showed a series of massive explosions light up the island of Qanus on Tuesday, Sept. 10, located on the Tigris River. The aim of the mission was to destroy a "major transit hub" for ISIS terrorists making their way from Syria into Iraq.
U.S. Army Col. Myles B. Caggins III, a spokesman for Operation Inherent Resolve (OIR), said that over 80,000 pounds of laser-guided bombs were dropped on what he noted was a "Daesh infested island," using the Arabic term for the ISIS terrorist organization.
Writing on Twitter Col. Caggins said, "Here's what it looks like when @USAFCENT F15 and F35 jets drop 36,000kg of bombs on a Daesh [ISIS] infested island."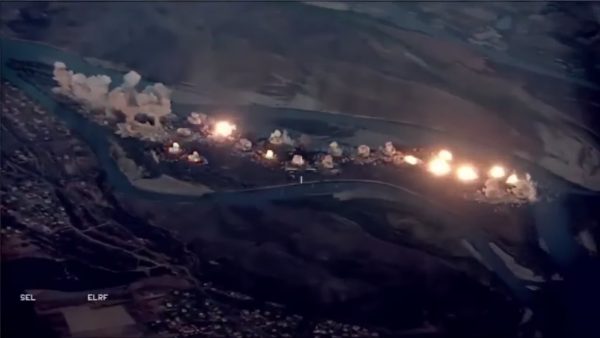 "We're denying [ISIS] the ability to hide on Qanus Island," said Maj. Gen. Eric T. Hill, the commander of the Special Operations Joint Task Force–Operation Inherent Resolve, in a statement. "We're setting the conditions for our partner forces to continue bringing stability to the region."
VIDEO: Here's what it looks like when @USAFCENT #F15 and #F35 jets drop 36,000 Kg of bombs on a Daesh infested island. 🛩💥 هكذا تبدوا الجزيرة الموبوءة بداعش بعد أن أسقطت عليها الطائرات المقاتلة #أف-15 و #أف-35 36,000 كغم من الذخيرة pic.twitter.com/2v6FAEL9Rn

— OIR Spokesman Col. Myles B. Caggins III (@OIRSpox) September 10, 2019
The airstrikes destroyed the dense vegetation on the island, the statement said, exposing those ISIS terrorists still alive after the sequence of blasts.
Iraqi special forces then conducted ground clearance operations "to destroy any remaining Fallul Daesh on the island." A Twitter post referenced in the OIR statement and attributed to the Iraqi Counter-Terrorism Service (Operation Black Dirt) shows Iraqi special forces heading towards the island in inflatable boats. The post says their "main goal is to completely cleanse it and protect our people from the threat of terrorism."
#عاجل
قوات #جهاز_مُكافحة_الإرهاب
تواصل هُجومها بالزوارق المائية على عناصر تنظيم #داعـش في زور كنعوص
والهدف الأساس هو تطهيرها بشكل كامل وحماية شعبنا من خطر الإرهاب pic.twitter.com/g5ZDqrIUcr

— The Golden Power (@ICTSm33) September 10, 2019
The massive counter-terrorism operation comes after the Taliban in Afghanistan claimed responsibility for two massive bombings in Kabul last week, in which dozens of people—including an American soldier—were killed.
President Trump announced on Twitter he had canceled a high-level meeting at Camp David between the Afghan government and the Taliban over the attacks.
Unbeknownst to almost everyone, the major Taliban leaders and, separately, the President of Afghanistan, were going to secretly meet with me at Camp David on Sunday. They were coming to the United States tonight. Unfortunately, in order to build false leverage, they admitted to..

— Donald J. Trump (@realDonaldTrump) September 7, 2019
"What kind of people would kill so many in order to seemingly strengthen their bargaining position?" the president asked on Twitter. "If they cannot agree to a ceasefire during these very important peace talks, and would even kill 12 innocent people, then they probably don't have the power to negotiate a meaningful agreement anyway."
Trump Says Other Countries Need to Fight ISIS
Trump said on Aug. 21 that other countries will need to take up the fight against ISIS terrorists, citing Russia, Pakistan, Iraq, and Iran as examples.
Earlier this year, U.S.-backed forces reclaimed the last remaining territory once held by ISIS in Syria. Since then, however, there has been concern about the terror group gaining new strength in Iraq and Syria.
"At a certain point Russia, Afghanistan, Iran, Iraq, Turkey, they're going to have to fight their battles," Trump told reporters at the White House, later saying India should also get involved.
"All of these other countries where ISIS is around … all of these are going to have to fight," he said, adding that the United States did not want to spend "another 19 years" fighting the Afghan war.
Reuters contributed to this report.