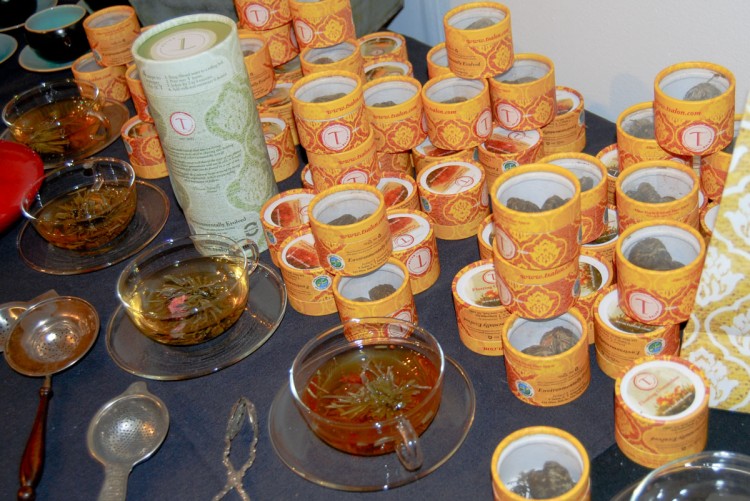 NEW YORK—Coffee and tea lovers sampled drinks from around the world at the Seventh Annual Coffee & Tea Festival NYC on Saturday and Sunday in Manhattan. Tickets for the two-day festival, totaling 5,000, sold out on Friday.
"I think tea drinkers are the most wonderful people; they're thoughtful, they want to learn, they want to share experiences. They sip it here, it's just a wonderful thing to see," said Amy Milo. Amy and Robert Milo are the importers of S.D. Bell, a family tea company in Northern Ireland that has been in the Bell family for 124 years.
"It's our hobby business," he said. "We love tea, we have fun with it."
For those more partial to coffee, there was just as wide a variety. The Turkish Cultural Center of New York taught visitors how to brew Turkish coffee. The finely ground coffee is prepared in a small, long-handled pot, heated over a low fire, and served as it begins to froth.
There was tea, coffee, and Craig Buntin's unique blend of the two. Buntin said when he was training for the Olympics he wanted a morning drink like coffee, but with the taste of tea. So he started the company Teabean and shared his peculiar tastes with the world.
"Well, first of all, I like how it tastes," Buntin said. "And from the looks of it, other people do too."
The vendors and exhibitors also included teatime snacks, baked goods, honey, and spa goods.
Bixby & Co., a chocolate snack bar company in New York, brought unique flavors like "To The Nines," a white chocolate bar with goji berries, pistachios, almonds, and cardamom; and "Whippersnapper," a dark organic chocolate bar with dried blueberries, walnuts, and Tellicherry black pepper.
"It really came out of what I wanted in chocolate," said Kate McAleer, founder of the company. "A lot of chocolate bars are plain and thin and don't have a lot of textures of interesting things in them."
McAleer said a lot of the interesting flavor combinations came from her exposure to different cultures when she lived abroad.
The festival also included workshops and lectures, such as the Special Tea Institute Certification Program that attendees registered for in advance, and experts teaching classes, including a lecture on green teas by tea specialist Yoon Hee Kim and The Artistry of Afternoon Tea, a master class by Ellen Easton discussing etiquette and ideas for afternoon tea snacks.
Michael Schwartz, founder of BAO, the first licensed kombucha manufacturer in New York, gave a lecture on Saturday about the fermented drink.
"[Kombucha has] been around for 2,500 years, originally from Western China. It's a very simple fermentation way of drinking tea—doesn't really taste like tea, but there's tea in it," Schwartz said.
"You'll find fermented foods all around the world, except in America," said Schwartz. "Fermented foods are incredibly healthy for the digestive system."