Unemployment Leads Chinese Boys Into a Woman's Field
June 5, 2010 3:48 am Last Updated: October 1, 2015 7:57 pm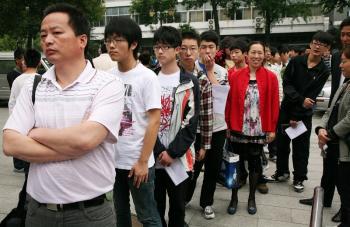 The pressure of unemployment has changed people's traditional concepts of gender-based occupations in China. In Jiangsu Province, thousands of male middle school grads are uncharacteristically competing for 300 positions at the teacher's college for childhood education. Those who are admitted will get a steady job after another five years of study.
At the end of May, the pool of hopeful young 15- and 16-year-olds went through rigorous testing including demonstrating gymnastics, dancing, singing, and painting skills as well as undergoing psychology tests. The Nanjing Normal College for Childhood Education had an admission ratio of 1 in 300 this year, higher than the ratio for a government employment position, according to the Yangtze Evening News.
In China, it is commonly understood that childhood education is a job for women. Historically, young male students would rarely apply for a childhood education major in school or for a job in this field. Currently, only 1 percent of the teachers in childhood education in Jiangsu Province are male.
In order to correct this imbalance, Jiangsu Province started a pilot program in 2010 to offer free education to male students, hoping to have at least one male teacher in each preschool and kindergarten.
Tuition and living accommodations are free, and 10,000 yuan (US$1,500) living expenses are provided per year.
Before these students enter the school, they must sign an agreement with the school and the city education department of their local cities, to commit to employment in the field for no less than five years. After they graduate, they will return to their local cities and work for public preschools and kindergartens, otherwise, they must return the money paid for their education and pay a fine as well.
There are more male teachers in the field of childhood education in developed countries, with 7 percent in Japan, 10 percent in the United States.