A wild bar brawl broke out in Pittsburgh between undercover police officers and reputed members of the Pagans motorcycle club, according to law enforcement officials.
The fight took place at Kopy's Bar on South 12th Street on Friday, Oct. 12, according to the Pittsburgh Post-Gazette, after a customer divulged the identity of four narcotics detectives working undercover.
Bikers Frank Deluca, 36, Michael Zokaites, 38, Erik Hertzrater, 28, and Bruce Thomas, 61, were all arrested as a result of the fight.
Four undercover narcotics detectives were at the bar investigating complaints of drug dealing, according to the report, when their cover was blown, prompting a confrontation.
"Those guys are cops," one of the customers of the bar said while pointing at the detectives, Detective Brian Burgunder wrote in a criminal complaint.
Six men, at least several of whom were allegedly wearing Pagan motorcycle club attire, then reportedly stared at the policemen. A detective approached the bikers and "confirmed to them that we were, in fact, police officers and we were not there to infringe on anyone's good time," according to the complaint.
Detectives and bikers shook hands several times. One of the purported Pagans, identified in the complaint as Frank Deluca, suddenly became violent.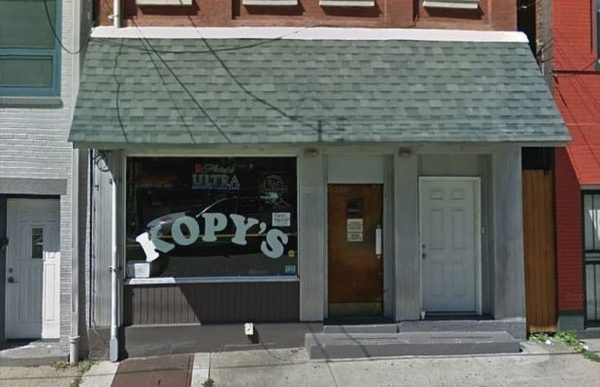 The confrontation then reportedly spiralled out of control.
Zokaites allegedly punched Burgunder and another detective in the head and face before another detective engaged physically in the altercation, according to the report, striking and tackling the aggressor.
Burgunder grabbed Deluca and noticed a gun in his waistband before screaming out that the suspect had a gun. Deluca refused to comply with the detective's demands and continued kicking and punching inside the bar.
A customer recorded part of the melee on a smartphone camera.
"I'm a cop, I'm a cop," a detective can be heard shouting on the footage while attempting to subdue the suspects. "What the [expletive] is wrong with you?"
A police sergeant deployed pepper spray, hitting both the bikers and fellow officers. Deluca continued to fight until he was subdued with multiple punches to the face, according to the police.
Deluca and Herzrater were both discovered to be carrying concealed firearms, according to the complaint. Police said both men had permits for the weapons.
Three large knives were also recovered after the fight.
All four men were charged with aggravated assault, conspiracy, and riot, according to the newspaper. No serious injuries were reported. Deluca was hospitalized before being taken to jail with two black eyes and significant bruising to his face, his booking photo shows.
The executive director of the city's Citizen Police Review Board said she has some questions about the incident and has opened an inquiry.
"The content of the video I saw raises questions as to the professional conduct of the officers involved," Elizabeth Pittinger told the Post-Gazette.