An investigative journalist who has spent years probing Jeffrey Epstein said that there were girls under the age of 18 on Epstein's plane when former President Bill Clinton flew on it.
Conchita Sarnoff, the journalist, appeared on Fox News this week and was asked about the issue.
"Let me ask you this, because tonight President Clinton has spoken out and said I want to make it clear that there was some travel with him, there was always Secret Service, two had brief meetings, people who are trying to tie the two of them together, just like there are people trying to tie Epstein to President Trump, that those are unfair leaps in logic, the Clintons say," Fox host Shannon Bream said.
"I have read too much information, and I have spoken to too many people on the inside," Sarnoff responded, noting she attempted to interview Clinton in the past.
"I know from the pilot logs—and these are pilot logs that were written by different pilots at different times—that Clinton went, he was a guest of Epstein's 27 times. Many of those times Clinton had his Secret Service with him and many times he did not," Sarnoff added.
"Almost every time that Clinton's name is on the pilot logs there are underage girls, there are initials, and there are names of many, many girls on that private plane."
"So you have to ask yourself, and this is what I asked myself: why would anyone, not only a former president, fly on a plane 27 times that did not belong to him?" Sarnoff wondered.
Clinton's press secretary said in a statement released after Epstein was charged with sex trafficking that "Clinton knows nothing about the terrible crimes Jeffrey Epstein pleaded guilty to in Florida some years ago, or those with which he has been recently charged in New York."
Statement on Jeffrey Epstein. pic.twitter.com/98ha9YYd1l

— Angel Ureña (@angelurena) July 8, 2019
"In 2002 and 2003, President Clinton took a total of four trips on Jeffrey Epstein's airplane: One to Europe, one to Asia, and two to Africa, which included stops in connection with the work of the Clinton Foundation," the statement continued.
"Staff, supporters of the Foundation, and his Secret Service detail traveled on every leg of every trip. He had one meeting with Epstein in his Harlem office in 2002, and around the same time made one brief visit to Epstein's New York apartment with a staff member and his security detail."
A longtime pilot for Epstein said "yeah" in a deposition when asked if Clinton had been on the plane 10 or 20 times.
"I remember him being on the aircraft, sure," the pilot said. The pilot said that he did not remember Clinton being on the airplane with "younger girls" and didn't know what the relationship between Epstein and Clinton was but assumed they were friends.
Sarnoff, who is also author of the book "Trafficking" and executive director of the Alliance to Rescue Victims of Trafficking, said the former president was not telling the truth.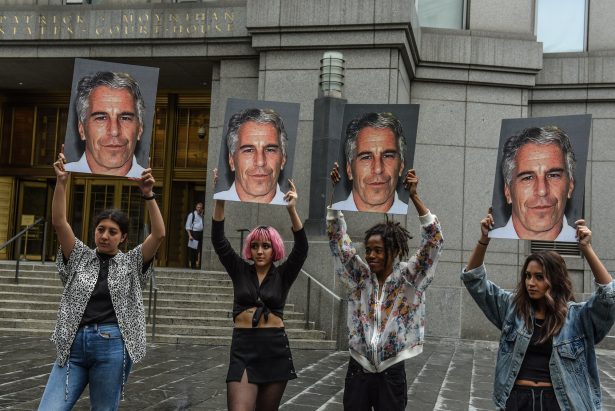 Federal authorities said in an indictment filed on Monday that Epstein sexually abused and exploited dozens of girls, some as young as 14, in New York and Florida.
The charges stated that from at least, in, or, about 2002 up to at least, in, or about 2005, Epstein "caused to be enticed and recruited minor girls to visit his mansion in Manhattan, New York and his estate in Palm Beach, Florida, to engage in sex acts with him, after which he would give the victims hundreds of dollars in cash."
Epstein knew many of the girls were underage, authorities alleged.
Authorities said in a press conference that nude photographs of underage girls were found in Epstein's New York mansion, with one prosecutor saying "the alleged behavior shocks the conscience."
From The Epoch Times