It will take a few days to unblock the Port of Dover, a UK minister said on Wednesday.
Drivers are growing impatient as thousands of lorries have been stranded in Kent since the French government on Sunday suspended all travel from the UK for two days, after Prime Minister Boris Johnson said a new variant of the CCP virus found in the UK could be 70 percent more transmissible.
Operation Brock—a contingent trafficking system in case of cross-Channel disruption after Brexit—was deployed on Monday to divert the lorries.
Britain and France have reached an agreement on reopening the border, but there's "quite a lot of work to do" to go through the backlogs, according to local government minister Robert Jenrick.
"I think it will take a few days to work our way through," Jenrick told Sky News on Wednesday.
Jenrick said that just under 3,000 HGVs were parked at Manston Airport—a closed airport that's meant to be used as a standby lorry park for Operation Brock—as of 7 p.m. on Tuesday.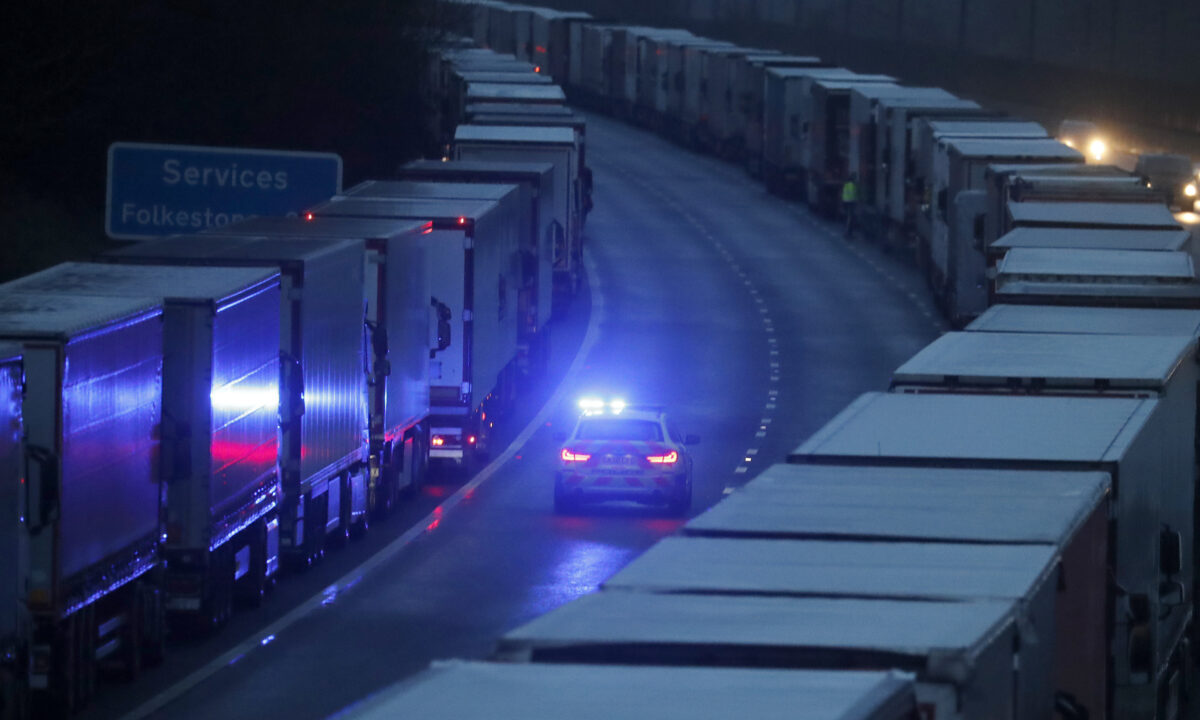 Another 700-800 HGVs were parked in other settings including on the M20 as part of Operation Stack, and a number of other HGVs and smaller vehicles may be waiting elsewhere because the government had been urging drivers to avoid travelling to Kent.
"Don't come to Kent just yet, hold off until we've worked our way through most of that backlog," Jenrick said.
"It won't speed up your journey. In fact you'll just likely get stuck in something that's unfortunate and you'd be better off staying where you are."
Planes, boats, and Eurostar were able to resume service from Wednesday for French citizens, residents, and those who have a legitimate purpose to travel to France, providing they have a negative CCP virus test result within 72 hours prior to travelling.
"There will be testing at Manston and multiple other locations," Jenrick said.
He said that the armed forces had been deployed to help with testing until the backlog is cleared.
"If you test positive using the swift lateral flow test, you'll then be offered a PCR test, so you can get an even more refined outcome,"Jenrick said. "If you test positive again. You will then be offered COVID-secure hotel accommodation, and we've procured the first one of those not so far away."
The drivers who test positive can leave their lorries at the hotel, and self isolate for 10 days before crossing the channel.
Meanwhile, TV footage showed stranded drivers honking their horns and flashing lights in protest.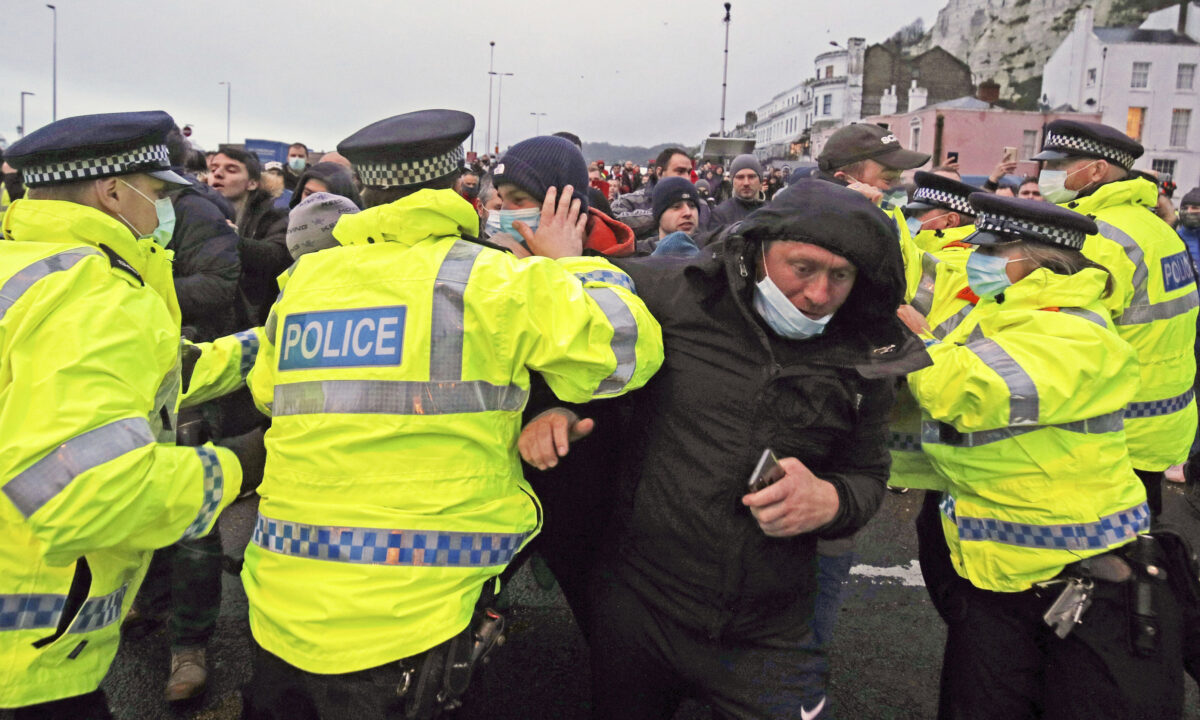 As tempers flared in Dover, there were brief scuffles between drivers, angered that they will not be able to get home to their families before Christmas, and a small number of police officers.
The Road Haulage Association (RHA), which estimated there were up to 10,000 lorries being held up in Kent, said the situation was chaotic as the testing system was not yet ready.
"What we've got this morning is very, very angry truckers in Dover," Rod McKenzie, managing director of policy for the RHA, told the BBC. "They're tired, frustrated, desperately want to get home for Christmas."
Normally between 7,500-8,500 trucks travel via the port every day but volumes have reached more than 10,000 recently due to the Christmas rush and Brexit stockpiling.
Reuters contributed to this report.