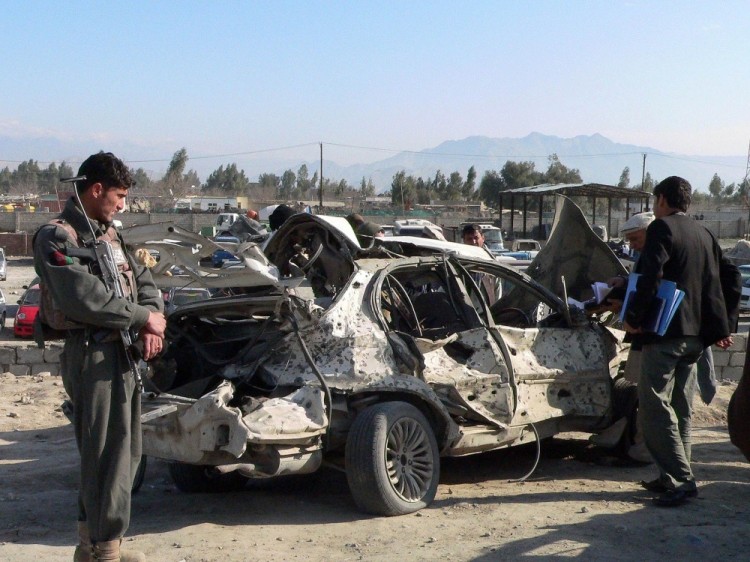 The United Nations and U.S. foreign missions in Afghanistan on Monday reacted to a recent string of attacks and violent protests over the burning of the Koran on an American military base.
The U.N. announced it was relocating its foreign staff from an office in the northern province of Kunduz. "This temporary relocation takes place inside Afghanistan and will be for a limited period of time," the U.N. said in a statement. No staff members were injured in an attack on the office last Saturday.
The U.S. Embassy in Kabul on Sunday told Americans in Afghanistan there is "a heightened potential threat" after an Afghan employee of the ministry of interior shot and killed two American military advisors. Two other U.S. military personnel were shot dead amid escalating anti-American sentiment over the improper disposal of copies of the Koran.
American officials, including President Barack Obama, have repeatedly issued apologies over the incident. Media reports said the American personnel responsible for incinerating the copies of the Koran did it over fears that prisoners at the base were passing messages via the books.
On Monday, a suicide bomber killed least nine people in Jalalabad province, including six Afghan civilians, and wounded a dozen more, according to Afghan President Hamid Karzai's office. The Taliban claimed responsibility for the attacks, but claimed that "scores of U.S.-NATO" forces were killed. 
Over the weekend, two U.S. military advisors to the Ministry of Interior were killed in their office by a 25-year-old Afghan employee of the ministry.
France, Germany, and Britain announced they were withdrawing their staff members from Afghan government institutions after the killings, reported Tolo News.
Karzai has called on protesters to remain peaceful and to avoid using violence to express their sentiments. The American perpetrators, he added, would be brought to justice at the behest of U.S. authorities.
Responding to the spate of Koran-burning related violence—which according to reports, has now left a total of 30 people dead—a spokesperson for U.S. Defense Secretary Leon Panetta's office reiterated that American forces will remain in Afghanistan until the end of 2014.
Panetta and other top officials "believe [they] have achieved significant progress in reversing the Taliban's momentum and in developing the Afghan security forces, and they believe that the fundamentals of our strategy remain sound," spokesperson George Little said on Monday, according to a news release.
"We respect the right of all Afghans to peaceful protest, but further bloodshed serves neither the coalition nor the Afghan people, who are themselves falling victim to violence," Little added.