The UN special rapporteur for Violence Against Women and Children, Reem Alsalem, has continued calls for law enforcement to protect gatherings of women rallying against transgender-identifying individuals from entering female-only spaces.
"I am concerned by the shrinking space in several countries in the Global North for women and feminist organisations and their allies to gather and/or express themselves peacefully in demanding respect for their needs based on their sex and/or sexual orientation," she said in a statement.
"Law enforcement has a crucial role in protecting lawful gatherings of women and ensuring women's safety and rights to freedom of assembly and speech without intimidation, coercion, or being effectively silenced.
"It is clear that where law enforcement has failed to provide the necessary safeguards, we have witnessed incidents of verbal and physical abuse, harassment, and intimidation, with the purpose of sabotaging and derailing such events as well as silencing the women who wish to speak at them."
The comments from Alsalem come after women in Australia, New Zealand, Scotland, and the United States face aggressive and, at times, violent pushback from activists at rallies and events.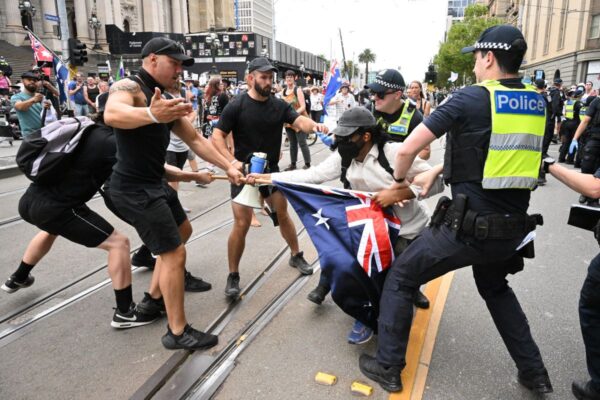 In the United States, for example, University of Kentucky swimmer Riley Gaines was physically assaulted and held against her will at San Francisco State University (SFSU) in April after she spoke to students about protecting women's sports.
Gaines says she was informed that campus police would outline a security plan, however, police failed to show up for the scheduled meeting.

In Australia, women's rights advocates have also accused police of not doing enough to provide security with former Liberal Party candidate Katherine Deves criticising Australian Federal Police (AFP) of failing in their duty.
"Seeing what's happened in the other two cities (Melbourne and Hobart), that the police would be prepared to allow the counter-protesters to get within arm's length and spitting distance from us is a dereliction of duty," Deves said.
The Epoch Times has reached out to the AFP on the allegations.
Her comments come after aggressive counter-protests took place in Australia and New Zealand against "Let Women Speak" rallies hosted by UK women's rights advocate Kellie-Jay Keen-Minshull (also known as Posie Parker).
The thrust of Parker's rallies was to stop self-identifying transgender individuals from entering biologically segregated areas like bathrooms and sports.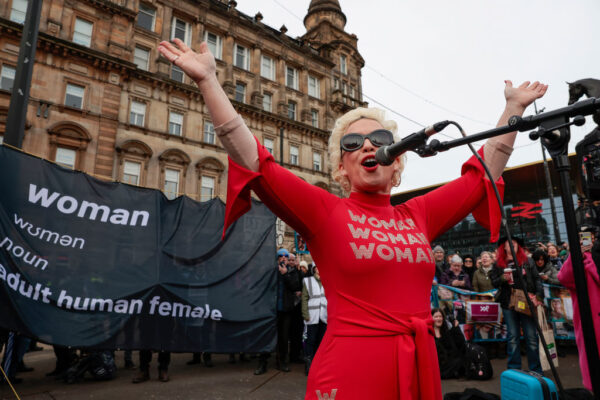 Meanwhile, New Zealand Speak Up for Women spokesperson Suzanne Levy said she believed there was a lack of police intervention at Parker's event in Auckland, reported RNZ.
"We were very surprised and devastated at the lack of police intervention," she said.
"I think they were given quite a bit of information about the likelihood of there being violence and a bit of chaos.
"They could have watched some of the other live streams from previous events in Australia and Hobart and Melbourne, seeing what the police did and how they held a line between the women holding the speaking event and the people who were protesting."
UN Rapporteur Says No to Censorship of Women's Rights
Alsalem said that while it was a right for transgender activists to protest, they should not resort to violence or threats.
"Sweeping restrictions on the ability of women and men to raise concerns regarding the scope of rights based on gender identity and sex are in violation of the fundamentals of freedom of thought and freedom of belief and expression and amounts to unjustified or blanket censorship," she said.
In Melbourne, Parker was met by hundreds of LGBT+ counter-protestors, as well as a small group of protesters performing the Nazi salute, which led to media outlets and commentators linking the women's rights advocates to neo-Nazism.
"I am disturbed by the frequent tactic of smear campaigns against women, girls, and their allies on the basis of their beliefs on non-discrimination based on sex and same-sex relations. Branding them as "Nazis," "genocidaires" or "extremists" is a means of attack and intimidation with the purpose of deterring women from speaking and expressing their views," she said.
"Such actions are deeply troubling, as they are intended to instill fear in them, shame them into silence, and incite violence and hatred against them. Such acts severely affect the dignified participation of women and girls in society."
Alsalem was also concerned about the breadth of censorship being deployed including "censorship, legal harassment, employment loss, loss of income, removal from social media platforms, speaking engagements, and the refusal to publish research conclusions and articles."
"In some cases, women politicians are sanctioned by their political parties, including through the threat of dismissal or actual dismissal."
The warning on these tactics follows the Victorian Liberal Party's dismissal of MP Moira Deeming.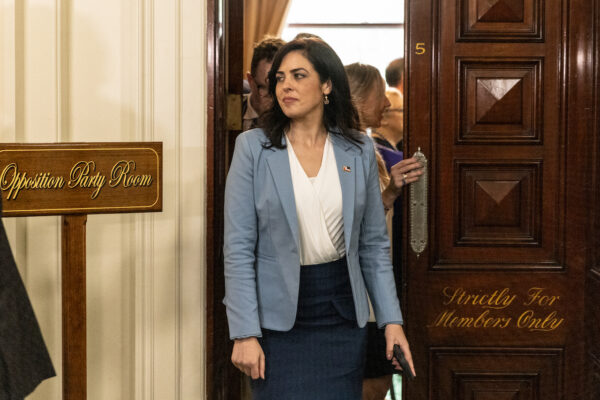 Deeming was first suspended for nine months after appearing at the "Let Women Speak" rally on March 18, before she was expelled on May 12.
Victorian Liberal leader John Pesutto has, in turn, been served a notice of defamation.
Her lawyer, Patrick George, issued the notice on the morning of May 11.
In the notice, George alleges that Pesutto accused Deeming of "being a Nazi sympathiser" in his attempt to expel her from the party in March.
"These accusations, and the motion to expel her, leaked by you to the media to be published as widely as possible, were defamatory of our client, are false, and have caused serious and potentially irreparable harm to her reputation," George wrote in the concerns notice, reported The Australian.
Pesutto has denied ever saying Deeming was a Nazi or Nazi sympathiser.