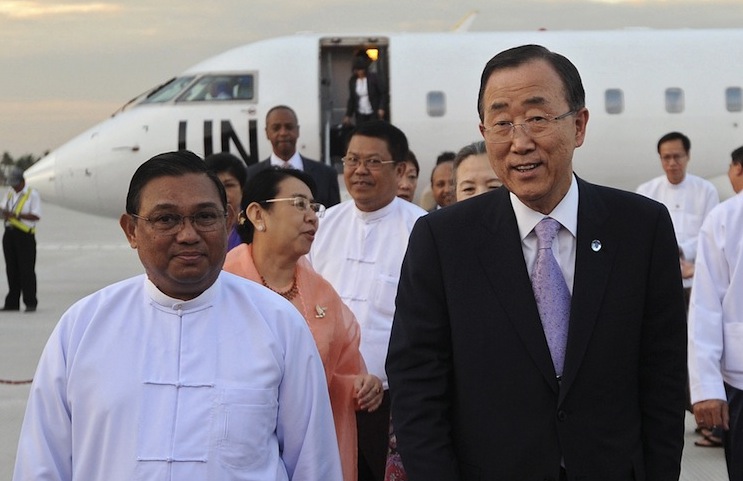 U.N. Secretary-General Ban Ki Moon on Sunday visited Burma, calling on the country to implement more democratic reforms and establish peace deals with armed ethnic groups, according to reports.
He noted that Burma (also known as Myanmar) has reached "a critical moment" but described the country's recent progress towards democracy as "still fragile," the BBC reported.
Ban is the latest high-level diplomat to visit the once-isolated country that was dominated by military rule for decades. U.S. Secretary of State Hillary Clinton and British Prime Minister David Cameron have visited the country in recent months to encourage reforms.
Ban, on his last visit to the country in 2009 met with then junta leader Than Shwe but left in dismay because he could not visit opposition leader Aung San Suu Kyi, who was under house arrest at the time.
Things are very different in 2012. In the next several days, however, Ban is slated to visit with Suu Kyi, who recently won a parliamentary seat along with 42 other members of her National League for Democracy party.
"Myanmar is only at the beginning of its transition. Many challenges lie ahead. Many concerns have yet to be addressed. Yet I am convinced that we have an unprecedented opportunity to help the country advance toward a better future," Ban told reporters at the UN Headquarters last week, according a press released.
Recently, the European Union removed sanctions for a year on Burma, citing its recent progress toward reform, but said it would still maintain an arms embargo.