An umbrella group representing small business owners publicly rejected calls for the owners to boycott Goya Foods after Goya's CEO praised President Donald Trump.
"Today, we are saying—unconditionally, unequivocally—that Goya Foods will remain on our shelves and our community will continue to buy Goya products," Fernando Mateo, spokesman for the United Bodegas of America, said at a press conference in New York City on Sunday.
"There was never a question in our minds—in fact, when the idea was brought up, we got together and we laughed and we said, who could have come up with such a crazy and foolish idea, to boycott Goya foods. It will never happen," he added.
Bodegas are small grocery stores; many of them exist in the city. The United Bodegas of America represents thousands of bodega owners. The group's president and board of directors attended the briefing and clapped in a show of support for Goya.
Many bodega owners start businesses with little money but Goya still fills their shelves, according to Mateo.
"The message is very clear: Goya, we stand with you. Goya, we love you. And Goya, thanks for supporting us," he said.
Goya employs over 5,000 people in the New York-New Jersey-Connecticut area, the group said in a separate statement.
"Let's NOT allow anyone to tell us what we can or can't buy," Mateo said.
Division over Goya started last week, when Goya Foods CEO Robert Unanue said America is fortunate to have a leader like Trump.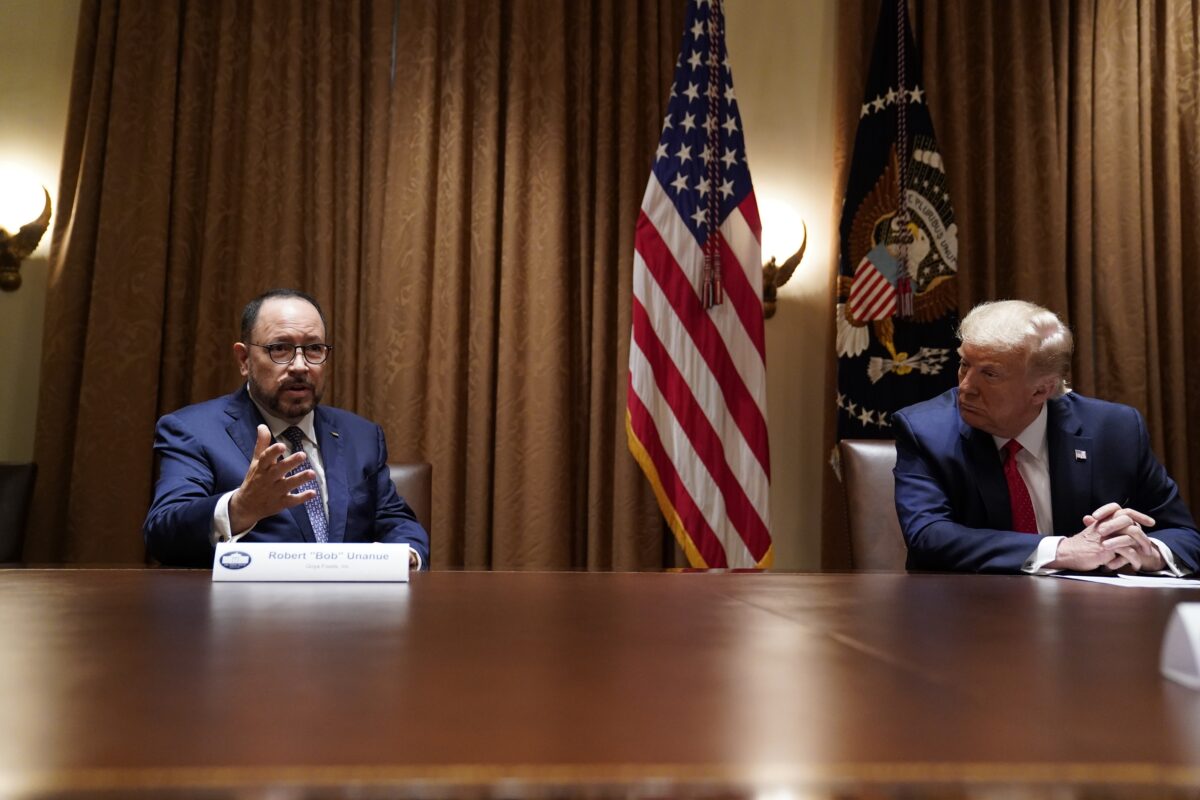 Unanue, who also worked with former first lady Michelle Obama, later rejected calls to apologize, referring to pressure from boycotts as "oppression of speech."
Trump and his daughter, White House adviser Ivanka Trump, addressed the issue in a series of tweets, saying they support Goya.
"The Radical Left smear machine backfired, people are buying like crazy!" Trump said in one missive, adding that the company "is doing GREAT."
A number of officials and former officials joined calls for boycotting Goya, including Rep. Alexandria Ocasio-Cortez (D-N.Y.).
Sharing a clip of Unanue's praise of the president, she wrote on Twitter that she was searching online for how to make her own Adobo seasoning.
Julian Castro, the former Democratic mayor of San Antonio and a candidate for the Democratic presidential nomination before withdrawing from the race, added, "Americans should think twice before buying their products."