Ukrainian President Volodymyr Zelensky rejected an evacuation offer from the United States and is remaining in his country as Russian forces capture more ground, Ukrainian officials said on Feb. 26.
"The fight is here; I need ammunition, not a ride," Zelensky said in a statement.
A State Department spokesperson told The Epoch Times in an email, "We are aware of President Zelenskyy's location and are in close contact with him and his team."
"We continue to provide support to him and the democratically-elected government of Ukraine, but I'm not going to go into security matters," the spokesperson added.
U.S. President Joe Biden said Friday he spoke with Zelensky following an emergency North Atlantic Treaty Organization (NATO) summit. Biden said he "commended the brave actions of the Ukrainian people who were fighting to defend their country" and "conveyed ongoing economic, humanitarian, and security support being provided by the United States as well as our continued efforts to rally other countries to provide similar assistance."
The Biden administration has also reportedly asked Congress for $6.4 billion to provide support to Ukraine.
Zelensky spoke to Ukrainians while standing in Kyiv, the capital of the country, on Saturday as fighting broke out in the streets there.
"Good morning Ukrainians. Do not believe fake news. I am here. We will not lay down our weapons. We will defend our country. Our weapons are our strength. This is our land. Our country. Our children. We will protect all of them," Zelensky said in the video, which he posted on social media.
Russian forces invaded Ukraine on Feb. 24 and fighting in multiple parts of the country has unfolded since then.
Russian President Vladimir Putin has demanded Ukrainians disarm and overthrow Zelensky.
Kyiv remains under Ukrainian control, Zelensky said in a separate video released by his administration early Saturday.
But in addition to ground fights, airstrikes dealt damage to portions of the city and left soldiers and civilians dead and wounded.
Ukrainian Foreign Minister Dmytro Kuleba shared a picture of an apartment building damaged by a strike, writing that "Kyiv, our splendid, peaceful city, survived another night under attacks by Russian ground forces, missiles."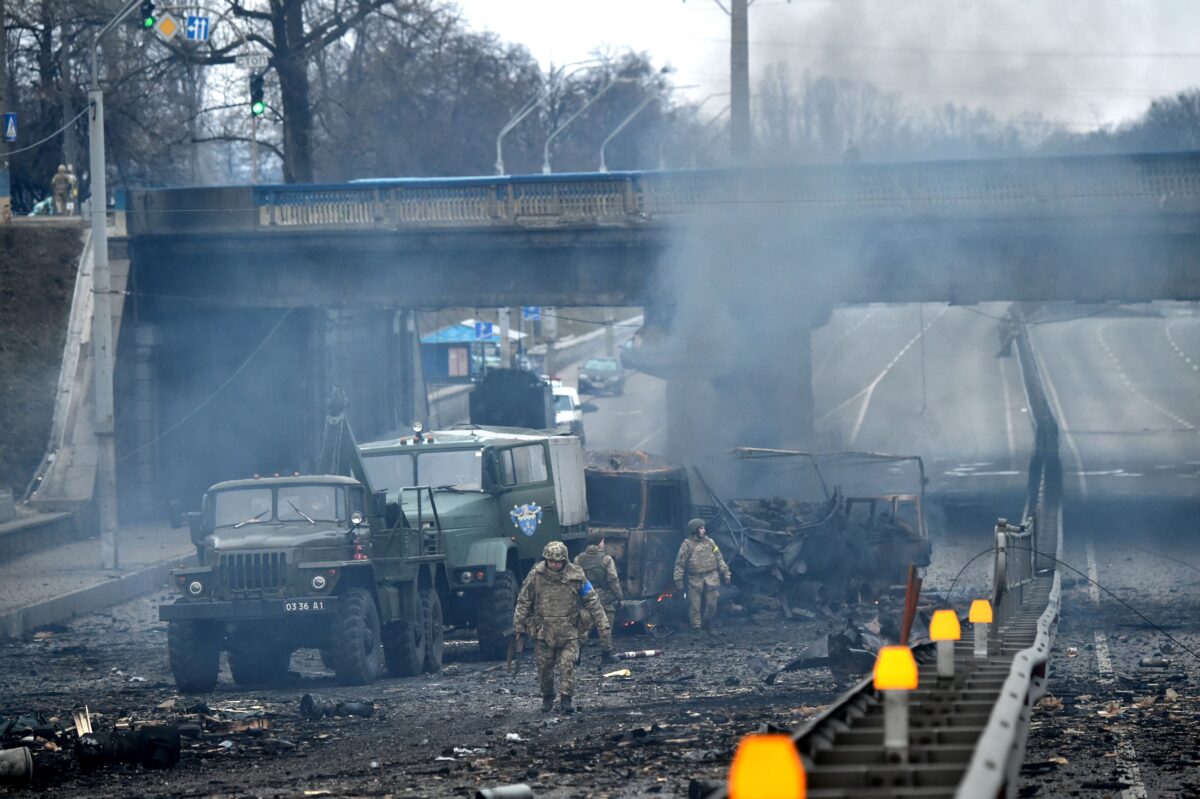 "One of them has hit a residential apartment in Kyiv. I demand the world: fully isolate Russia, expel ambassadors, oil embargo, ruin its economy. Stop Russian war criminals!" he added.
No outside troops are helping Ukrainian forces but some countries, including the United States, have provided weapons and other forms of assistance.
"We continue to provide for support for Ukraine to defend itself," John Kirby, the Pentagon's press secretary, told reporters in Washington. "I'll be very clear here, we are going to provide additional security assistance for Ukraine. We will. How that is going to be done is still being worked out."
Zelensky has been pressing NATO on whether Ukraine can join but "no one answers" he said in a recent video. "But we are not afraid , we are not afraid of anything. We are not afraid to defend our country, we are not afraid of Russia," he said.
NATO on Friday activated its response force for the first time in history.
"We have deployed defensive land and air forces in the eastern part of the alliance, and maritime assets across the NATO area," the alliance, which includes members that neighbor Ukraine, said in a press release.
Under NATO rules, an attack against one of the members is considered an attack against all members.
Russian officials have said they invaded Ukraine in part because its potential joining of NATO wasn't ruled out by Ukrainian leaders or NATO officials.
Finland's prime minister said following the invasion that the move changed the debate on whether Finland should join, prompting Maria Zakharova, a spokeswoman for Russia's foreign minister, to say Finland or Sweden joining NATO would trigger "serious military and political consequences."