Ukraine's defense minister stated that his country "passed the test" in using U.S.-made long-range rocket systems that were provided in a recent round of federal aid, although he claimed that more systems are needed.
Oleksii Reznikov, the minister, said that longer-range weapons are needed more than short-range weapons in the months-long war, noting that the conflict is primarily artillery-based.
"We need to refresh our platoons and change them and make replacements also because we also have a lot of losses," he said in a recent interview. "We are waiting for more armor, more weaponry from our partners. We need to rebuild some directions and to refresh our fortifications and plan a new operational strategy."
The United States in recent days provided M142 High Mobility Artillery Rocket Systems (HIMARS) as part of a new aid package that was signed off by President Joe Biden. The president at the time claimed that Ukrainian officials assured the United States that Kyiv's forces won't use the rocket systems to attack Russian assets inside Russia.
"The war is grim… We need more. We need it quickly," Reznikov said, calling the HIMARS a "game-changer."
"The Russians are using their MLRS's, which can go 120 kilometers (80 miles)," Reznikov told the Wall Street Journal, referring to Russian-made rocket systems. "So we need to have something a little bit longer: 150 [kilometers]. We'll get there."
It comes as a top U.S. official noted that Ukraine's leadership wants more and more weapons.
"They want helicopters, and certainly attack helicopters at that, and they want air and missile defense that we're seeing from most of our allies and partners," Army Chief of Staff Gen. James McConville told reporters late last week. "Those seem to be the capabilities that they want, and the more of that they can get, the more they desire."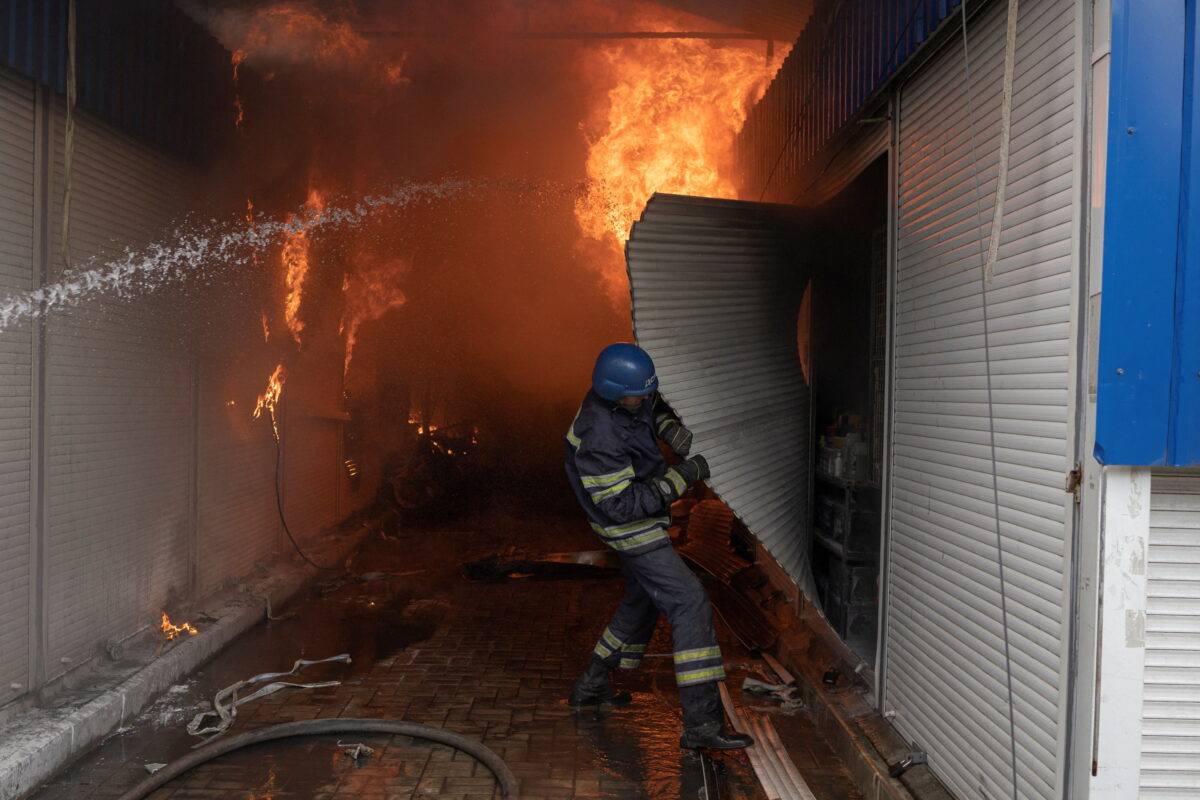 Rockets Hit Apartment
At least 15 people were killed and two dozen more are feared trapped after Russian Uragan rockets hit a five-story apartment block in Ukraine's Donetsk region, local officials said on Sunday as rescuers picked their way through the rubble.
Ukraine also reported clashes with Russian troops on fronts in the east and south, while Moscow said its forces struck Ukrainian army hangars storing U.S.-produced M777 howitzers, a type of artillery, near Kostyantynivka in the Donetsk region.
The Epoch Times could not immediately verify the claims.
Donetsk Governor Pavlo Kyrylenko said the strike on the apartment building took place on Saturday evening in the town of Chasiv Yar. The regional emergency service gave a death toll of 15 on Sunday afternoon, adding that 24 more people could still be under the rubble.
"We ran to the basement, there were three hits, the first somewhere in the kitchen," said a local resident who gave her name as Ludmila, speaking as rescuers removed a body in a white sheet and cleared rubble using a crane as well as their hands.
Russia, which says it is conducting a "special military operation" to demilitarise Ukraine, denies deliberately attacking civilians. Moscow has not responded to Ukraine's claims about an apartment block in Donestk being struck on Sunday.
Reuters contributed to this report.