The Department of Defense confirmed that Ukraine has received fighter jets from an undisclosed U.S. ally amid the weekslong Russian invasion.
Ukrainian forces "right now have available to them more fixed-wing fighter aircraft than they did two weeks ago," Pentagon spokesman John Kirby said Tuesday. "Without getting into what other nations are providing, [Ukrainian forces] have received additional platforms and parts to be able to increase their fleet size."
Kirby did not say what types of aircraft were provided to Ukraine but suggested they were Russian- or Soviet-manufactured. Previously, Ukraine's government had asked NATO countries to provide it with MiG-29 fighter planes but previously, such plans were rejected.
"Other nations who have experience with those kinds of aircraft have been able to help them get more aircraft up and running," Kirby also told reporters, adding that the United States has not "transported whole aircraft" to Ukraine.
Initially, Western powers avoided sending Ukraine fighter planes and other heavy armaments so as to not risk escalating the conflict with Russia. Since the start of the Feb. 24 war, the United States has authorized sending hundreds of millions of military equipment, including anti-tank missiles and kamikaze drones, to Kyiv.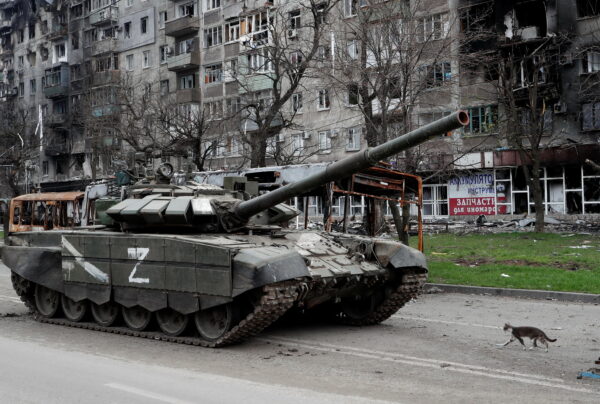 Additionally, Kirby said Tuesday that the United States would "very soon" be training a small number of Ukrainian troops on American-made artillery that was approved as part of an $800 million package last week.
Ukraine, meanwhile, said it had so far held off an assault by thousands of Russian troops attempting to advance in what Ukrainian officials call the Battle of the Donbass, a new campaign to seize two eastern provinces Moscow claims on behalf of separatists.
In a video, the commander of Ukraine's 36th Marine Brigade, one of the last units believed to be holding out in Mariupol, asked for international help to escape the city's siege.
"This is our appeal to the world. It may be our last. We may have only a few days or hours left," said Major Serhiy Volyna in a video uploaded to Facebook. "The enemy units are dozens of times larger than ours, they have dominance in the air, in artillery, in ground troops, in equipment, and in tanks."
Russia's nearly eight-week-long invasion has failed to capture any of Ukraine's largest cities. Moscow was forced to retreat from northern Ukraine after an assault on Kyiv was repelled last month, but has poured troops back in for an assault on the east that began this week.
Reuters contributed to this report.