Ukrainian President Volodymyr Zelensky has signed a decree ordering a general mobilization of the population after Russia started attacking the country in the early hours of Thursday.
The decree, on the presidential website, said the mobilization "to ensure the defence of the state" would be carried out within 90 days of the decree coming into force.
The mobilization order applies to the territories of Vinnytsia, Volyn, Dnipropetrovsk, Donetsk, Zhytomyr, Zakarpattia, Zaporizhia, Ivano-Frankivsk, Kyiv, Kirovohrad, Luhansk, Lviv, Mykolaiv, Odesa, Poltava, Rivne, Sumy, Ternopil, Kharkiv, Kherson, Khmelnytsky, Cherkasy, Chernivtsi, Chernihiv regions, and the city of Kyiv.
The country is also prohibiting Ukrainian males aged 18–60 from leaving the country, the State Border Guard Service of Ukraine announced.
The head of Lviv regional customs, Daniil Menshikov, in an "urgent message" on Facebook, said the prohibition is "due to the military state."
"Please do not create panic and do not try to cross the border on your own! Victory is upon us! Glory to Ukraine!" he added.
137 Killed: Zelensky
Zelensky said early Friday local time in a video address that 137 people had been killed and 316 were wounded, ever since Russia's invasion of Ukraine in the early hours of Thursday.
Among the deaths were 10 Ukrainian military officers, and border guards on the Zmiinyi Island in the Odesa region, which was taken over by Russians.
Ukraine's defence ministry has reported 800 casualties among Russian forces so far. It is not immediately clear whether the casualties refer entirely to deaths. The ministry reported that it has destroyed at least 30 tanks, seven aircraft, and six helicopters from Russia.
Meanwhile, the United Nations confirmed that more than 100,000 people have been internally displaced in Ukraine.
An adviser to the Ukrainian presidential office said Russian forces had captured the Chernobyl former nuclear power plant, just 90 km (60 miles) north of Kyiv. The plant is along the shortest route from the Ukrainian capital to Belarus, where Moscow has staged troops.
Russia's Defense Ministry announced it has destroyed scores of Ukrainian air bases, military facilities, and drones.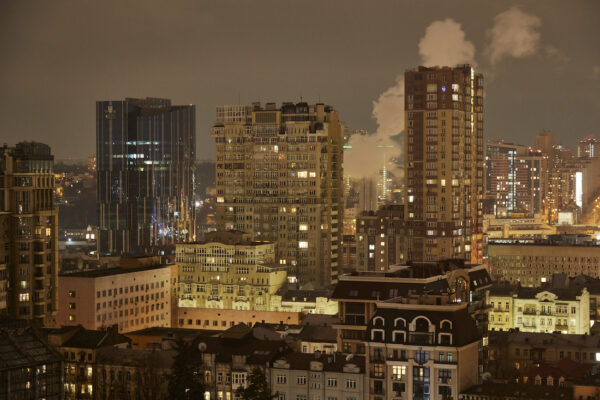 The damage comes after Russian President Vladimir Putin declared a "Special Military Operation" in Ukraine early Thursday, soon after which explosions were reported in Kyiv, Kharkiv, and Odesa as well as several other cities across Ukraine.
President Joe Biden on Thursday announced new sanctions against Russian banks, oligarchs, and state companies.
"This is a premeditated attack," he said, adding, "Putin is the aggressor. Putin chose this war. And now he and his country will bear the consequences."
Jack Phillips and Reuters contributed to this report.