The UK said on Nov. 15 that it stands in solidarity with its European allies over the illegal immigrant crisis on the Belarusian border and said the regime of Alexander Lukashenko must be held responsible.
Thousands of illegal immigrants, mostly from Iraq and Afghanistan, have gathered on the Poland–Belarus border in hopes of crossing into the European Union. The EU has accused Minsk of orchestrating the crisis to put pressure on the bloc in an act of revenge for sanctions over a clampdown on Belarusian protests in 2020 against the contested reelection of Lukashenko as president.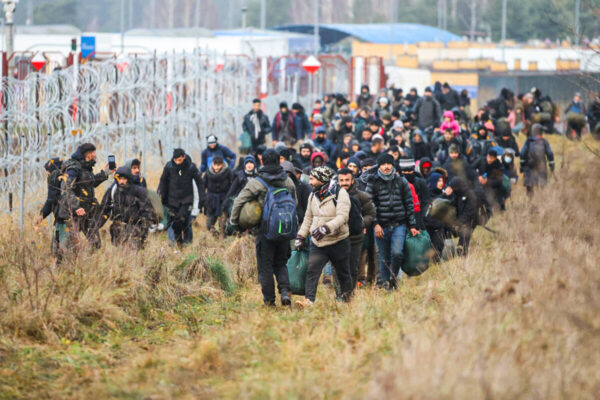 "With reference to Poland, what we are seeing are the latest in a series of abhorrent attempts by the Lukashenko regime to engineer a migrant crisis to undermine Poland and others in the region," UK Prime Minister Boris Johnson's official spokesman said.
"We stand in solidarity with our European partners and our commitment is to ensuring the Lukashenko regime is held accountable for its actions."
On Nov. 15, EU foreign ministers agreed unanimously to step up sanctions against Belarus. Josep Borrell, the top EU diplomat, said the new package of sanctions would target airlines and travel agencies involved in "this illegal push of migrants."
Also on Nov. 15, Lithuania, Latvia, and Estonia stated that Lukashenko's regime must be held accountable for human trafficking.
Britain's Ministry of Defence announced on Nov. 12 that it was sending a small contingent of UK armed forces personnel to Poland to provide engineering support at the border.
In an article published in The Sunday Telegraph, UK Foreign Secretary Liz Truss urged Russian President Vladimir Putin to intervene to halt what she called the "shameful manufactured migrant crisis."
Truss said Russia has a "clear responsibility" to press Belarusian authorities to end the crisis and enter into dialogue.
"The United Kingdom will not look away. We will stand with our allies in the region, who are on the frontier of freedom," she wrote.
Talking to the BBC on Nov. 15, Britain Chief of the Defence Staff Gen. Sir Nick Carter expressed concern that the situation could quickly escalate into something more serious.
"I think this is a classic case of the sort of hybrid playbook where you link disinformation to destabilization and the idea of pushing migrants on to the European Union's borders is a classic example of that sort of thing," he said.
Reuters and PA contributed to this report.