Beijing needs to "step back from the brink" and reconsider imposing a national security law on Hong Kong, British foreign secretary Dominic Raab said in a June 11 statement, while renewing a pledge to protect Hong Kong's freedoms.
"[T]he solution to this unrest and its underlying causes must come from Hong Kong, and cannot be imposed from mainland China," he wrote in the foreword of a semi-annual report (pdf) on Hong Kong, compiled since the former British colony was returned to China in 1997.
The territory has experienced its largest demonstrations over the past year, with at times millions of locals taking to the streets to resist Beijing's growing encroachment into the city's autonomy.
The recently proposed Chinese law, criminalizing what the central government considers as secession, subversion, and foreign interference, has brought protesters back to the streets.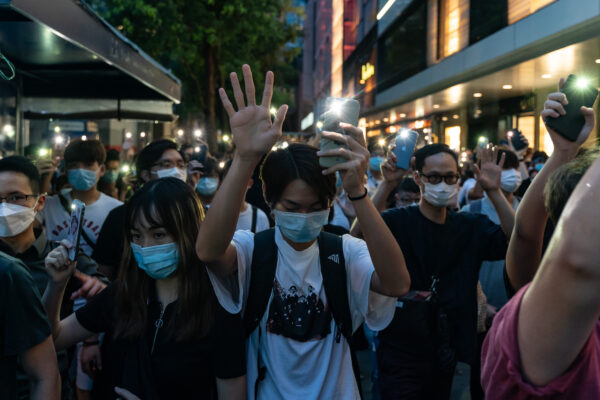 If the Chinese regime moves forward with its plans, the UK will make arrangements allowing British overseas passport holders a pathway to citizenship, Raab said. Currently, around 350,000 Hongkongers born before 1997 hold such passports, while another 2.5 million are eligible to apply for one, according to the British government.
Meanwhile, in a June 10 U.S. national security strategy report (pdf), the Republican Study Committee recommended using the Global Magnitsky Act to sanction a number of top Chinese officials for violating Hong Kong's political autonomy, including Han Zheng, one of the Communist Party's most powerful officials.
Heightening Pressure
Despite international pushback and a vow from the United States to revoke Hong Kong's special trading status, the Chinese government has quickened steps to press ahead with imposing the law.
On Wednesday, China's foreign ministry issued a "fact sheet" claiming that the 1984 Sino-British Joint Declaration, the bilateral agreement signed ahead of Hong Kong's sovereignty transfer, was "not relevant" with China's handling of Hong Kong. It further claimed that the UK has "no sovereignty rights, rights of governance, and power of supervision" over Hong Kong affairs.
Zhang Xiaoming, vice director of Beijing's representative agency in Hong Kong, the Liaison Office, said that central authorities will ensure the law's implementation in the city "no matter what happens in Hong Kong nor what outside forces say or do." Deeming Hong Kong's challenge a "political problem," he called the national security law an "anti-virus software" to ensure the city's stability.
While the regime has yet to reveal details of the new law, critics have expressed fears of Chinese law enforcement working directly in the city and rising political prosecution. Hong Kong's security chief John Lee recently said the local government would set up a dedicated police unit to work with mainland security forces and apply the law.
"I'm sure that the mainland authorities have a much wider network of intelligence gathering and also a much higher level of analysis," Lee said in an interview with South China Morning Post, adding that Chinese security authorities "have a helicopter view of the whole thing."
Japan, which had already voiced serious concerns about Beijing's move on May 28, said on Wednesday that it has plans to take the lead among G-7 nations on issuing a statement on Hong Kong. Taiwan is also scrambling to prepare for an influx of Hongkongers who are fleeing the city amid Beijing's tightening control.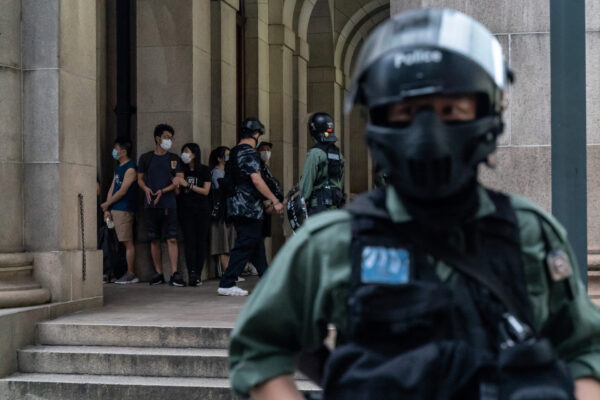 Widening Intelligence Net
Fueling concerns of extralegal arrests after the law's implementation, a source told The Epoch Times that authorities have evacuated a detention center in the mainland city of Shenzhen that borders Hong Kong, in order to house those arrested from the territory. The person, who works at the Yantian facility, requested to remain anonymous for fear of reprisal.
Located on the southern tip of China, the detention center is within walking distance from Sha Tau Kok, the northernmost district of Hong Kong.
Reached by The Epoch Times, a staff member at the detention center confirmed that the facility has not admitted inmates since the CCP virus outbreak and had transferred previous detainees to Luohu District Detention Center, but refused to disclose details about the facility's future use. The Luohu District Detention Center did not immediately return phone calls for an inquiry. Simon Cheng, a former worker for the British consulate in Hong Kong, was kept in custody and interrogated at the Luohu facility last August while on a business trip to Shenzhen.