The UK and Ukraine have kicked off talks on a new digital trade agreement, which is intended to help Ukraine rebuild its economy following the Russian invasion.
The digital trade agreement will aim to support Ukrainian businesses by cutting red tape and helping them to trade with the UK more efficiently through technology such as electronic transactions, e-signatures, and e-contracts, the UK's Department for International Trade said in an announcement.
International Trade Secretary Anne-Marie Trevelyan said that the UK "will use trade as a force for good" to help Ukraine rebuild its economy after the "barbaric war" launched by Russian President Vladimir Putin six months ago.
The talks were launched after a direct request from the Ukrainian government, which identified supporting the digital economy as one of its areas of focus for the recovery and reconstruction of the country.
The announcement was made after Trevelyan met with Ukraine's First Deputy Prime Minister and minister of economy Yulia Svyrydenko and Vice Prime Minister and minister of digital transformation Mykhailo Fedorov virtually, and Ukrainian Ambassador to the UK Vadym Prystaiko in person in London on Aug. 23.
Prystaiko praised the UK for its "unwavering support" for his country and said the "landmark" digital trade agreement will support Ukraine's IT industry, which he said will be "a major driver of economic growth."
Truss vows continued support
The UK has been one of the staunchest supporters of Ukraine's resistance against the Russian invasion.
Since the outbreak of war, the UK has provided Ukraine with £2.3 billion ($2.7 billion) worth of military support, more than any country other than the United States.
In May, the UK removed all tariffs on Ukrainian imports under the existing UK–Ukraine free trade agreement.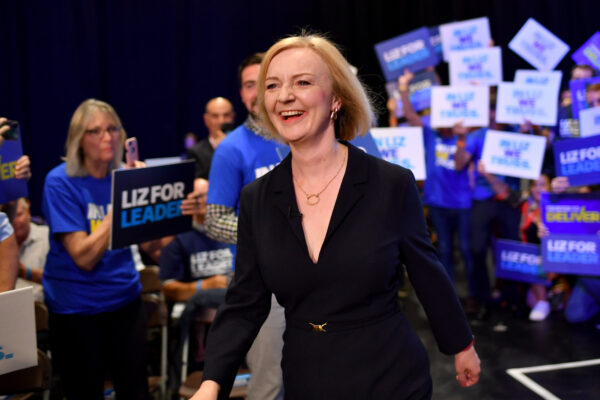 In July, a new UK–Ukraine Infrastructure Taskforce was launched to build partnerships between UK and Ukrainian businesses to help repair damaged and destroyed infrastructure including bridges and homes in and around Kyiv.
Foreign Secretary Liz Truss, the frontrunner in the race to replace Boris Johnson as Conservative Party leader and UK prime minister, has promised Ukraine will "have no greater ally" than the UK if she is made prime minister.
Writing in The Daily Telegraph on Aug. 24, Ukraine's independence day, Truss said she would declassify more intelligence to expose Russian "misinformation" while also repeating a promise to increase defence spending to 3 percent of GDP by 2030.
PA Media contributed to this report.